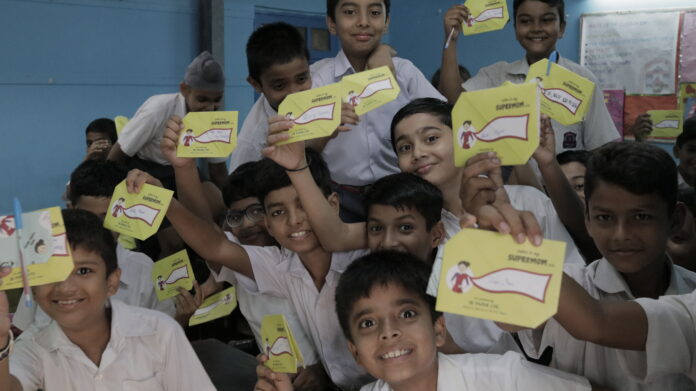 The campaign targets to reach out to 300 plus schools in 2023 and aims to get 50 Lakh students to write letters to their mothers by 2030.
New Delhi, 27 April 2023- JK Paper – The Leading Indian Paper Manufacturing Company celebrates Mother's Day by making students switch to paper to express gratitude and love for their mothers with its annual campaign 'Letter to my Supermom' in association with Daakroom. With an objective to reach out to 300+ schools this year, engaging about 2,00,000 students, the campaign highlights communicating love and feelings to mothers by their children in a unique way. 'Letter to my Supermom' encourages students all over India to put pen to paper and express their emotions in a creative and long lasting manner, through handwritten letters. The activity also brings attention to the need to switch to paper in the most sustainable way.
ALSO READ: 'The Logical Lamp' is hosting a workshop, 'S.T.E.M CARNIVAL'
"We are delighted to share that our yearly activity 'Letter to my Supermom' in its previous editions created a huge impact in various cities in India. With the simple activity of putting pen to paper, our campaign has brought out emotions and put smiles on lakhs of faces across the nation. JK Paper assures to educate children on sensible usage of paper. This year also the idea is to take them through our sustainable paper initiatives to promote responsibility towards the planet among the next generation as well," says Partha Biswas, Chief Sales and Marketing, JK Paper Ltd.
With an inclusive approach to reach out to all kinds of students from different cities, 'Letter to my Supermom' has reached out to over 20 states/UTs in the past, engaging private, public and government schools as well as NGOs. Some of the cities where the campaign has consistently taken place are Delhi (NCR), Mumbai, Pune, Ahmedabad, Rajkot, Bengaluru, Bhubaneswar, Kolkata, Surat, Chandigarh tricity, Bengaluru, Meerut, Kanpur, Prayagraj, and Udaipur.

"In our 6th edition, this year, we are excited about taking this campaign to Assam and reach around 20k tribal students writing letters to their mothers. We are glad that we are not only helping them to express their feelings and love but also encouraging them to bring back the habit of writing. Additionally, we aim to make students write about 50 Lakh letters across the country by 2030 and are happy to associate with Daakroom and work together to make this campaign a great success," concludes Debasish Ganguly, Head Marketing & Communication and Corporate Sales.
This year educate yourself and develop your career with EasyShiksha