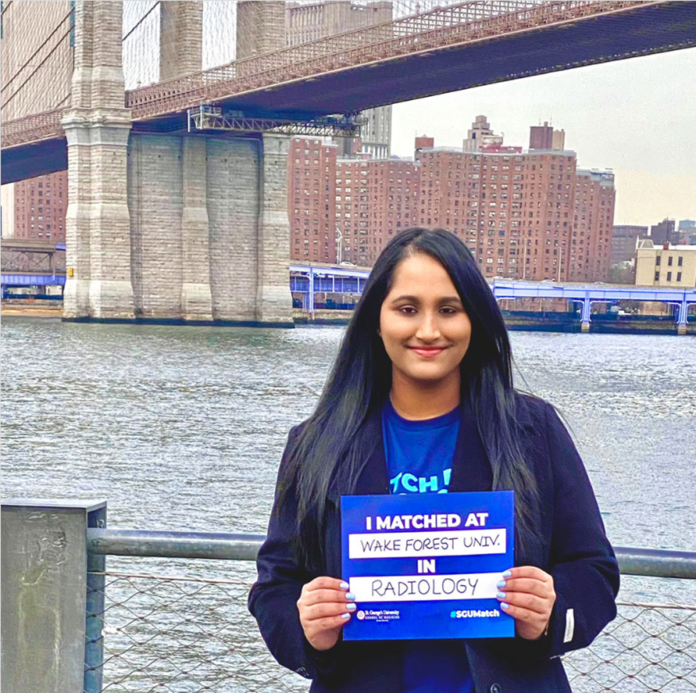 Bangalore, April 27 2023: St. George's University (SGU) School of Medicine, Grenada, in the Caribbean, announced that 980 of its students and graduates from different parts of the globe, including the Indian region, secured residencies in the United States in this year's Match.
The 'Match' is the process of securing a post-graduate residency placement in the United States, that will provide medical graduates with the hands-on clinical training they need to begin practising as licensed doctors in the US.
ALSO READ: JK Paper Shows How paper can be Heartwarming through its Annual Mother's Day campaign 'Letter to my Supermom'
"Match Day is a pivotal moment in a doctor's career," said Dr. Marios Loukas, Dean of St. George's University School of Medicine. "On behalf of the entire St. George's University community, I congratulate this remarkable class of medical students."
This year, 980 SGU students and graduates were matched into residences in 21 specialties across 42 US states. More students and graduates will find out where they will be doing residency training in the weeks to come.
The Indian graduates will begin residency programs in several highly competitive specialties ranging from Surgery, Pediatrics, Internal Medicine, to Family Medicine, and Emergency Medicine.
"Match Day was truly one of the happiest moments of my life! It felt like a great weight was lifted off my shoulders because everything I had worked for had culminated to this one important email" says Nanditha Guruvaiah Sridhara, SGU graduate, Class of 2023.
This new group of doctors will play a crucial role in addressing the growing global physician shortage, as for the ninth year in a row, SGU is the largest provider of new doctors to the US healthcare system*.
"St. George's University graduates have been meeting the medical needs of communities for decades," Dr. Loukas said. "We look forward to seeing all the great things that this newest class of St. George's graduates will accomplish."
SGU has contributed over 20,000 physicians globally, with students, graduates, and faculty from over 150 countries. They have practised in every state in the US, as well as in more than 50 countries, including India.

*As the medical school graduating the largest number of students annually, SGU places the largest number of graduates into residency programs each year, based on internal SGU graduate/expected graduate and residency placement data as of March 2023.
**Based on the number of students who have completed the Doctor of Medicine program from 1981-2022.
About St. George's University School of Medicine:
Founded in 1976 with the goal of drawing the best talent and practices from around the world, St. George's University (SGU) has become a centre for academic excellence worldwide. With students and faculty drawn from more than 150 countries, SGU is truly an international institution, with a global perspective, poised to help educate students in this rapidly changing world. St. George's University School of Medicine has a four-year Doctor of Medicine degree program or offers five-, six, and seven-year Medical Degree Pathways with entry points available for students from any education system around the world. SGU has a large network of 75+ affiliated hospitals and health centres in the US and UK and also has a unique opportunity for students to begin their medical career in Grenada, the United Kingdom, or India.
This year educate yourself and develop your career with EasyShiksha