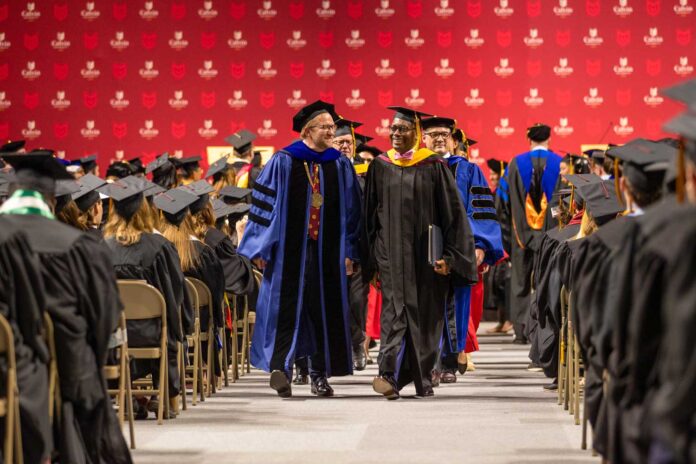 Adesina is the first international guest to address the university's Commencement event
Access Multimedia Content
ABIDJAN, Ivory Coast, May 4, 2023/ — African Development Bank Group (www.AfDB.org) President Akinwumi A. Adesina has called on young university graduates to be instruments of change in a world beset by increasing socio-economic challenges.
ALSO READ: IMS DIA Organizes Principal's Conclave

Delivering the keynote speech at America's Calvin University Commencement ceremony, Dr. Adesina told the audience, including 700 graduates, "The world faces many simultaneous challenges, promising a future of exciting and infinite possibilities, in which you have a role to play," Foremost among these challenges are climate change, food insecurity and a lack of universal access to affordable healthcare, he added.

Adesina is the first international guest to address the university's Commencement event. He shared with the graduates the difficult times and conditions he went through as a university student at America's Purdue University. During that period, he ran out of the small stipend and often had to walk several kilometers, enduring the winter cold, to and from lectures. One day a bus driver came to his aid by topping up his fare. He also drew the sympathy of his professors, who rallied to pay for his tuition and upkeep.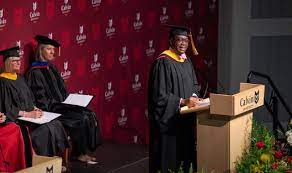 Many years later, Adesina won the World Food Prize—the "Nobel Prize for Agriculture." "How could my professors have known at the time that they were helping someone who would later become a World Food Prize Laureate?" the African Development Bank chief reminisced. "How would they have known they were helping someone who would later become President of the African Development Bank Group?"

He said: "In front of me today I see builders and shapers of hope." "You have been well prepared to go into the world to be the change makers. You have received a world-class education. You have been exposed to great ideas, and you've worked alongside faculty and students from all around the world."

Calvin University's president Dr. Wiebe Boer extolled Adesina's qualities as "a man of great accomplishments." "Everywhere he goes, no matter how high, no matter how powerful, no matter how big the checkbook, he never forgets those less fortunate," said Dr. Boer, referring to Adesina as his mentor.



Nain Miranda Duarte, the president of Calvin University's Student Senate, recounted the economic difficulties his family endured and how he had benefitted from people's generosity from his early days in the slums of Nicaragua to a graduate from a top American university. He said the combined income of his parents then was only $50 a month, which amounted to only $1.67 a day for a family of seven.

"Together, we stand here today because of those who decided to be God's hands and feet and who actively exemplified the power of generosity. Class of 2023, it is my turn, it is your turn, to be that anonymous donor that allows others to finish their high school education. It is our turn to make impossible dreams a reality," Duarte said.

Adesina was first elected president of the African Development Bank Group in 2015 as the institution's eighth head. Under his leadership, the bank achieved its highest capital increase (https://apo-opa.info/41601oJ) in 2019. Last year, the African Development Bank Group and donor countries agreed to an $8.9-billion replenishment of the African Development Fund (ADF), which provides concessional loans and grants to low-income African countries. It was the highest replenishment in the 50-year history of the ADF. He served as Nigeria's agriculture minister and is credited with transforming the country's agro-processing sector in four years. In 2017, Adesina won the World Food Prize, partly in recognition of his work with the Rockefeller Foundation and Alliance for a Green Revolution in Africa.
About the African Development Bank Group:
The African Development Bank Group (AfDB) is Africa's premier development finance institution. It comprises three distinct entities: the African Development Bank (AfDB), the African Development Fund (ADF) and the Nigeria Trust Fund (NTF). On the ground in 44 African countries with an external office in Japan, the AfDB contributes to the economic development and the social progress of its 54 regional member states.
This year educate yourself and develop your career with EasyShiksha