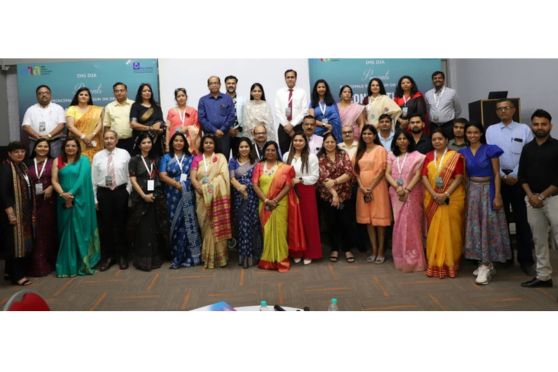 Noida, Uttar Pradesh, India
IMS Design & Innovation Academy (IMS DIA) organized a principal conference for school leaders to discuss ideas and interact on art, design, and learning practices. The conclave focused on the evolving function of schools in establishing a creative skill-based ecosystem, in addition to the NEP-2020. The event's main guest was Dr. Kulneet Suri, Senior Director of IMS Noida.
ALSO READ: Bengaluru Student of Orchids has won two gold medals at the National Skating Championship
The conclave saw the participation of school principals across India. Including principals from Delhi Public School – Siliguri, Columbus Public School – Rudrapur, Rise International School – Gwalior, Aurobindo International School – Jaipur, Delhi Public School – NTPC Farakka, and Versatile Scholars – Lucknow. The conclave conducts an interactive session on "Challenges in Design Education?" and "How has the online hybrid model changed design education, and is it any good?" The discussion focused on principals' concerns about the NEP model being adopted in India and the reactions of parents to traditional values.

During the event, IMS DIA emphasized the necessity of raising knowledge among educators in order to properly counsel young children and provide a wider range of options for them to choose from. A workshop was held, and the leaders took part in sketching activities intended to demonstrate society's design philosophy. It was about "finding the negatives" that touched the child within everyone present.
Dr. Kulneet Suri, Senior Director of IMS Noida, addressed everyone on emotional and strategic intelligence. She said, "Emotional intelligence is a vital ability for school administrators to have in order to build trust, boost staff engagement, and foster a culture of teaching and learning. To navigate today's complicated educational environment, leaders must receive feedback and support not only to strengthen their skills as educational and academic leaders, effective partners, and efficient communicators but also to learn how to cope with others' feelings as well as their own."
This year educate yourself and develop your career with EasyShiksha