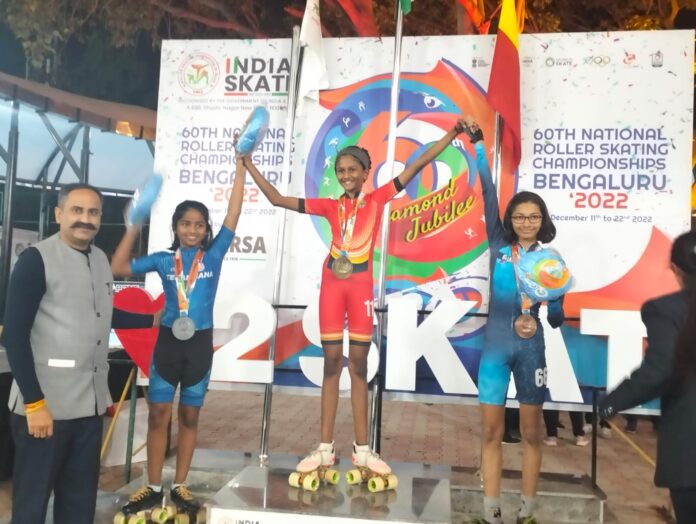 Bengaluru: A 11-year-old Monisha studying in Grade 6 at Orchids The International School, Sahakarnagar branch, has won Gold and bronze medals at the Roller skating federation of India competition in Bengaluru recently. Among the 70 participants, Monisha bagged two gold medals at the district level in 1 lap road, 500 meters, and 1000 meters race, three gold medals at the state level in 1 lap road, 500 meters, and 1000 meter race, and two gold medals at the national level in 500 and 1000 meter race and one bronze medal in 1 lap road of the Roller skating federation of India competition (RSFI). Monisha's skating journey began when she was three and a half years old. She has been participating in RSFI for the last three years and has bagged several medals.
ALSO READ: Kanakia International School's crowdfunding campaign transforms Dharavi School
The Principal of Orchids The International School, N Nancy Syntika, expressed her pride and admiration for Monisha's achievements, stating, "We are extremely proud of Monisha and her accomplishments in skating. At our school, we encourage our students to pursue their passions and excel in all areas of their lives. Monisha's hard work, talent, and perseverance are truly inspiring, and we look forward to seeing her achieve even greater heights in the future."
Monisha's achievements in skating are a source of inspiration and motivation for young students across the country. She has proven that anything is possible with dedication, passion, and hard work, and we wish her all the best in her future endeavours.

About Orchids The International School
Orchids The International School is one of India's leading international K12 school chains. It started its journey in 2002 with its first branch in Hyderabad. In less than two decades, it has grown into 90 branches spread over 25 major cities- Mumbai, Bengaluru, Pune, Hyderabad, Gurgaon, Chennai, Kolkata, Nagpur, Nasik, Indore, and Aurangabad. Modern physical infrastructure, personalized attention, and a carefully curated curriculum provide uniformity in all OIS schools. OIS follows the CBSE and ICSE curriculum infused with international teaching methodologies to emphasise personality development and academic excellence strongly. Currently, it has over 75000+ students and 7000+ teaching and non-teaching staff.
This year educate yourself and develop your career with EasyShiksha