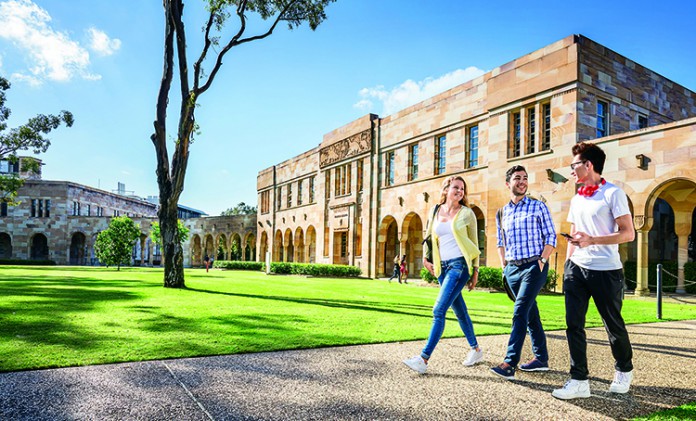 30th September, 2019, New Delhi– The University of Queensland (UQ), one of Australia's top universities, has returned to India to pave the way for students and academics to address issues of international importance. 
UQ Vice-Chancellor and President Professor Peter Høj is leading the delegation to New Delhi to strengthen links with India's higher education sector and leading industry bodies. As a university ranked among the global top 50, capturing opportunities to grow research communities and to create high-value jobs with global connections is a top priority for UQ.
UQ's flagship partnership with the Indian Institute of Technology Delhi (IITD) is among the highlights of the 'UQ in India' week. Now in its first full year of operation, the UQ-IITD Academy of Research, known as UQIDAR, provides PhD students with a qualification from both institutions. 
Dr Jessica Gallagher, Director of Global Engagement and Entrepreneurship at UQ, stated of UQIDAR: "Open to all disciplines, the partnership enables students to gain a global qualification from both IITD and UQ in four years. Projects are goal-directed and address grand challenges of interest to Australia, India and the global community including, but not limited to, food security, sustainable energy, water management, medicine and health, social sciences and the humanities, and engineering and technology."



Top Software Engineering Courses



Vallari Chourasia, a student of UQIDAR program, who commenced her PhD in January, says she was attracted the program for its structure and the opportunity to work with supervisors from both institutions. She stated "My project deals with the catalytic conversion of sugarcane bagasse into aromatics and high-value chemicals, such as sugars, aromatic compounds, or sugar alcohols, which could be commercialised. Working with supervisors from UQ and IITD makes my research broader. With Professor K.K Pant at IITD I am working on a chemical route, and at UQ I am working on a biological route. I will also be able to compare the different characteristics of the Indian and Australian sugarcane strains. While the structure of the UQIDAR program – where we join a defined project with set objectives – puts pressure on us, it also helps us to start our research quickly and graduate sooner.  UQ is a very well renowned university and places importance on research. I am excited to study next year in Brisbane – this will be my first travel outside India. "
With generous scholarship opportunities, the collaborative joint PhD program supports students from India and Australia to take advantage of world-class facilities and resources, and to gain exposure to culturally diverse research networks.
Currently, 20 students are researching projects at IITD in multidisciplinary areas of importance to India, Australia and global communities. Co-supervised by leading researchers from both institutions, these students will travel to UQ in January 2020.
The UQIDAR will allow for scale and sustainability. Current modelling aims for a steady state of approximately 300 PhD candidates by the tenth year of operation. Furthermore, by the end of the tenth year, it is expected that the Academy will have graduated more than 360 candidates. These alumni will be across a broad range of disciplines and will be well-placed in industry R&D labs and in academic institutions. 
Applications for the 2020 cohort are currently open, and will close 4 October 2019.
For more information and to apply, visit www.uqidar.org.
Top Networking Online Courses
More Courses With Certification
Empower your team. Lead the industry
Get a subscription to a library of online courses and digital learning tools for your organization with EasyShiksha
Request Now
ALSO READ:  Abnormal-serum-triglyceride-higher-in-men-than-in-women-says-srl-diagnostics
Get Course: How-to-make-Money-Online