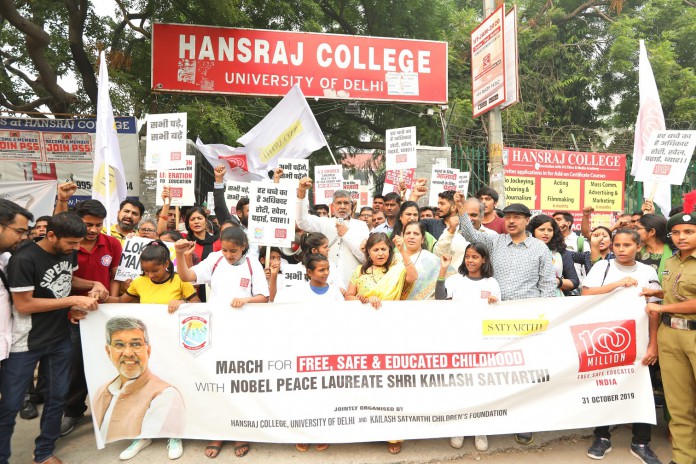 New Delhi, October 31, 2019: Students from Hansraj College and University of Delhi joined Nobel Peace Laureate Mr. Kailash Satyarthi in demanding free, safe and educated childhood for every child in the country. A march was organized by Hansraj College at North Campus today in collaboration with Kailash Satyarthi Children's Foundation (KSCF) under the banner of 100 million Campaign that was launched by Mr. Satyarthi in 2016. The marchers stressed upon the accountability of law enforcement actors towards the children intensifying the chorus for freedom, safety and education of children.
Led by Mr. Satyarthi, thousands of students from different streams of University of Delhi took out a march from Hansraj College gate to Vivekananda Statue, Faculty of Arts, University of Delhi. As part of the 100 Million Campaign initiative, youth activists in five continents are hosting marches from October 10th till December 10th, 2019 (Human Rights Day), demanding the rights to freedom, safety, and education for every child.
Top Software Engineering Courses
This initiative by Hansraj College, University of Delhi is one of the many marches being organized by youth activists, under KSCF's flagship 100 Million Campaign, across the globe in countries like US, Ghana, Peru, Belgium, Germany, Brazil, to name a few.  These marches aim to mobilise the youth towards ensuring a safe environment for all children.
On the occasion, Hansraj College announced to work as nodal agency for 100 million campaign in the North Campus of University of Delhi for the next two years. Principal of the college, Dr. Rama said, "We are proud to be a part of this mega event along with KSCF and pledge to work with the foundation in years to come. Today, Hansraj family welcomes Mr. Kailash Satyarthi to the college."
Talking about the event, Mr. Bidhan Chandra, Executive Director, KSCF, said "Through this awareness drive, we aim to draw the attention of our leaders and decision-makers on the pressing need to deliver timely and proper justice to children in distress. Freedom, safety and education are basic human rights and no child in the world should be robbed of these privileges."
He added, "We are looking forward to work with more students of DU through Hansraj College in the years to come to make the 100 million campaign a grand success. This initiative of Hansraj College students showcase how youth power can change the world. It will give a huge inspiration to students across the country and we are hopeful that more students will come forward to make the children of the country free, safe and educated."
On the occasion, students who spearheaded the 'Padhaku' initiative of NSS Hansraj were felicitated by Mr. Satyarthi. Under this initiative, students of the college conduct classes for children of a slum situated near the college at the college premises, six days a week from 3 PM to 5 PM.
Dr. Rama said, "NSS Hansraj has always endevoured to work in the direction of education and through our 'Padhaku' initiative catered to the needs of children education."
To commemorate five years of Nobel Peace Prize for Children, Mr. Kailash Satyarthi was felicitated by Principal of Hansraj College, Dr. Rama, at a ceremony held at college auditorium, earlier in the day. The programme started at Hansraj College auditorium with screening of 'The Price of Free' an award winning documentary capturing the life, work and struggles of Mr. Satyarthi followed by a discussion on 'the world envisioned for children with contribution of the youth'.
Principal of the college said, "Shri Kailash Satyarthi has dedicated his life to the cause of rights of children for which he was recognised on international platform. Nobel Prize is an honour which he earned because of his work in the field of child rights and education."
ABOUT KAILASH SATYARTHI CHILDREN'S FOUNDATION
The KSCF, founded by Nobel Peace Laureate Kailash Satyarthi envisions a world where all children are free, safe, healthy, in school and have the opportunity to realise her/his potential. Its mission is to end slavery and child labour and ultimately end violence against children.
To make our vision of a child friendly world a reality, we are scaling Mr. Satyarthi's almost four decades of work at both the grassroots and global policy level. His lessons learned guide the foundation's work to engage children and youth as part of the solution, build greater collaboration between governments, business and communities, ensure effective national and international laws, scale know-how and successful practice and create partnerships with key stakeholders.
 For more details, visit our website: http://satyarthi.org.in/
ABOUT 'PADHAKU' INITIATIVE
Education being the primary concern of the society, NSS Hansraj has its education wing that functions under the name of 'PADHAKU' in which regular classes are held in the college premises from 3 PM to 5 PM, 6 days a week. The volunteers teach the underprivileged children of the nearby localities. Padhaku demands utmost dedication and effort from the volunteers who are expected to devote 3 days a week to teaching. Children from Chandrawal, a slum in the vicinity of the North Campus, come to the college to study. The college believes that the solution to all problems lies in education.
ABOUT 100 MILLION CAMPAIGN
The 100 Million campaign is a call to action for a world where people are free, safe, and educated in which we aim to inspire young people to stand up and act for their own rights. By mobilising to end violence against children, eradicate child labour, and ensure education, they can break the cycles of illiteracy, poverty and violence so that every young person in the world has the chance to fulfill their potential. In our first year, 100 Million has worked directly with thousands of young people and other activists, spanning five continents. Over the next five years we aim to be history's largest ever youth campaign, with young people leading change in communities and countries across the world.
Top Networking Online Courses
More Courses With Certification
Empower your team. Lead the industry
Get a subscription to a library of online courses and digital learning tools for your organization with EasyShiksha
Request Now
ALSO READ: Lawyered-a-legal-tech-startup-100k-from-angel-investors
Get Course:  Mobile-Apps-Development-using-React-Native