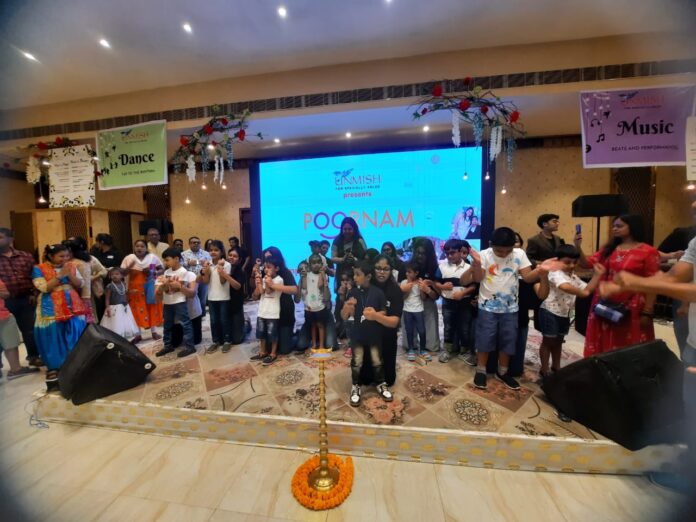 I don't need easy. I just need possible."
– Bethany Hamilton.
Kolkata, 14th May 2023: Yes, UNMISH is an ideal example of how individuals with disabilities can overcome challenges and achieve their goals with the help of determination and willpower. Through its programs and initiatives, UNMISH empowers ones with special needs to develop their skills and abilities, leading to greater independence and a more fulfilling life. The organization's focus on skill-building and vocational training helps break down barriers and enables specially abled ones to contribute to society in meaningful ways. Thus the organisation is formed by the kind of individuals and passionate people who are determined to work tirelessly on making a wonderful world.
ALSO READ: Kanakia RBK School Mira Road Sets a Benchmark with 100% Result in ICSE Class 10th and ISC class 12th Exams, March 2023
Kolkata-based non-profit organization UNMISH has taken such a huge step towards improving the lives of specially-abled children and young adults through a spectacular initiative in its 8th edition of POORNAM. This year in 2023, with the special goal of empowering children. By providing opportunities for skill development and employment, they are helping these young-adults become independent and self-reliant members of society. It's also commendable that UNMISH's Founder and Director, Mrs. Nita Diwan, year after year conceptualizes events with the specific goal of empowering these children. This shows the organization's commitment to making a meaningful difference in the lives of those who need it. Overall, the event has been a great success, and it's inspiring to see organizations like UNMISH working towards making a positive impact towards an inclusive society. There are a lot of events that create awareness but we work towards acceptance and integration.
Renowned actors, Prosenjit Chatterjee and other notable personalities from different walks of life were present to encourage and support the young participants, which had undoubtedly boosted their morale and helped them feel appreciated and valued. The presence of such personalities not only adds credibility to the event but also helps to raise awareness about the cause that the organization is working towards. Overall, the event was a resounding success and had the support of the wider community. U.S. Consulate General, Kolkata (India) Melinda Pavek was also present to encourage the children. She commented at the event, "It's great to see such kind of interesting games and these games are helping children be physically active and developing themselves. I am thrilled to be here and the initiative that has taken UNMISH."

It's heartening to hear about the various activities and sessions that were a part of the event and the special ones were able to explore themselves through various activities such as learning curve – therapeutic fun games, talent shows, sensorial sessions, dance, singing, and playing various instruments. An art exhibition was also created by their vocational unit, UDAAN, as part of the programme, further enhancing this revolutionary event. The efforts made by the entire team of UNMISH, along with their Founder and Director Mrs. Nita Diwan, to ensure that the participants and guests had a memorable experience is indeed noteworthy. It's inspiring to see UNMISH working towards creating a better future for these young adults by providing them with opportunities to learn, explore, and develop their skills, thereby empowering them to lead independent and dignified lives.

Mrs. Nita Diwan, the Founder, Director of UNMISH, commented at the event, "Every imperfection is a perfection. We should look beyond disabilities and focus on an individual's strengths and potential. We have been conducting this unique event for the last 7 years and the objective of this initiative is to make the special children realise their own potential and felt valued and appreciated by the outside world."
About UNMISH:
UNMISH conceptualized by Nita Diwan embarked on its journey in 2009. A non-profit organization registered under The Society Act, strives for an 'Inclusive Society' with a vision of changing the lives of children and young adults with special needs. UNMISH, strongly believes that each child or adult, however challenged deserves an opportunity to be his/her best and carve a niche in the society. The team is committed to clinical excellence, compassion, and coordinated care to prepare them for a better and dignified life. Located in New Alipore, UNMISH started with one child and has grown into a school, a therapy and a vocational unit with specialists and has worked with over 1,300 children till date. Being a self-help group specializing in assistive and rehabilitation technology, UNMISH is dedicated in improving the quality of life of parents and their children.
This year educate yourself and develop your career with EasyShiksha