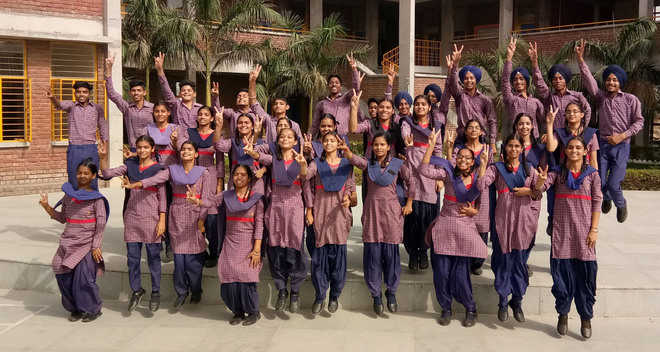 533 students from Class 12th and 594 students from Class 10th of five Satya Bharti Adarsh Senior Secondary Schools in Punjab appeared for CBSE board examination
Overall pass percentage of Class 12th students was 89.3%, and Class 10th was 89.4%, despite schools being located in rural areas and children primarily from challenging socio-economic backgrounds
Pass percentage of girls in class 12th stood at 94% and 93% for class 10th validating Bharti Foundation's focus on the girl child
Punjab, 15 May 2023: It was a remarkable moment for Bharti Foundation, the philanthropic arm of Bharti Enterprises, as the students of Satya Bharti Adarsh Senior Secondary Schools in rural Punjab scored well in Class 12th and 10th CBSE Board Examination.
ALSO READ: UNMISH Organized Their 8th Edition of POORNAM'23 'Empowering of Lives'
The overall pass percentage of 89.3% for 12th and 89.4% for 10th these underprivileged students from the rural heartlands of Punjab has proven that they are no less than anyone if given the right environment and support.
It was a proud moment for Bharti Foundation as the girl students across five Satya Bharti Adarsh Senior Secondary Schoolsin Punjab scored the top three positions for 12th and 10th. In Class 12th, Mehakdeep Bawa from Jhaneri, Sangrur and Anmolpreet Kaur from Sherpurkalan, Ludhiana scored the highest, 96.6% followed by Shakina from Rauni, Ludhiana scored 94.8%. In Class 10th, Shehnaj Khan from Rauni, Ludhiana was declared topper with 96.6% followed by Arshpreet Kaur with 95.2% and Amandeep Kaur at the third position with 94%, both from Sherpur Kalan, Ludhiana.
Speaking on the occasion Ms. Mamta Saikia, Chief Executive Officer, Bharti Foundation said "The success of students from Satya Bharti Adarsh Senior Secondary Schools is special as many of them are coming from challenging backgrounds of rural Punjab. The results have reaffirmed the Foundation's belief that holistic development of children can lead to positive outcomes in many folds. And this year it is even more special as our girl students have continued to make the school and their community proud with their outstanding performance in CBSE board examination. I would like to congratulate the students and teachers for the successful outcome and thank the community and Government of Punjab for consistently supporting and motivating our schools."
Satya Bharti School children come from marginalized communities and their achievements especially that of girls are special to the surrounding communities. Considering the fact that most of these students have withstood various social and economic pressures but despite the adversities, the children have proved their potential in the board examination.  It is a dream come true to most of them and their family members as they stand as exemplars in the community.

These Schools provide opportunities for holistic development of children in rural India. The school curriculum has been designed weaving in innovative teaching methodologies for effective understanding of concepts by the children. Both classroom as well as out-of-class activities encompass interventions that help students develop attitudes, values and skills for life. While innovative Teaching Learning Material (TLM) enhances the classroom experience, special programs like The Physical Education Curriculum (PEC) makes the outdoor learning more meaningful along with computer aided learning, digital classrooms and advanced technology labs. Currently 173 Satya Bharti Schools are operational across the villages of Punjab, Rajasthan, Haryana, Uttar Pradesh and Tamil Nadu. Of the 173 schools, five schools are senior secondary schools run in public private partnership mode under Punjab Government's Adarsh Scheme.
About Bharti Foundation Bharti Foundation was set up in the year 2000 as the philanthropic arm of Bharti Enterprises. It implements and supports programs in primary, secondary and higher education. Since 2006, the flagship, Satya Bharti School Program has been providing free quality education to thousands of underprivileged children in 173 schools in rural India across five states, with a focus on the girl child. The impact of quality education has been widened by transferring the learning and good practices of this program to more than 3 lakh students studying in 808 partnering government schools across 11 States/UTs, through Satya Bharti Quality Support Program(QSP), since 2013. Most of the processes under QSP were found to be pragmatic. Bharti Foundation was invited by several education officers at district and state level to scale up some of the initiatives through Satya Bharti Quality Support Program – At Scale. Satya Bharti Abhiyan, the sanitation initiative started in 2014 till 2021, has benefitted 2,19,872 beneficiaries by improving sanitation conditions in the districts of Punjab, providing access to toilets and by fostering behavioural change in communities. The Foundation has been able to impact more than 2 million children in a meaningful manner through its education programs this year.
This year educate yourself and develop your career with EasyShiksha