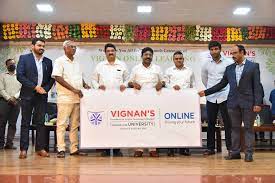 Guntur: Vignan Online the e-learning arm of Vignan Foundation for Science Technology and Research (Deemed-to-be-University), has announced its maiden brand campaign. Continuing the legacy of Vignan Group, a trusted education brand from Andhra Pradesh and Telangana, Vignan Online emphasizes how to meet the needs and demands of the new-age learners.  Moreover, the #DrivingYourFuture campaign emphasizes the affordability, flexibility and futuristic potential of new-age courses and programs. In addition, through this campaign, Vignan gives students a liberty to choose their programs that help them in giving a push to their career.
The online learning system has made a phenomenal impression during the Pandemic. Online Learning, with its quality and credibility, continued the process of teaching and learning without disrupting the Learner-Teacher relationship. As a result, the online education system has inspired educators worldwide and emerged as a solid alternative to traditional education.  A vast and pervasive space such as the Internet offers endless opportunities to learn and teach. Launched early this year, Vignan Online offers UGC Entitled and AICTE Approved Online MBA and BBA to suit the requirement of the new age education. Online MCA and BCA to be launched soon with multiple electives.
Each elective of Vignan has its potential that acts as a catalyst for the career growth of the students and helps them to get their dream jobs.
Srikant Nandigam CEO – Vignan Online, said "Using our 45 years of academic excellence and experience and a wide range of educational resources, we aim to empower and enrich the lives and long-term future of our students. As part of our maiden brand campaign, we wish to highlight our rich legacy, diverse array of programs/electives, placement opportunities and assistance, prospects of the new age electives, affordability and flexibility of payment plans, etc. We hope that this brand campaign will be a great success and help career-oriented students to succeed in the future."
In the current intake, Vignan offers MBA programs with 14 electives which include Human Resource, Finance, Marketing, Marketing, and Human Resource, Marketing and Finance, Finance and Human Resource, Operations Management, Information Technology, Business Analytics, Banking, and FinTech, Logistics and Supply Chain Management, Digital Marketing, Healthcare Management, and Innovation, Entrepreneurship and StartUps. The BBA program includes electives in Finance, Human resources, and Marketing.
ALSO READ : M3M Foundation announces 500 pan India scholarships for the children and youth from low socio economic background
In addition to MBA electives, to promote specialized learning along with particular expertise and skillset among students, Vignan offers 11 different types of advanced certification programs. The prominent ones include Advanced Certification in Strategy and Leadership, FinTech, Digital Marketing & E-Commerce, Data Science and Analytics, Advertising, Branding & Project Management, etc. Vignan also offers electives in MCA and BCA programs which include MCA Computer Science & IT, MCA Data Science, MCA Cyber ​​Security, BCA Computer Science & IT, BCA Data Science and BCA Cloud Computing etc.
Additionally, Vignan Online offers affordable EMI options to ensure students do not face financial difficulties while pursuing these programs. In order to make this campaign ubiquitous, Vignan will leverage a variety of social media and news media platforms, including Youtube, Facebook, Instagram, Discovery, LinkedIn, TOI, Eenadu, and PhonePe.
With the #DrivingYourFuture campaign, Vignan aims to target cities like Hyderabad, Guntur, Vijayawada and Vizag through out-of-house (OOH) advertising medium.
About Vignan Foundation for Science Technology and Research (Deemed-to-be University):
Incepted in 1977, Vignan (Deemed-to-be-University) is situated in Guntur, Andhra Pradesh. It is the brainchild of Dr. L Rathaiah, Chairman, Vignan Group of Institutions. The Group carries a legacy of over 45 years in the states of Andhra Pradesh and Telangana and has been providing on-campus UG, PG, and Ph.D. programs. Known for its ethical and moral standards, upliftment of the students and first-time engineers of the family, disciplined learning, committed faculty, state-of-the-art infrastructure, and excellent placement record, Vignan has been providing quality education in a diverse and academically inspiring environment. Vignan has become instrumental not only in shaping the future of the learners, making them job-ready but also in helping in their overall development and being successful citizens.
Visit EasyShiksha for skill development courses.