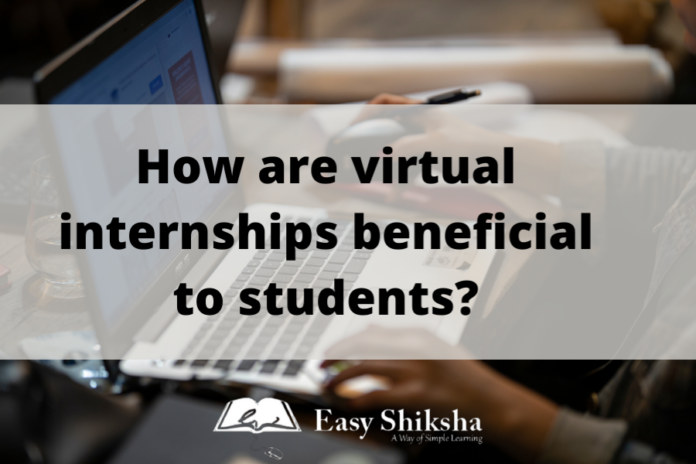 Wondering that, what are virtual internships programs, and their benefits? If you are searching for it, then you must probably know some of it already. But to be sure, let's just talk it through.
Plenty of virtual Internships are available for every niche and subject. But why must you choose it? All the real questions are the same, as to why must you do it? What difference will it make to your career? Will it be like, my resume has got a lottery?
Do not get occupied in the whereabouts of how to start, where to start, but first, you make it clear, why to start it?
The primary answers may look like virtual Internships programs are a good way to have professional knowledge, but you must choose your reasons.

A recent graduate, who is just out of his/her college years, is like a happy-go-lucky and filmy buff, who is new to the practical world of professional life.
The fun of all times is about to get serious. But the mood is still, refreshing and energetic for his profession. She is very excited to step up her life from studying exercises.
Though there is no denial that you may get job-ready hacks in the online internship programs and loads of hands-on experience, still "the why" is not solved?
Because these benefits are raw enough to try out a new activity. Jobs may provide the same things too. And everyone will learn it because it is not a natural talent that anyone can instill, but rather one that requires expertise, experience, and all-around nurturing.
But since the world is saying that Online internships in India are more of a requirement than a plus. It is important to know the clear-cut examples and direct benefits of having one such opportunity in your basket too.
First, know in detail the benefits and advantages of Online Internship Programs in India, read below:
It improves work quality
Enhancing appropriate skills and exposure.
Learning to excel in various things all at once
Experiment with different things at a time,
Growth in a scope other than conventional aspirational jobs, as new, interesting jobs are emerging
Quality certificates after completion of the program
Quality additions in your CV, making it heavy
Authorised and respected values of your certificates.
Growth as an individual
Maturity
Gaining experience and office culture
Values of communication, as per sector experience.
Better chance to persuade the interviewer
Life values get strong
General Communication and basic tactics like email, spreadsheets, presentations, forms, and social media updation, like Linkedin and zoom call meetings.
Working in a team
Productivity increases, amidst so much uncertainty

Important Announcement – EasyShiksha has now started Online Internship Program "Ab India Sikhega Ghar Se"
With so many benefits, it is sure you are lured in to participate. But there are some other benefits too in terms of figuring out how to do the Online certification training programs in India.
Virtual programs and pre-employment training assist in reducing the extra cost of paying to companies or other extra amounts for taking some classes to learn these post-graduate and pre-professional classes.
There is no need to travel, which saves money and reduces your carbon pollution in an already deteriorating environment. In short, it is a worthy deal, with money savings too.
Virtual internships allow you to add value to your resume by allowing you to acquire and demonstrate a wide range of skills that companies value, to every corporation.
It directly helps in placing you at good places, gives you the confidence to start off, or else the company with whom you are interning will make you permanent as a team member.
Do not worry, you, all your age peers are the most affected of them all?
But here you are still trying your level best to remain sane and sound!
With so much chaos and mess, there is still a pandemic to deal with. Now, anything and everything is new. It is like you are from new age, so technology becomes our friend, whether you want it or not. Ours is a digital space, where one can not skip the internet and technology at any cost. So better be in that flow.
The fault lies in the education and skill development parameters, and the gap our learning and professional life has. So Internships become an important and relevant solution.
But with limited pay & responsibilities at the start of the career, internships provide the opportunity to grow and learn from the industry experts of our niche, by observing and doing things regularly. Everyone is thus running to find the best corporations and big names in internship programs. Have you been in that race, knowingly or unknowingly?
Now let's look at what a person will become if he/she pursue Online internship programs in India:
He/she will have contacts and build a network in important corporations.
Professional references from all across the world will be made.
Valuable experience for your resume and your future job
Working knowledge
Theory to the practicality of life
Good switch on from a career to a whole new career
Learning about how to speak in a professional situation.
A better understanding of digital tools and tech-based jobs
Become friends with technology
Safety of home.
With almost all companies and skills represented in online internship platforms, you must find your best fit. To develop and grow your talent, you should seek professional assistance or directly apply and check on free platforms such as Glassdoor, Indeed, Internshala, and other genuine and significant platforms.
EasyShiksha can advise and assist you in taking the next step. All potential leaders of tomorrow are offered a variety of industry-standard internship programs. You can now access their website for internships and company website for more details.
What's next? Checkout Top 10 Online Certification Programs You Should Do in 2022.
Top Software Engineering Courses
For more Information visit Easyshiksha and Hawkscode
ALSO READ: wonderla-holidays-announces-anniversary-offer-to-celebrate
Get Course: Quality-Management-System-(QMS)