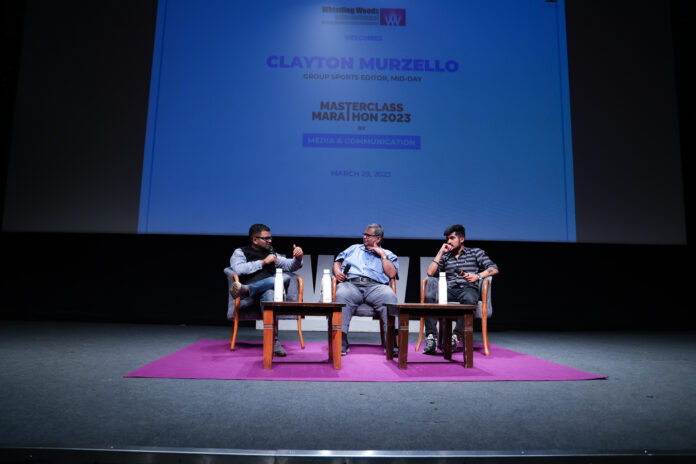 ~ Featuring Leaders in the Media & Entertainment Industry the 4-Day Summit Witnessed the presence of Thomas Dsouza, Abhinav Srivastava, Clayton Murzello and Chandana Singh ~
Whistling Woods International (WWI) School of Media Communication & Management hosted the 3rd edition of Masterclass Marathon, a confluence of distinguished leaders from the Media & Entertainment industry. Students of WWI witnessed eminent experts from various facets of the industry impart their valuable insights about Multiplex Programming, Public Relations, Sports Journalism and Neurodiversity across the 4-day summit.
ALSO READ: Buddha International School Nayagaon celebrates World Earth Day by planting 500 saplings
The masterclass marathon commenced with an insightful session featuring Thomas Dsouza, Senior Vice President of Content Programming at PVR Inox. With an elaborate conversation about 'The Evolution of Multiplex Programming', behavior of consumers and its impact on cinema, he shed light on the nuances of content programming. Talking about its process he stated, "The content programming is divided into two parts where a new film is about to be released & the team has to provide space for it, while simultaneously researching data analysis about the value of the film".
Day 2 witnessed the presence of Abhinav Srivastava, CEO of Madison Public Relations. Starting his career in advertising and marketing, he switched over to Public Relations eventually and realised it as his forte. While speaking about 'Integrated Approach to Public Relations', he shared, "The field of PR is transforming generously and is treading into various domains." He explained that the future of this industry is bright as it is evolving due to growing marketing domains. Also, the industry will veer towards the digital world over the traditional methods.
The following day, Clayton Murzello, Group Sports Editor of Midday shared his thoughts on 'The Changing Scenario in Sports Journalism in the Digital Age'. Speaking about the future of podcasts, he conveyed that it's enlightening to know more about the sport, the individual with whom the podcast is held and overall, about the fraternity. Also, he continued, "As a journalist you cannot be biased, especially when you are a sports journalist. Your responsibility must be towards your readers or to the listeners if you are a broadcaster."
The concluding session on Day 4 covered the topic of 'Neurodiversity & Creating Inclusive Spaces' featuring Chandana Singh, Founder & Consultant, Advocacy for Dyslexia. She explained the difficulties encountered by neurodiverse learners as well as the stigma associated with them. She shared, "Inclusivity of Neurodiversity involves identifying people with such disabilities and including them in our lives, professionally and personally."
The 4-day SMC Masterclass Marathon was an exhilarating experience for the students, leaving them enriched with knowledge and encouraged to create their mark in the industry.

About Whistling Woods International
Whistling Woods International (WWI) is Asia's premier Film, Communication and Creative Arts Institute. Founded by one of India's leading filmmakers – Subhash Ghai, WWI is one of the largest and best media institutes in the country. 'The Hollywood Reporter' has rated Whistling Woods International as one of the Ten Best Film Schools in the world. The institute was also awarded Excellence in Creative & Performing Arts at the 6th FICCI Higher Education Excellence Awards 2019. WWI offer programmes that vary in duration from 1 year to 4 years catering to all major verticals of the Media & Entertainment industry, namely Acting, Cinematography, Direction, Editing, Producing, Production Design, Screenwriting, Sound Recording & Design, Visual Effects, Animation & Game Design, Media Management, Fashion Design, Music Production & Composition, Visual Communication Design, Event Management and Sports & Esports Management. All the programmes are offered under an agreement with Rajiv Gandhi National Institute of Youth Development (RGNIYD), an institute of national importance.
This year Educate yourself and develop your career with EasyShiksha.