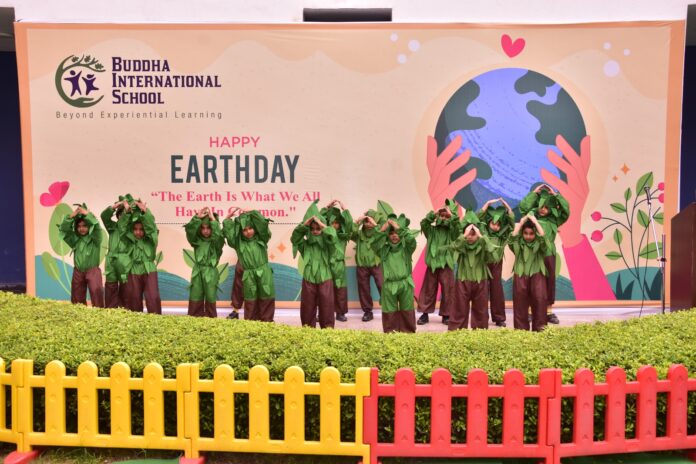 Gurugram – On the occasion of World Earth Day, plantation was done by Buddha International School, Nayagaon. During this, the members of the School Management Committee planted about 500 saplings in the school premises.
ALSO READ: NMIMS Bangalore celebrates 4 key milestones in 22-23 and aims for Global accreditation and MoUs
Chief Guest DDPO Navneet Kaur told that the importance of Earth Day is very important for the protection of humanity, it motivates us for the excellent use of fossil fuels. Celebrating this has a positive effect on the propagation of global warming, which motivates us to improve our standard of living. Explaining the importance of energy storage and its renewable, it cautions everyone for its unnecessary use. Due to the activities of carbon dioxide and methane emissions, the environment remains stable in its natural form.
School chairman Balraj Bhadana said that new concrete jungles are being created in the vicinity, due to which trees and plants are being destroyed. Everyone should plant trees to protect the environment. Principal Dr. Seema Chowdhary told that plantation will also be included in the extra-curricular activities of the students. Based on the participation done in plantation, some marks will be given in the annual examination result, so that children can understand the importance of trees at an early age. On this occasion, various programs were organized in the school, in which the children gave the message of save earth and save life through elocution competition, collage making and poster making competitions. On this occasion, the importance of celebrating Earth Day was told to the children.

The children of the schools took a pledge that at least every year they will plant a sapling and take care of it and make a tree. Will not pollute the ponds, rivers, puddles and other water sources around you and will inspire others to do the same. Inspire your family members for rain water harvesting in and around your home and school. Will use electricity only as per requirement, will keep our home, school and neighborhood clean. Use of polythene, cloth and paper bags should be renounced. The students also took a pledge to have love for animals and birds.
This year Educate yourself and develop your career with EasyShiksha.