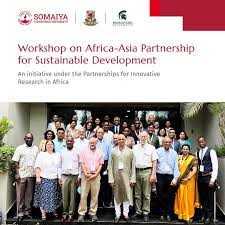 ~ In partnership with Somaiya Vidyavihar University, Egerton University and Michigan State University ~
Mumbai, 4th July 2022: In honour of the tripartite partnership between Somaiya Vidyavihar University (SVU), Egerton University (EU) Africa, and Michigan State University (MSU), USA, a workshop focusing on sustainable development was held from 27th-29th June '22 in Dahanu, Maharashtra. The two research locations in India are Nareshwadi Learning Centre (NLC), Dhanau, Maharashtra and KJ Somaiya Institute of Applied Agricultural Research (KIAAR), Sameerwadi, Karnataka. The next workshop will be held in Kenya in November 2022.
Supported by the Alliance for African Partnership/Partnerships for Innovative Research in Africa (AAP/PIRA), the purpose of this three-way collaboration was to help enhance agricultural productivity and natural resources management. Sharing a vision for agricultural productivity, conservation and utilisation of natural resources towards nutritional security and livelihood enhancement for farmers, the SVU, EU and MSU aim to eliminate the challenges faced to achieve the UN's sustainable development goals.
The three-day event kicked off on 27th June at the Nareshwadi Learning Centre (NLC) at Dahanu. The focus was on a plethora of topics such as – bio energy and eco-friendly packages, soil health and microbial solutions, precision agriculture and big data, health and nutrition in the farming community. Various problems concerning sustainable development were addressed. One such problem was how the Indo-Africa region faces tremendous pressure on climate change calling for technological knowledge and social management solutions. An excellent solution was suggested for this issue – a system that brings innovative adaptation and mitigation measures based on soil water and weather data considerations; the successful demonstration of the proposed system will ensure self-reliance that can be used for both civilian and farming applications.
Top Medical Science Online Courses
More Courses With Certification
An interesting insight which was discussed was how 1/3 of the food produced never reaches the consumers and is wasted due to logistical and packaging issues. To address this problem, the team decided to research on an eco-friendly packaging material made from coconut shells and an awareness plan to sensitise farmer communities about active packaging and its merits. Another significant initiative was set into motion, concerning sustainable agriculture. The soil health and microbial solutions team proposed a plan to promote soil health and crop yields on small farms by investigating the use of composts and biochar prepared using indigenous technologies, practices and resources. Similarly, an abundance of such innovative ideas and solutions were discussed and set into motion, with the goal of achieving successful sustainable development.
Going into detail about the work being done, Dr. Karim Maredia, Professor and Director of International Programs in the College of Agriculture and Natural resources at Michigan State University, explains, "The program inculcates a broad theme of sustainable development, which includes a lot of diverse areas like soil health, bioenergy, eco-friendly packaging, big data, enviro-weather and so on. The ultimate goal is to build global knowledge partnerships on sustainable development to address the pressing challenges of its security and livelihood."
Talking about the PIRA grant, Dr. Arnold Opiyo, Associate Professor of Horticulture at Egerton University, says, "This particular grant is for these 3 universities to come together and put up a proposal which can be used to uplift the small-scale farmers by bringing in expertise from the different continents together and formulating research agenda".
Speaking about his experience during the workshop, Dr. Douglas Buhler, Associate Vice President for Research and Innovation at Michigan State University, lauds, "It's great to be back here again. The experience has been great and the hospitality that we received was fantastic. We are doing really important work, particularly the connection between the three institutions can be a very fruitful and valuable way to move forward. I look forward to visiting again sometime in the not-too-distant future".
Optimistic about the future, Mr. Samir Somaiya, Chancellor of Somaiya Vidyavihar University, comments, "An excellent initiative has unfolded here, where 3 top universities from different continents in the world came together and collaborated on the very important goal to achieve sustainable development. I am pleased that the workshop was seamless and can confidently say that this partnership will yield to be fruitful and has the potential to make a lasting impact".
The workshop proved to be a huge success, and mutually beneficial for all the parties involved. Establishing a joint network through collaborative research programs between SVU, EU and MSU will empower us to share knowledge, best practices, innovative research tools, and emerging technologies between India, Kenya and USA. It will further develop a collaborative partnership proposal for submission to the Government of India under the India-Africa cooperation program.
ALSO READ : Hybrid Learning: The Future of Education
About Somaiya Vidyavihar University (SVU):
Padma Bhushan Karamshi Jethabhai Somaiya founded Somaiya Vidyavihar, an education trust in 1959, to provide quality holistic education. It was founded on the belief that education is an important pillar of nation-building with the power to change lives, and education must innovate to encourage the holistic development of youth. It is known as much for its Science, Technology, Engineering, Management, Social Sciences, and Commerce programs, as for its programs for academic studies in various faiths and cultures of India. With over six decades of rich experience in building and managing educational institutes of great repute, Somaiya Vidyavihar has become a Private University in 2019, bringing all its self-financing higher education institutions and the self-financing programs at the undergraduate and postgraduate levels under one umbrella.
About Egerton University (EU):
Egerton University is the oldest institution of higher learning in Kenya. It was founded as a Farm School in 1939 by Lord Maurice Egerton of Tatton, a British national settled in Kenya in the 1920s. In 1950, the School was upgraded to an Agricultural College offering diploma programmes. The Egerton Agricultural College Ordinance was enacted in 1955. In 1979, the Government of Kenya and the United States Agency for International Development (USAID) funded a significant institution's expansion. In 1986, Egerton Agricultural College was gazetted as a constituent college of the University of Nairobi. The following year, 1987, marked the establishment of Egerton University through an Act of Parliament. Egerton University has two campuses, Main Campus in Njoro and Nakuru Town Campus College.
About Michigan State University (MSU):
MSU is a pioneering institution in the U.S. in implementing research, education, and extension programs focusing on sustainable agricultural development programs. MSU has a strong international presence and is recognized for its research, teaching, and outreach programs, especially in agriculture, food, energy, and natural resources management. As the first major land-grant University in the U.S. with a well-established International Studies and Programs, MSU now has more than 1,400 faculty members actively engaged in international collaborative research, scholarship, instruction, training, and outreach work abroad in over 175 countries. MSU has an extensive network of long-term partners worldwide, including universities, regional agriculture networks, government agencies, and non-profit organisations. As one of the top research universities globally, MSU has sharpened its focus on several critical international research themes, including agriculture and food systems, bioenergy, sustainable environment, health and nutrition, and education.
visit EasyShiksha for skill development