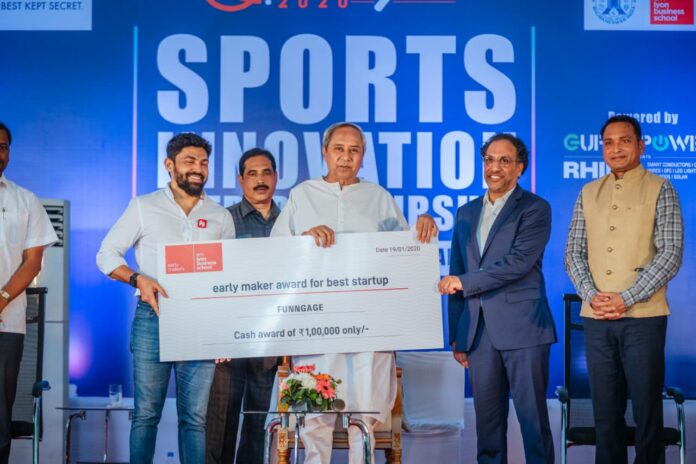 XEBS is a collaboration between XIM University, Bhubaneswar, ranked 35 on NIRF
emlyon business school ranked 2nd in France in terms of employability as per the Global Employability University Ranking 2023 and top 10 of the best business schools in the world by Financial Times
New Delhi, 2nd May, 2023: XAVIER-EMLYON Business School (XEBS), today announced that admissions are open for the third batch of its flagship dual-degree (MBA-MSc) International Sports Management Program (ISM). Offering a multi-campus experience, classes will be held in Bhubaneswar, considered the sports capital of India, and Paris, set to host the upcoming 2024 Olympics. The program is the first of its kind to enjoy government support as XEBS is also a high-performance centre of excellence in sports management of the Odisha Sports and Youth Services Department.
READ ALSO: C20 Youth Leadership Workshops conducted by AYUDH at Bhubaneswar
The International Sports Management Program is designed to equip students with the industry knowledge, global exposure and specialised skillsets needed to succeed in the rapidly growing sports industry in India. According to a recent GroupM ESP India Sports Sponsorship Report 2023, total sports spending exceeded INR 14,000 CR for the first time in 2023, and that coupled with impetus by GoI on Khelo India & NSF's which received a record funding of INR 3397.32 CR, during the latest union budget sessions, is creating increasing­­­­­­­­­­­­­­ demand for professional talent.
Accelerating growth is expected to create a huge demand for skilled professionals who can not only manage sports organizations and events, but also tap emerging opportunities in the sector such as sports gaming, virtual sports, among others. The International Sports Management program at XEBS is designed to provide global exposure and best in class curriculum to meet this growing demand.
"While Bhubaneswar is the sports capital of India, Paris will be hosting the Olympics in 2024. We are committed to providing students with truly world-class exposure and the tools they need to succeed. The program has been meticulously designed to prepare future leaders for a wide range of careers in sports, from event management to athlete representation and beyond." said Ashley Fernandes, India Head, emlyon business school and Chairman, XEBS. The ISM Program offers students comprehensive exposure in all aspects of sports management, including marketing, finance, event planning, and athlete management. "Students in the program will have access to a wide range of resources, including world-class faculty members, industry experts and networking opportunities within the industry in India and abroad." added Prof Nathalie Belhoste, Academic Director and Board Member, XEBS.
"We are thrilled to open admission for the upcoming 3rd batch of global sports leaders. This program is by far one of the leading in India and globally and we're proud of the opportunities our previous cohort have been able to secure" said Prof. Arun Kumar Paul, DEAN, XEBS and Professor of Operations Management and Decision Sciences, XIM University. XEBS is now accepting applications for the upcoming academic year. Interested students can visit the university's website to learn more about the program and how to apply.Cut off dates for applications are 15th June, 2023.

About XIM University:
Xavier Institute of Management was established in 1987 by the Jesuits community in Bhubaneswar. In 2013 XIMB was accorded the "University Status" by Government of Odisha that led to the establishment of Xavier University on July 6, 2013 as per the provisions of the Xavier University, Odisha Act, 2013. On 11th May 2021, the Xavier University, Odisha (Amendment) Act 2021 was passed in the Odisha Legislative Assembly, renaming Xavier University as XIM University. It is a premier institute of India offering various PG Management Courses and recently launched UG Degree programs as well. The University currently has around 3500 students across different programs along with an alumni base almost 30,000 professionals working in leading organizations across the world. The University lives up to its vision of faith and spiritual inspiration and strives to build a just and humane society, standing by the impoverished in their struggle for justice, rights of displaced individuals, and promotes compassion, ethics for the environment as a path to bring about global peace and sustainable development. The excellence that the institute has lived through the years has become an example, a legend for all to imitate and follow. This aligns with its motto – Semper Excelsius – Ever Higher.
About emlyon business school:
Founded in 1872 by the Lyon CCI, emlyon business school has an enrolment of 9,020 students of 125 nationalities over 6 campuses worldwide (Lyon-Ecully, Saint-Etienne, Shanghai, Paris, Bhubaneswar and Mumbai). It draws on a faculty of 172 international professors and researchers, and a network of 190 global academic partners, to provide learning tracks of excellence and open to the world. emlyon business school is multi-accredited and is among the world's top 1% business school being triple accredited, with EQUIS, AACSB and AMBA. emlyon runs a community of 38,600 alumni spread out in 130 countries. As a Société à Mission since July 2021, emlyon's raison d'être consists in: "providing life-long training and support to meaningful individuals able to transform organizations, for a fairer society, with more solidarity and respect for the planet." In its early maker's pedagogy, action and reflection are closely intertwined. Skill hybridization and social responsibility are at the heart of its training programs, where the best of both socio-economic and academic worlds meet.
This year educate yourself and develop your career with EasyShiksha