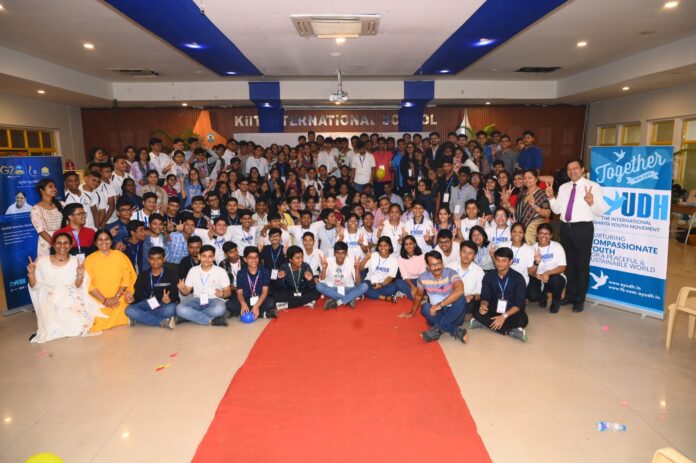 Bhubaneswar, Odisha – – AYUDH, the youth wing of Mata Amritanandamayi Math, recently organized the C20 Youth Leadership Workshop to promote unity and leadership skills among young people. The event, which took place at KIIT International School in Bhubaneswar, was attended by 260 selected youth from more than 30 universities and educational institutions.
ALSO READ: AIC-JK Lakshmipat University and Wadhwani Foundation Conduct Successful Entrepreneurship Boot-camp at KR Mangalam University
The workshop aimed to empower young people with the skills and knowledge to become future leaders. Participants engaged in various activities such as quizzes, meditation, environmental workshops, games, and interactive sessions aimed at promoting leadership skills and unity based on the C20 Amrita Working Group themes. Brahmacharini Amritatmika Chaitanya & Brahmacharini Niseema from the AYUDH National coordination Team led the workshops.
An exclusive workshop on Gender Sensitization was conducted by the C20 Gender Equality and Disability Working group (GED). Participants were excited to gain more awareness and propensity to behave in a manner that is sensitive to gender justice and gender equality issues.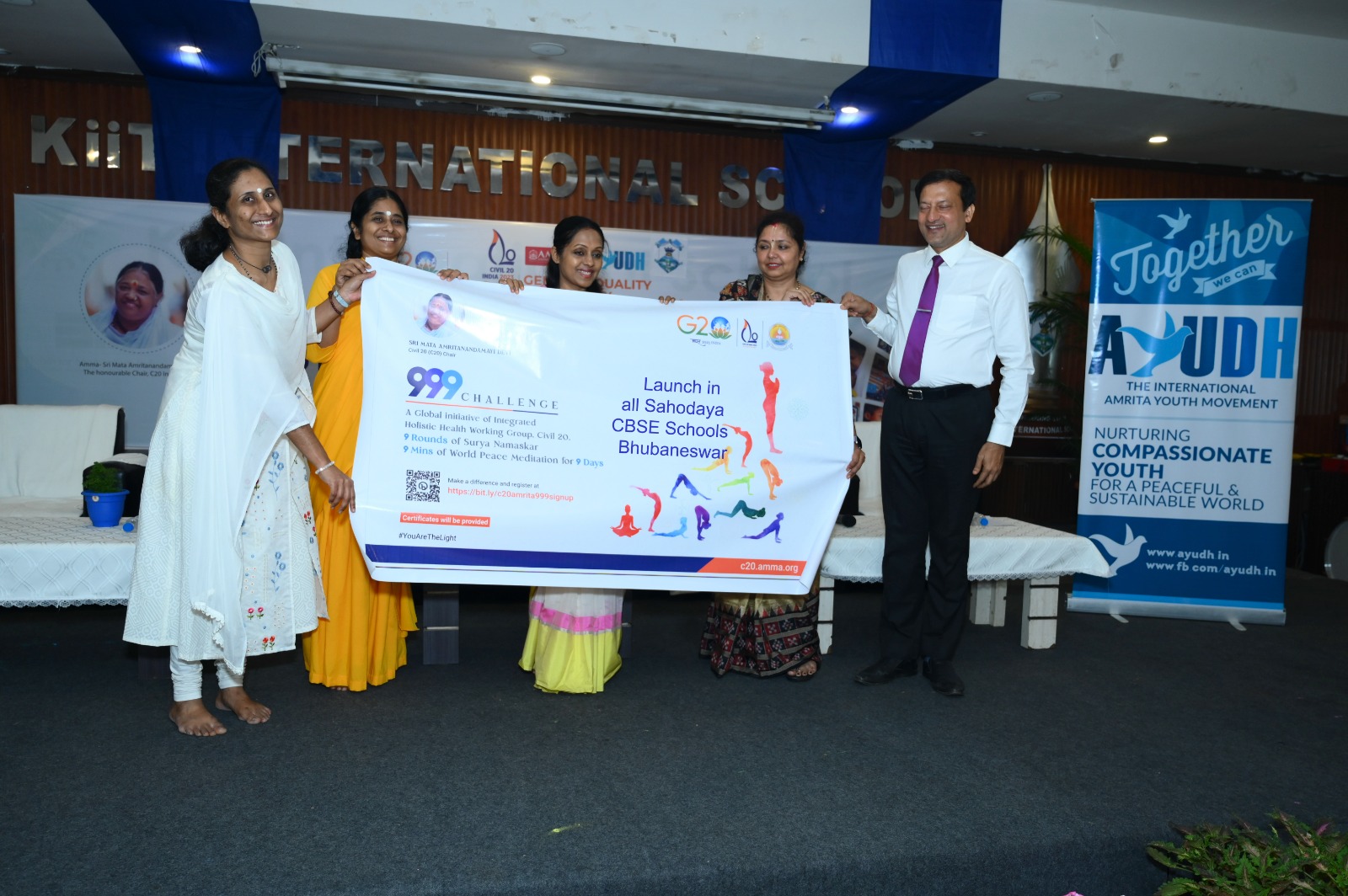 Ms Mousumi Patnaik, the principal of Amrita Vidyalayam, welcomed the participants and dignitaries. During the event, the 9-9-9 Challenge, an initiative of Integrated Holistic Health that seeks to demonstrate the vital impact of yoga and meditation on our lives, was launched in more than 100 CBSE schools that are part of Sahodaya School Complex. Sahodaya Group Secretary Dr. Sanjay Suar and Dr. Mona Lisa Bal, Chairperson of KIIT International school, launched the initiative.
Participants left the event with a deeper understanding of leadership and a greater appreciation for the diverse perspectives and experiences of their peers. The workshop successfully created a space for young people to learn and grow as future leaders.
The organizers hope that the skills and knowledge imparted during the event will enable participants to contribute positively to society and work towards a better future. The participants also registered with AYUDH and C20 Amrita Working group challenges and expressed their happiness to be part of AYUDH.

AYUDH is a platform for young people to learn and network with like-minded individuals who are passionate about creating a better world. The event showcased the importance of Indian youth and their role in global development through compassionate leadership that Amma is showing the world.
Amrita Vishwa Vidyapeetham
Amrita Vishwa Vidyapeetham is a multi-campus, multidisciplinary Institution of Eminence accredited by NAAC. It is also ranked the 5th Best University in India in the 2022 National Institution Ranking Framework (NIRF). Amrita continues to be the No. 1 Private University in India as per THE 2020 world rankings as well. The university has been awarded two UNESCO Chairs namely the UNESCO Chair for Experiential Learning for Sustainable Innovation & Development and the UNESCO Chair on Gender Equality & Women Empowerment. The university headquartered at Coimbatore is spread across six campuses in three states — Kerala, Tamil Nadu, and Karnataka. Amrita partners with academic, industry and governmental institutions across the world to accomplish human-centred, translational, and groundbreaking research. To date, Amrita has more than 500 collaborations from more than 200 signed Memorandums of Understanding (MoUs). Some of Amrita's partners include Harvard University, Columbia University, King's College London, KTH – Royal Institute of Technology, VU Amsterdam, the British Geological Society, University of Oxford, Italian National Research Council, Deakin University, and the University of Tokyo. Sri Mata Amritanandamayi Devi (Amma), a world-renowned humanitarian leader is the founder, Chancellor, and guiding light of Amrita Vishwa Vidyapeetham. Amma's words, thoughts, and vision for education and research have shaped the university's mission and vision.
This year educate yourself and develop your career with EasyShiksha