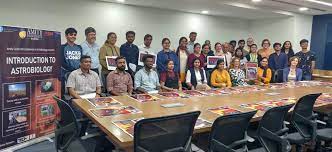 Mumbai, August 19, 2022: Astrobiology as a field is very new in India, and there are limited research avenues for students to pursue further studies in this field. Recognizing this need, Amity Centre of Excellence in Astrobiology (ACoEA) at Amity University, Mumbai, recently conducted a two-day international workshop on Introduction to Astrobiology. The workshop had a panel discussion on the topic "Road ahead of astrobiology in India" involving ISRO, IISER, BSIP, and MSA scientists.
The workshop aimed to help students transition into the field through in-person informal discussions with astrobiology researchers. The workshop was attended by students, researchers, and faculty members from different parts of the country and had speakers from Mars Society Australia (MSA), NASA and Open university UK.
The workshop included sessions on the origin of life, the formation of the solar system, and habitable planets. It also exposed students to how rocks form, their geology, and how life transitioned from unicellular to multicellular forms. A session on the important missions and their challenges, space medicines, and a group discussion on life on mars and the future policies, was also held.
The occasion was envisioned and supported by Hon. Chancellor of Amity University Mumbai Dr. Aseem Chauhan. Also, speaking on the occasion Dr. A.W. Santhosh Kumar, Vice Chancellor of Amity University Mumbai said 'The workshop was attended by many curious learners, and the workshop was successful in generating more interest in the field. We received an overwhelming response from participants and are glad that we could bridge the gap for students and provide them with direct access to leading scientists and researchers in the field. The workshop has piqued their interests in the field and will help them navigate their career ahead'.
ALSO READ : SIAM hosts the 8 th Edition of Automotive Logistics Conclave with Focus onTransition Towards a Sustainable Future
The participants were also shown the extremophile microorganisms from the Amity Microbial Repository of Extremophiles from Ladak (AMREL) project from the earth space exploration program (ESEP). ACoEA runs the ESEP for students are researchers every year as a field activity to analogues sites in India. This year the ESEP 2022 Ladak was run in 3 batches from 9th July – 7th August 2022.
About Amity University Mumbai:
Amity University Mumbai has been established under Maharashtra Govt. Act of 2014 of  Government of Maharashtra and is recognized as per Section 2(f) of the UGC Act with the rights  to confer degrees. The University with its future-ready, sprawling campus, a world – class  learning infrastructure and over a kilometer-long frontage on the Mumbai-Pune Expressway  offers a 360-degree career transformational set-up. With its state of the art infrastructure, the  campus facilitates all-round growth of students. The university has tie-ups with IBM, Oracle, Sun  Microsystems, CA Technologies & others for skill enhancement of the students.
Visit EasyShiksha for skill development courses.