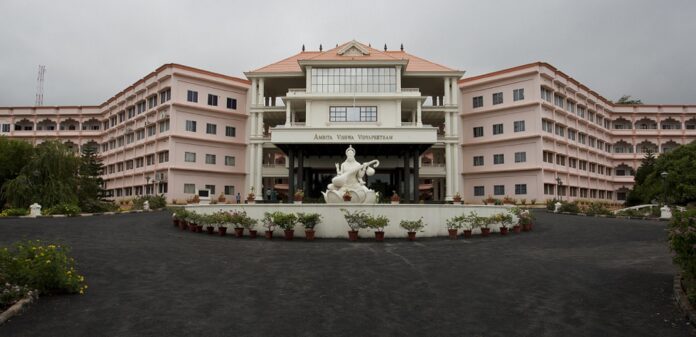 New Delhi, 2nd August 2023: Amrita Vishwa Vidyapeetham, ranked among the Top 10 universities in India in the NIRF Rankings 2023, is proud to announce India's first postgraduate program (M.Sc.) in Yoga and Cognitive Science. Offered by the esteemed Amrita Mind Brain Center, this innovative course amalgamates ancient Yoga practices with cutting-edge insights from cognitive science, providing students with a unique platform for their academic and career pursuits. Registration for the program has already commenced, and the first batch is scheduled to begin in September.
The M.Sc. in Yoga and Cognitive Science has been meticulously crafted to explore the intricate connections between the mind, body, and consciousness, fostering a profound understanding of human behavior and cognition. The four-semester curriculum encompasses a diverse range of unique and cutting-edge subjects, including the study of Yoga philosophy and practices, the impact of Sanskrit language on cognition, human anatomy and physiology, and cognitive science and neuroscience. 
Also Read: 1900+ Schools Partner with Ed-Tech Brand "AASOKA" of MBD Group to Aid 21st Century Learning for Students
Candidates eligible for this program should possess a bachelor's degree in any science discipline, such as Mathematics, Physics, Biology, Biotechnology, Psychology, Engineering, or Medicine. While prior knowledge in Yoga, Neuroscience, or Computer Science is preferred, it is not mandatory. The program strongly encourages applicants from diverse backgrounds to contribute their unique perspectives and experiences, enriching the learning environment.
The admission process for the M.Sc. in Yoga and Cognitive Science program involves several stages. After qualifying for the Undergraduate Examination, shortlisted candidates will undergo a rigorous interview to assess their aptitude, passion, and alignment with the program's objectives. Upon successful completion of the interview, candidates will be granted provisional admission to the program. For more information about the M.Sc. in Yoga and Cognitive Science program or to apply online, kindly visit the official website of Amrita Vishwa Vidyapeetham.

About Amrita Vishwa Vidyapeetham
Amrita Vishwa Vidyapeetham is a multi-campus, multidisciplinary Institution of Eminence accredited by NAAC. It is also ranked the 5th Best University in India in the 2022 National Institution Ranking Framework (NIRF). Amrita continues to be the No. 1 Private University in India as per THE 2020 world rankings as well. The university has been awarded two UNESCO Chairs namely the UNESCO Chair for Experiential Learning for Sustainable Innovation & Development and the UNESCO Chair on Gender Equality & Women Empowerment. The university headquartered at Coimbatore is spread across six campuses in three states — Kerala, Tamil Nadu, and Karnataka. Amrita partners with academic, industry and governmental institutions across the world to accomplish human-centered, translational, and groundbreaking research. To date, Amrita has more than 500 collaborations from more than 200 signed Memorandums of Understanding (MoUs). Some of Amrita's partners include Harvard University, Columbia University, King's College London, KTH – Royal Institute of Technology, VU Amsterdam, the British Geological Society, University of Oxford, Italian National Research Council, Deakin University, and the University of Tokyo. Sri Mata Amritanandamayi Devi (Amma), a world-renowned humanitarian leader is the founder, Chancellor, and guiding light of Amrita Vishwa Vidyapeetham. Amma's words, thoughts, and vision for education and research have shaped the university's mission and vision. 
This year educate yourself and develop your career with EasyShiksha