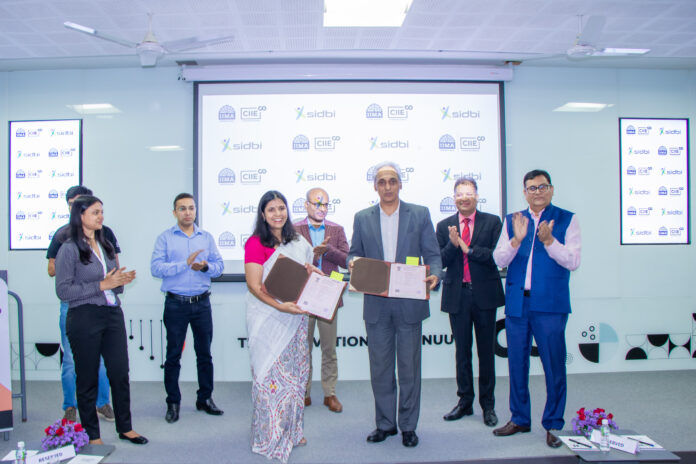 Small Industries Development Bank of India (SIDBI), as part of its initiative of "India of Tomorrow", has been collaborating with various leading Incubation Centres in the country to promote Deep Tech and science led Innovation by facilitating access to seed capital. In this regard, a formal contribution/ collaboration agreement for setting up of "SIDBI Accelerator Fund at IIMA's CIIE.CO" with an initial corpus of `20 cr. was signed between SIDBI and CIIE.Co, IIM, Ahmedabad in the august presence of Shri S. Ramann, CMD, SIDBI on July 27, 2023. The collaboration agreement was signed by Prof Chitra Singla, IIM (Ahmedabad)-Faculty Chairperson, CIIE.Co and Sh. S. P. Singh, CGM, SIDBI. The arrangement would facilitate institutional seed investment in early stage viable and scalable ventures in future.
The agreement is an outcome of SIDBI's new initiative to support the India of Tomorrow by augmenting the developmental and funding ecosystem for ideation/ early-stage startups and offering equity/ equity like capital to such startups through partnership with leasing incubators. Focus shall be on supporting startups having new and meritorious ideas, innovations, and technologies important for India's goals for 2047/ which shall help India become self-reliant as well as a dominant player in high quality/ high entry barrier products/ services.  Sectors aimed to be supported include deep tech, hardware/ product startups, energy, clean tech, pharmaceuticals, biotech, defence innovations, rural, social and industrial technologies, high quality components, chips and other R&D driven startups. 
ALSO READ: GST council meeting on Aug 02 – Industry, investors, gamers hope council considers repeat taxation concern
During the program, six start-ups made a presentation on their ideas, methodology and the likely amount of seed capital required for scaling up their operations.
On this occasion, Sh. Sanjay Gupta, General Manager, Ahmedabad Regional Office of SIDBI, Sh. Kunal Upadhyay, Co-founder, CIIE.CO along with his team members and few leading Industrialists of Ahmedabad (who are customers of SIDBI) were also present. These High Net-worth Individual promotors showed keen interest in all the presentations made by the startups.
IIMA's CIIE.CO, which leads the incubation and entrepreneurship activities at IIM Ahmedabad, is a Centre of Excellence set up with support of GoI's Dept of Science & Technology. It aims to nurture innovation and boost entrepreneurship at the most fundamental level and support fearless founders building disruptive technology solutions in their early stages.
This year educate yourself and develop your career with EasyShiksha
About SIDBI – SIDBI, set up on 2nd April 1990 under an Act of Indian Parliament, is the Principal Financial Institution for Promotion, Financing and Development of the MSME sector. SIDBI has been actively supporting early-stage innovation driven enterprises with a complement of initiatives including venture capital fund of funds operations, seed funding through incubators, venture capital / alternative investment funds managed by its subsidiary SIDBI Venture Capital Limited and by way of venture debt.