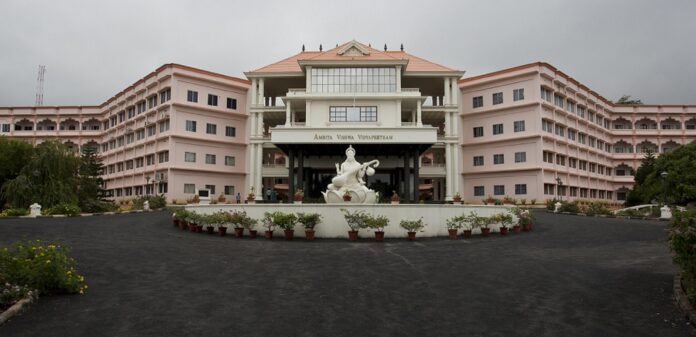 The six-month course, delivered by more than 30 prominent scholars, will offer deep insights into the texts, traditions, philosophical schools, and worldview of Hinduism
NEW DELHI / January 21, 2022: Amrita Vishwa Vidyapeetham, ranked 5th Best Overall University in India in NIRF Rankings 2021, has launched an Online Certificate Program on Hinduism. titled "Introduction to Hinduism." The course, delivered by the varsity's International Centre for Spiritual Studies, will be spread across 200 hours over six months. The course fee is Rs. 10,000 and anyone over the age of 16 years can enroll in the program through https://amrita.edu/ahead/introduction-to-hinduism/. The first batch of course starts from April 2022.
Lectures from more than 30 prominent scholars will offer students deep insights into the texts, traditions, philosophical schools, and worldview of Hinduism. This includes expert faculty from Amrita Vishwa Vidyapeetham, senior academicians who collaborate with the varsity, professors from various universities across India as well as traditional Brahmachari and Sannyasi scholars from the Mata Amritanandamayi Math. The students will have the opportunity to interact with the scholars through live interactive sessions and group discussions. The course is divided into five units including Introduction, Fundamentals, Literature, Philosophy and Practical Aspects of Hinduism.

Brahmachari Achyutāmṛta Chaitanya, Dean – Amrita Darshanam, said that while it is not possible to explore the depths of Hinduism in a 6-month course, the topics covered touch upon almost all its aspects. "The aim of the program is to awaken youth to the profound worldview offered by Hinduism. We have selected topics and condensed them in a way that they can be served to the students in a limited time, and they will be asked to explore the topics further on their own," he said.
Sivanandan DS, Asst. Prof., Amrita Darshanam, said, "The course will offer a bird's eye view of Sanatan Dharma, which is one of the major philosophical systems in the world. The students will get an idea of the various texts, traditions and philosophical schools of Hinduism. They will be able to understand and practice this ancient spiritual and philosophical wisdom in their personal and societal realms."

Prof. Balakrishnan Shankar, Dean – Faculty of Engineering, Amritapuri Campus, Amrita Vishwa Vidyapeetham, said, "Amrita University is based on the underlying philosophy of oneness, love and compassion. Therefore, we created this school called Amrita Darshanam, to highlight the glorious past of India and the essence of Indian society. We must explain the ideals of Indian philosophy in the language of modern society and make it relevant to people. This is a big challenge and an opportunity, which Amrita Darshanam is working on."

Brahmachari Achyutāmṛta Chaitanya, Dean – Amrita Darshanam, further added, "The focus on spirituality is part of the vision of well-known humanitarian and spiritual leader, Sri Mata Amritanandamayi (Amma), the Chancellor of Amrita Vishwa Vidyapeetham. Amma says that values, culture, morality, ethics, and spirituality are essential for all human beings. There are some famous quotes from our scriptures, which say that the actual goal of education is independence in every sense of the word. Education for living is imparted by all educational institutions, but education for life is imparted by Amrita Darshanam."
Important Announcement – EasyShiksha has now started Online Internship Program "Ab India Sikhega Ghar Se"
Amrita Darshanam is also offering a 6-week Online Certificate Program in "Mahabharata Upanayanam" and a 4-week Program in "Essence of Hinduism". Around 170 students have enrolled so far for the course on Mahabharata and 120 students for "Essence of Hinduism". Of this, at least 30-40 students are foreigners.
Amrita Darshanam will also organise a two-day advanced public workshop on Mahabharata, named "Dharma Darshanam," on 12-13th February, 2022. Designed as a critical reading exercise, it will be a package of intensive academic discussions of select texts from Vyāsa Mahābhārata, alongside popular commentaries, opinions and articles. The workshop will offer a chance to discuss, contemplate and understand Vyāsa's Mahābhārata.
The International Centre for Spiritual Studies is a Centre of Excellence for study and research around spiritual studies with a focus on Indian philosophy, arts, literature, culture, tradition, and society. The Centre offers complimentary courses of education for undergraduate students of all disciplines on topics such as Indian culture. It has a Post Graduate program, MA in Philosophy and Ph.D. programs in Philosophy, Spirituality, and Interdisciplinary Studies.
Amrita Darshanam's courses offer valuable lessons on learning to face life with courage. Course instructors are a mix of monks and professors, with lots of live interaction of students with teachers.  To give an example, a sample module of the course titled, 'On Pratinja', offers a context of Bhishma 's Pratinja, comparison with Sreekrishna 's Pratinja and Arjuna 's Pratinja, how we take Pratinja 's in day to day life, the supremacy of Dharma over Pratinja. There are many more such case studies to clear the ambiguity over Hinduism. In the future, the Centre will offer courses on Ramayana Sopanam, Yoga Sethu and Introduction to Vedic Scriptures.
Top Software Engineering Courses
About Amrita Vishwa Vidyapeetham
Amrita Vishwa Vidyapeetham is a multi-campus, multidisciplinary Institution of Eminence accredited by NAAC.
Amrita Vishwa Vidyapeetham is a very young University (18 years of age) growing at a rapid pace in terms of its research and academic programs. Today we are ranked in the Top 100 universities in the World for its Impact as per THE 2021 Impact Rankings. In India, as per the National Institute Ranking Framework (NIRF), we are ranked as the 5th best university amongst all public and private universities. Recently we were also the youngest University in India to be accredited with the highest grade of A++ by National Accreditation Council (NAAC), Government of India
Amrita partners with academic, industry and governmental institutions across the world to accomplish human-centered, translational, and groundbreaking research. To date, Amrita has more than 200 collaborations from more than 200 signed Memorandums of Understanding (MoUs). Some of Amrita's partners include Harvard University, Columbia University, King's College London, KTH – Royal Institute of Technology, VU Amsterdam, the British Geological Society, University of Oxford, Italian National Research Council, Deakin University, and the University of Tokyo. Sri Mata Amritanandamayi Devi (Amma), a world-renowned humanitarian leader is the founder, Chancellor, and guiding light of Amrita Vishwa Vidyapeetham. Amma's words, thoughts, and vision for education and research have shaped the university's mission and vision.
ALSO READ: Australia's Blackmores announces Distribution Partnership
Want to improve your skill visit: EasyShiksha