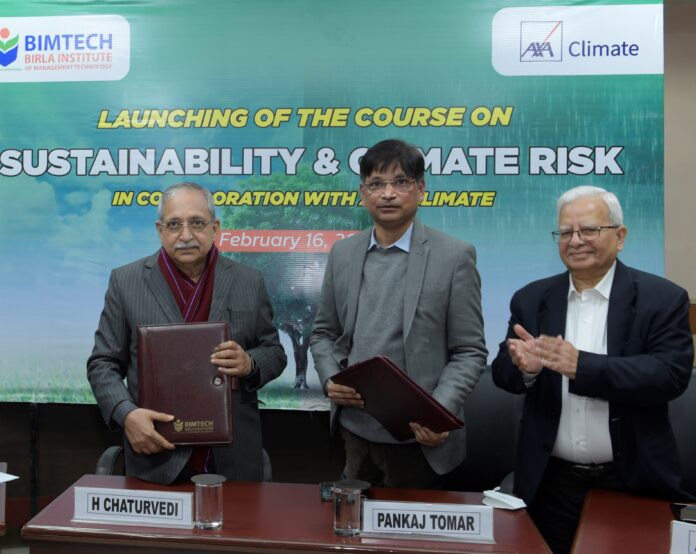 Climate change and sustainability course launched for students to tackle global challenges.
Greater Noida, 4th April 2023: The Birla Institute of Management Technology (BIMTECH), one of India's top B-Schools, has launched new self-paced video course on Sustainability and Climate Action in collaboration with AXA Climate, Paris. The program is aimed at providing BIMTECH's PGDM students with the prerequisite knowledge and skills to tackle climate change and sustainability challenges in their careers.
ALSO READ: SASTRA University Partners With J.K. Shah Classes For B.Com course along with CA Coaching
The course comprises of two major modules, "Understand" and "Act," and consists of 140 video lectures and live classes delivered by AXA Climate.
Upon completion of the course, students will gain the knowledge to become climate risk leaders and obtain skills to advance effective change. The program aims to develop learners' professional knowledge, understanding, and skills related to climate change, climate risk, and sustainable finance.
Looking at the demand for the subject for the next 10 years, BIMTECH has taken the initiative to start this course for all the programmes in collaboration with AXA climate, Paris.
"We are excited to offer this cutting-edge course to our students, which is aligned with our mission to ingrain sustainability in all our courses," said Dr. Harivansh Chaturvedi, Director of BIMTECH. "The course is designed to enable our students to contribute positively to the fast-growing community driving the future of climate risk management, from entry-level to senior professionals."
The course will cover a wide range of topics related to climate change and sustainability, including the science behind climate change, the social and economic impacts of global warming, sustainable business practices, and the role of policy in promoting sustainable development.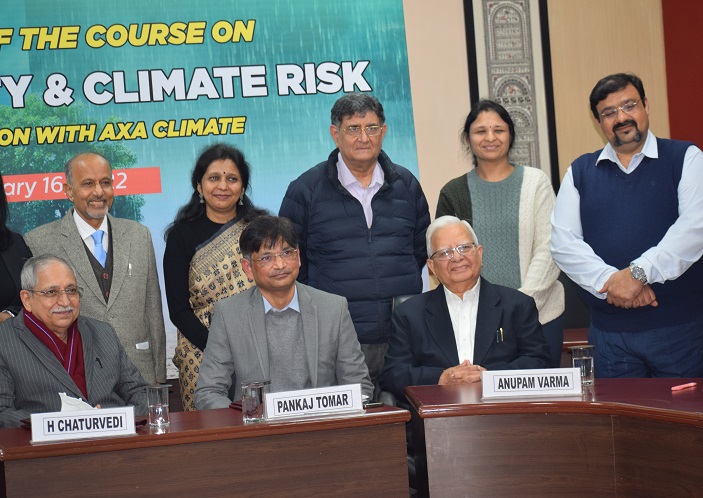 Enrollment for the Sustainability and Climate Action course is now open for interested students, and the program is set to begin in the upcoming academic year. The course will be offered to all BIMTECH students on a synchronous and asynchronous basis, free of charge.
Many organizations are looking for experts in the area of sustainability and climate change, and this course will provide BIMTECH students with a competitive advantage in the job market. "At AXA Climate, we believe in the importance of micro-learning training modules on climate change, given the increasing importance of climate and sustainability. We are delighted to collaborate with BIMTECH to provide the tools for students to understand and appreciate the impact of climate change and how it's relevant for them given their specific domains," said Mr. Pankaj Tomar, India Head, Axa Climate.
Overall, this course is an excellent opportunity for students to gain a comprehensive understanding of climate change and sustainability and develop skills to become leaders in climate risk management. It is designed to equip students with a deep understanding of climate change and sustainability, as well as practical tools to drive change in their professional lives.

About BIMTECH
Birla Institute of Management Technology (BIMTECH) was established in 1988 under the aegis of the Birla Academy of Art and Culture and supported by the Basant Kumar Birla Group and Aditya Birla Group of companies. Late Basant Kumar Birla, Ex-Chairperson of the Basant Kumar Birla Group of companies and Late Sarala Birla, were the founders of BIMTECH.
Accredited by AACSB, BIMTECH has students coming almost from all the states of India, and also from few foreign countries. It provides a highly conducive academic environment, interaction with hard working and industry-academia mix professors, proximity to the strategy makers of the industry and practitioners of the service and manufacturing companies, exposure to the international universities and companies.
About AXA
AXA Climate, a French simplified joint-stock. AXA Climate has tied up with HEC (Paris) who, founding partner of the alliance Business Schools for Climate Leadership is taking the lead with 7 European business schools to address the climate crisis and support business leaders by providing them with the tools to tackle the climate emergency.
This year Educate yourself and develop your career with EasyShiksha