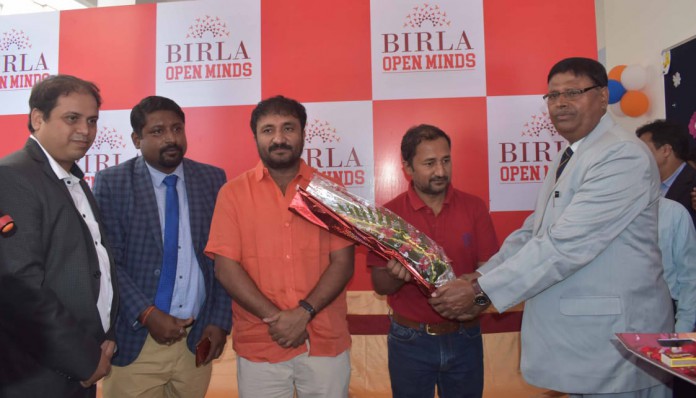 Birla Open Minds – a Yash Birla Group company – has launched Birla Open Minds Pre School (BOMPS) in Golaroad; adding to their strong network of over 105+ schools across India. The school was inaugurated by Mr. Anand Kumar Director Super,30  Mr. Aman Kumar , Director Birla Open Minds, Danapur, Ms. ShovikaYadav Principal Birla Open Minds, Danapur in presence of Mr, Vijay Anand Regional Franchise Manager- East (Birla Open Minds) , Mr. Ravi Ranjan School Operations Manager East( Birla Open Minds) and Ms. MonalisaTiwari Preschool Trainer East ( Birla Open Minds)
The school will be a standalone Preschool with state of the art facilities for the young children. The important highlight of Birla Open Minds Preschool is the unique Birla Edutech curriculum that focuses on the 'whole child' and works on the philosophy of 'Multiple Intelligences as given by Howard Gardner'. The activity based approach at the preschool level ensures that the children enjoy the process of learning in an enriched learning environment. The student teacher ratio of 10:1 ensures individualized attention. 
Mr. Vijay Annad Birla Open Minds  ( Regional Franchise Manger –East ) said, Birla Open Mindsaims at building a uniting culture by providing quality education and nurturing student sensitivity towards the society and its members. By associating with Mr.Binod Kumar we see ourselves moving in line with our vision of creating best education environment for students across the country by offering integrated and holistic learning experience. "
Birla Open Minds  continuously and innovatively strives towards providing better facilities to its students across India.  It understands the importance and essence of a high quality education structure. With the launch of this school, Birla Open Minds has become a stronger family with a wider network of preschools across India. 
About Birla Open Minds 
 Birla Open Minds, offers comprehensive solution for education that envelopes the individual's learning period right from the formative early years to K-12 schooling. With over ten years of experience in the educational zone, Birla Open Minds  has a complex network of over 105+ educational institutions extended across India. The growing network of Birla Open Minds has many brands under its umbrella; whether it's a Preschool Franchise or a Full School Franchise. The extensive spectrum of Pre-Primary schools fall under the brand name of Birla Open Minds Preschool and the K-12 franchise schools are under Birla Open Minds International School. Some of its own well-established schools in Mumbai are Birla Open Minds Preschool Mumbai, Gopi Birla Memorial School (GBMS), Birla Open Minds International School Walkeshwar (IGCSE) . Besides these schools, BirlaOpen Minds is also extensively involved in Teacher Training through its vertical of Birla Institute of Teacher Training affiliated with AIECCE.