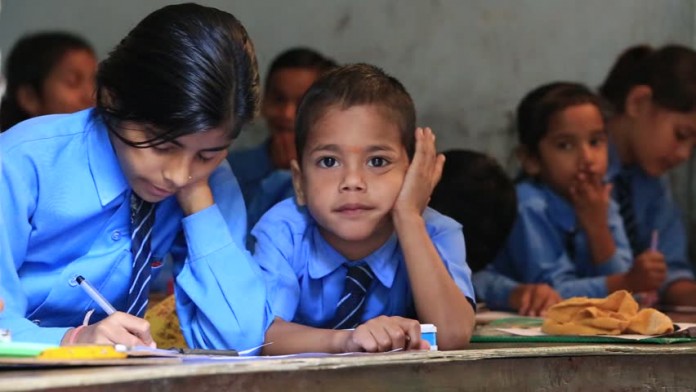 India having a sixth of the world's population, also has an enormous responsibility on its shoulders of having to adequately develop its manpower resources to stay on par with its counterparts from around the world. This is no doubt a gargantuan task considering the sheer numbers involved. Key to achieving this would lie in increasing Literacy levels among the masses. Education needs to be streamlined from the grassroot level.

Important Announcement – EasyShiksha has now started Online Internship Program "Ab India Sikhega Ghar Se"

But India has had a mixed bag in its experience with education over the decades and centuries. Starting from the ancient Universities of Taxila and Nalanda, when the region was one of the most progressive and diverse in education, we have traversed a long way. Today India may not be a world leader in this segment, but the positive strides taken are clearly visible in every aspect of life. The country today boasts of a record number of universities churning out quality talent in droves year after year. We also have some of the best professionals across fields, be it science, engineering, medicine, finance or in marketing.
Evidence of this fact can be seen in the rich diaspora representing leadership roles in various companies around the globe.  In fact a large part of the professional community in most developed nations today are represented by Indian nationals. Look at blue chip companies like Pepsi, Microsoft, Google, Mastercard, Diageo, Reckitt Benckiser, Adobe, Sandisk, etc; they all have one thing in common, they have an Indian at its helm.
Testimony to Indian education is also seen in diversified fields including science, research, mathematics, economics. Amartya Sen who is a Nobel Laureate is today considered to be one of the world's leading economists. Abdul Kalam also known as the Missile Man of India was instrumental in giving India its civilian space programme. Vikram Seth, Amitav Ghosh and Arundhati Roy are some of the critically acclaimed authors from India who have made a significant mark in English literature.
Education over the years in India
Back in the day, the earliest form of Education in India was the Vedic curriculum which was imparted through Gurukuls and Ashrams. With the Buddhist influence came many universities.  The Muslims brought in the Madrassas and the Maktabs. Following this the British influence brought in many missionary based schools and colleges. And then following Independence, India has been gradually working to put in place a robust education system that can support the diversified population.
After dozens of Universities, Colleges, Educations Systems, Government Supported Schemes, Foreign Universities, etc where are we currently? There is still a wide chasm between the achieved literacy levels and the desired potential. Although literacy levels have increased from around 15% in the 50's to over 70% currently we still have a lot to do, as it is simply a statistic at this stage. Good quality education for all is still a far cry when we compare our progress with some advanced nations from around the world.
Top Software Engineering Courses
How do we scale from here?
On the occasion of the 71st Indian Independence we need something special to rapidly scale and get on par with the best in the world. Reports by the 'World Economic Forum' suggest that the success of a country on the growth front is heavily dependent on the educational strengths of the nation.
That being said, India in the 21st century has massive potential to scale up on Education seamlessly. While many of these areas have been debated extensively in the past, there is no harm in reiterating the top 3 factors that could propel India into the next realm of modern education.
Upgrade Infrastructure – One of the biggest concerns of Education in India is the lack of suitable infrastructure. Government run Primary and secondary schools, colleges, universities are all victims of this problem. Poor male female ratio, early school drop outs, low literacy rates can all be attributed to poor infrastructure in place for students. The government and the society in large must take the necessary steps to give our children good quality education with the right infrastructure.
Adopt Technology – Technology is the biggest gift of the 21st century to the human race. The Indian Education sector should take the necessary steps to rapidly adopt technology into all streams of its operations. With state of the art tools available today including e-learning, SAAS based solutions, cloud solutions, new digital technologies, digital boards, etc., India can easily leapfrog into the future and catch up with other nations.
Evidence of the importance of technology in education can in fact been seen in the way e-learning has picked up in India in the past few years.  There are many start-ups today that are architecting e-learning modules to reach and benefit students from remote parts of the country.
Focus on smaller markets in India – India is a vast country with a population of over a billion. According to a 2011 census over 70% of the country's population lives in smaller cities and villages in our country. That being the case, a lot of focus needs to be laid on the population in these cities to bring about overall development. With poor and the underdeveloped also largely concentrated in these pockets, the onus is on the government to lay impetus on these regions.
The biggest learning for India from other advanced countries should be their early adoption of new age trends and technologies. With the power of the internet, delivering class room style teaching to remote locations is now a reality. India should wake up to this reality and take the necessary steps to make technology adoption as fast and seamless as possible. Having said that, there is no denying the fact that the underlying quality to achieve this will always be collective intent by all its stakeholders in the society.
About Author:
Abhishek Patil, CEO, Co-founder& Spokesperson, Oliveboard:
Abhishek is the CEO & Co-founder at Oliveboard. Prior to starting Oliveboard, he was the Head of Strategy & Analytics at InMobi where he was instrumental in expanding their presence across Japan, Korea, China, W. Europe, LATAM and Australia. He also built the Analytics team at InMobi to derive insights from large amounts of data for business decisions. At Oliveboard, he handles the strategy, supply side management & marketing among various other business roles.
Abhishek has an MBA from the 'University of Notre Dame' and has played integral roles across various spheres like hospitality, manufacturing, gold trading and movie making.
His father; Basant Kumar Patil is a renowned Kannada movie producer, actor and movie distributor. Following in these footsteps he produced a movie which won the Karnataka State award for Best Film in 2006.
A champion chess player and avid reader, he diligently reads up about other Indian startups and their journeys. His wanderlust has taken him to far flung places across the world.
Empower your team. Lead the industry
Get a subscription to a library of online courses and digital learning tools for your organization with EasyShiksha
Request Now
About Oliveboard:
Oliveboard is an online test preparation platform for MBA, Banking & Government Job exams. Students are prepped for success using Video lectures, Up to date comprehensive course material, Live Group Practice Sessions, Customized Study Planners, All India Test Series, Practice Tests and Analytics for instant feedback. Users can access Oliveboard's courses on their computers, laptops or an app on their smartphones.
ALSO READ: atdc-awarded-best-institute-women-skill-development
Get Course: Project-Management-for-Beginners