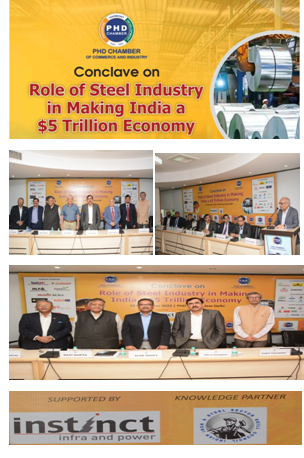 Who's who of the Steel industry deliberated on Role of Steel Industry in Making India a $ 5 Trillion Economy today at a Conclave on the same theme organised by PHD Chamber of Commerce and Industry on 19 September 2022 at New Delhi.
Mr Anil Chaudhary, Chairman, Minerals & Metals Committee, PHDCCI,while chairing the Conclave informed that India's contribution of manufacturing sector to the GDP should increase from 16-17% currently to 25 % for India to become a $5 Trillion economy. It is also essential to increase the contribution of steel sector from 2% of the GDP to 5% of GDP for which a conducive ecosystem comprising of following factors is essential –
· Consistent policy regime for steel sector and not regular flip flops
· Time bound Government approvals, specially environment clearances
· Focus on value added steel
· Immediate withdrawal of export duties on certain grades of steel which were imposed a few months back
· Lowering logistics cost
· Financing new projects at reasonable rates
· Incentives for Decarbonisation
· Constant review of India's FTAs and make them favourable for Indian steel sector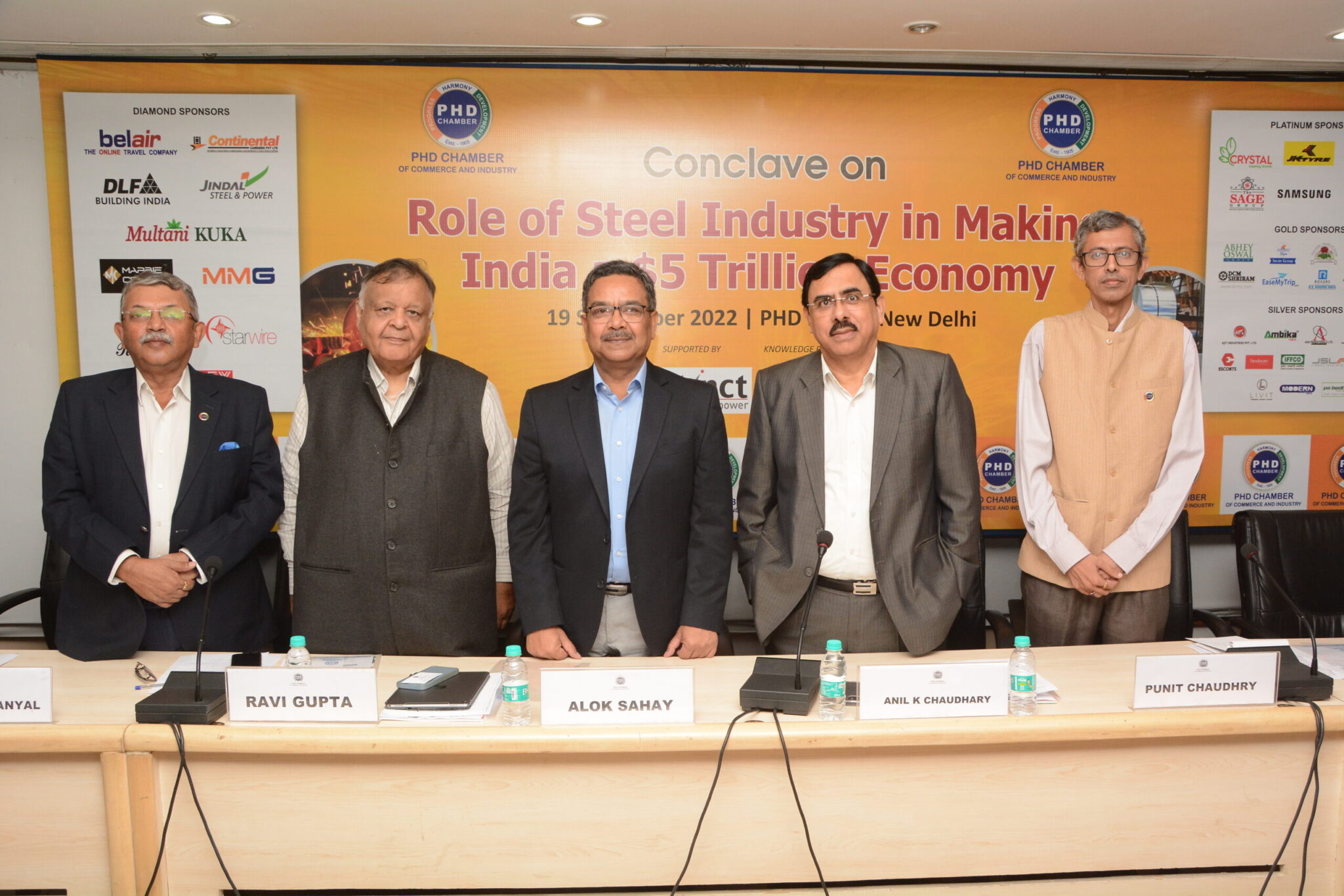 Mr Alok Sahay, Secretary General, Indian Steel Association in his Keynote Address, stated that use of steel should be encouraged in construction sector and defence sector to achieve the goal of the Government of producing 300 MT by 2030; supply chain of iron ore, which has very high royalty (almost of double of that in Australia), should be smooth. He informed that the recent imposition of exports duty on few grades of steel was counterproductive for the industry.
Other speakers at the Conclave included –
Mr Vijay Sharma, Director, Jindal Stainless, who advocated for a level playing field for Stainless steel manufacturers of India. He complimented the Government for bringing our schemes like Gati Shakti, PM Awas Yojana, Nal se Jal which will all go a long way in increasing the steel consumption in the country
Mr Joybrata Roy, Head – Corporate Strategy, Tata Steel, informed that China + one policy being adopted by various foreign corporate post Covid was an opportunity for Indian steel companies. India's skilled and cheap labour force, demographic dividend, infra push through schemes like Bharatmala, Sagamala, Smart cities would give a boost to steel sector
Mr S K Pradhan, Chief Marketing Officer, Jindal Steel & Power Ltd., complimented the Government for bringing out National Logistics Policy which would reduce the logistics cost for steel sector. He also stressed on importance of sustainability in steel production
Mr Amit Chandaliya, Head – Exports, ArcelorMittal Nippon Steel India, In India, steel has an output multiplier effect of nearly 1.4X on GDP and employment multiplier factor of 6.8X. He termed PLI scheme as a progressive step towards Aatmanirbhar Bharat but required some calibration
Mr Jayanta Roy, Senior Vice President, ICRA, in his address highlighted Capex pruning by steel players, No incentivization on green initiatives, Preferential treatment to power sector for getting coal supplies, inadequate coal evacuation infra as few challenged in growth of Steel sector
Other speakers included – Mr Deepak Bhatnagar, Secretary General, Pellet Manufacturers' Association of India; Dr. Anil Dhawan, Director General, Alloy Steel Producers Association of India; Mr K K Pahuja, President, Indian Stainless Steel Development Association
Mr Ravi Gupta, Co-Chair, Minerals & Metals Committee, PHDCCI in his Welcome Address informed that PHDCCI was focusing on decarbonisation, Renewable Energy, Green Hydrogen for sustainable steel sector. Mr Saurabh Sanyal, Secretary General, PHDCCI, delivered the Vote of Thanks and emphasised on use of indigenously made Specialised steel for Atmanirbharta in defence sector
Also Read: Imarticus Learning's Report points towards a 70% increase in engineering graduates
The Conclave was sponsored by Instinct Infra and had Indian Iron & Steel Sector Skill Development Council as the Knowledge Partner. Around 100 delegates comprising of Diplomats and Industry professionals attended the event.
The Conclave was sponsored by PHDCCI's Annual Sponsors – Multani Pharmaceuticals Ltd; Star Wire; PG Industry; Uflex Ltd; DLF Ltd; Continental Carriers Pvt Ltd; Belair Travel & Cargo Pvt Ltd; Radico Khaitan Ltd; Jindal Steel & Power; MMG Group; Paramount Communications; Superior Industries Limited; JK Tyre & Industries Ltd; SMC Investments and Advisors Ltd; Crystal Crop Protection Ltd; Sagar Group of Industries; Samsung India Electronics; Comtech Interio; R E Rogers; AYUSH Herbs Private Ltd; Apeejay Stya Group; DCM Shriram; EaseMyTrip; Blossom Kochhar Beauty Products Pvt Ltd; Oswal Greentech; Trident Group; MV Cotspin Ltd; Synergy Environics Ltd; Ajit Industries Pvt Ltd; P S BEDI & Co.; Indian Farmer &Fertilizers Corporation Ltd; Jindal Steel; Hindware Sanitary; Modern Automobiles; Livit Ltd; Central Coalfields Ltd  ; Axa Parenterals; Bhagwati Plastic and Pipes Industries; J K Insurance Brokers Ltd; DD Pharmaceutical Ltd.
Visit EasyShiksha for skill development courses