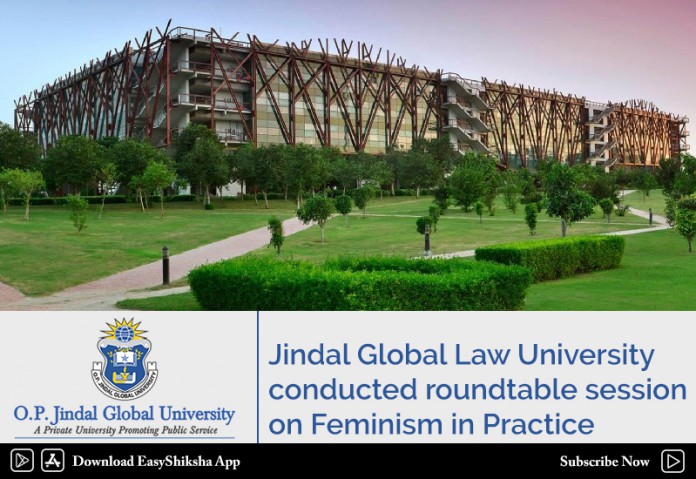 NEW DELHI, October 8, 2018: O.P. Jindal Global University (JGU) recently hosted a session on 'Feminism in Practice: Feminist Lawyering and Feminist Judging' in India Habitat Centre, New Delhi. The roundtable was part of Indian Feminist Judgments Project's two-day workshop in Delhi organised in collaboration with National Law University, Delhi and Ambedkar University Delhi.  
JGU conducted roundtable session on 'Feminism in Practice: Feminist Lawyering and Feminist Judging'
The session started with an introduction to the Indian Feminist Judgments Project by Ms. Jhuma Sen, Assistant Professor and Assistant Director, Jindal Global Law School, followed by a roundtable discussion. Esteemed panel lists that were present included Dr. Justice D. Y. Chandrachud, Judge, Supreme Court of India, Justice Gita Mittal, Chief Justice, Jammu and Kashmir High Court, Justice Prabha Sridevan, Former Judge, Madras High Court, Ms. Vrinda Grover, Advocate, Ms. Malavika Rajkotia, Advocate and Dr. Pratiksha Baxi, Jawaharlal Nehru University. The roundtable was moderated by Senior Advocate, Ms. Rebecca John.

Important Announcement – EasyShiksha has now started Online Internship Program "Ab India Sikhega Ghar Se"

With regard to Feminist lawyering and Judging, speakers shared their insights on the challenges and experiences. Legal cases and contemporary examples of feminist judging were discussed that underlined the prevalent gap between feminist theory and judicial decision making. The panel extended the overarching aim of the workshop by helping the audience think about the processes of judicial decision-making, provide insights into the nature of judicial methods, the everyday functioning of courts and how, if at all, might a feminist find space within the judicial universe to make justice claims upon courts and upon laws. 
In response to a question on whether a judge could be a feminist, Justice Chandrachud said, 'Judges do have ideologies and it is very difficult to completely isolate the ideology from the sense of judging because essentially, a judge is made up of his/her life experiences, the value which he/she gathers over years, some of the values that he/she confronts with. I wouldn't say that a judge could call themselves feminist judges considering some of the leading judges across the world, and there is a reason for it because one of the things that a judge does by virtue of the nature of his/her job is to decide on the basis of facts and as objectively as you can. So if one calls himself a feminist judge or an acquitting judge and making an assumption about himself that irrespective of the merits of that particular case, you might possibly allow your vision to be influenced by the fact that you have a particular cause before you, so I wouldn't say that a judge could call himself/ herself a feminist judge. This is also a perception about how other people view you which is equally important. Having said that, what is critical here is the fact that as a judge you are giving effect to the essential values of the constitution and the basic of those values like equality, liberty and fraternity which is the essence of the constitution. So in that sense when you apply feminist principles, one is doing nothing more than giving effect to the substance of equality in the constitution.' 
Responding to a question if the constitution is feminist, Justice Chandrachud said that 'feminism is a lot about disruption of social hierarchies, and that is what the Constitution intends to do. Transformation involves a disruption of the existing social structures.
Justice Gita Mittal when asked about challenges faced in the course of feminist judging responded,' judging itself is a very difficult task and it is a long process to absorb what the state means. I have met a lot of judges working in very difficult conditions and posted in isolated areas.  When you think of feminist judging, it is mostly a question of understanding what access to justice is. When you talk about issues across the country faced by women, we overlook one very critical aspect and that are the barriers that these women have to overcome before they access justice. One that I have observed all these years is the barrier that the family brings whom the person first accesses or the friends and the attempt is made that the person does not reach out for assistance, the other one is the ignorance about the legal remedies or the law and the financial barriers that they face. In the whole process of judging, mostly we overlook all these barriers which a litigant has to overcome before they access the courts. We treat access to justice as synonymous to access to courts which is not the case and this is the first thing that the judges have to realise. This is highly critical for places like Kashmir that access to justice is the hardest casualty.' 
The roundtable provided a crucial gathering place for academics and students apart from practicing advocates. It was a knowledge sharing, and enhancement platform for law students to gain deeper insights from and recognise the importance of incorporating feminist perspectives and how this could transform the reasoning or conclusion of a legal case, without altering the facts/ decree.
Top Software Engineering Courses
About Jindal Global Law School (JGLS)
The Jindal Global Law School (JGLS) imparts a rigorous and multi-disciplinary legal education with a view of producing world-class legal professionals, scholars, leaders and public servants. The global curriculum empowers the students with knowledge, skills, and vision to meet the challenges and opportunities of a rapidly changing world. JGLS has built international collaborations with the leading law schools around the world, which have led to the implementation of faculty and student exchanges, joint teaching, joint research, joint publications, dual degree programmes, joint executive education programmes, summer and winter schools and study abroad programmes.
About O.P. Jindal Global University:
O.P. Jindal Global University (JGU) is a non-profit global university established by the Government of Haryana and recognised by the University Grants Commission (UGC). JGU was established as a philanthropic initiative of its Founding Chancellor, Mr. Naveen Jindal in memory of his father, Mr. O.P. Jindal. JGU has been awarded the highest grade 'A' by the National Accreditation & Assessment Council (NAAC). JGU is a research intensive university, which is deeply committed to its core institutional values of interdisciplinarity and innovative pedagogy; pluralism and rigorous scholarship; and globalism and international engagement. JGU has established eight schools: Jindal Global Law School (JGLS), Jindal Global Business School (JGBS), Jindal School of International Affairs (JSIA), Jindal School of Government and Public Policy (JSGP), Jindal School of Liberal Arts & Humanities (JSLH), Jindal School of Journalism & Communication (JSJC), Jindal School of Art & Architecture (JSAA) and Jindal School of Banking & Finance (JSBF).
Empower your team. Lead the industry
Get a subscription to a library of online courses and digital learning tools for your organization with EasyShiksha
Request Now
ALSO READ: Macquarie-university-australia-scholarships
Get Course: Introduction-to-Cloud-Computing