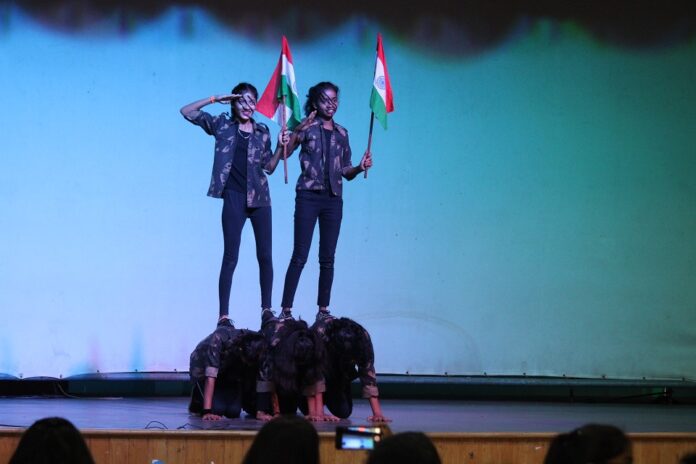 Udaan 1.0, the 2-day Intercollegiate Fest for PU Students was organized by Deeksha at their Kanakapura Road campus. The events saw cultural, academic and sports events conducted as a part of the fest.
The gala event started off with the Inauguration and addressing of the gathering followed by Quiz events and cultural events. The event was inaugurated by Cine Stars of the Movie Spooky College Vivek Simha and Khushi Ravi. The event witnessed participation from more than 20 colleges.
Among the highlights of the fest were Mock Press and a Halloween-themed Ramp Walk. The Mock Press event had one of the participants turn up as Delhi Chief Minister, Arwind Kejriwal. Speaking about his experience he said that it was a novel concept and he enjoyed thoroughly participating in the event. Other participants also noted that the "anchor" was really professional, and they were amazed by the kind of grasp students had on current affairs and their diction.
The school encourages students to participate and organize events like Model UN and Mock Press and students of Deeksha got good exposure with such participations. The mock press saw students taking on roles of Chief Ministers to social media influencer and many such roles, advocating women issues, debating with panellists on topics such as misogyny in media etc. It was a wonderful experience."
The two day long festival was very well organized with support of volunteers of Deeksha schools leaving participants and onlookers enthralled with enthusiasm and energy. 
Also Read: Veranda Learning Solutions Partners with IIM Raipur & SHRM To Launch Online EPGP HR 
Other events that were held included sports events like Tug of War, Basketball, Cricket, and throw ball. The indoor games included Carom and Chess. Apart from this, the event had Art, Dance, and music competitions which provided a great platform for students to collaborate, network, and showcase their talents.  

Speaking on the occasion, the Founder of Deeksha, Dr Sridhar, said, "The two-day festival was completely initiated, conceptualized, and executed by the students. Our students have made us proud and proved that they are not only good at academics but good at management skills as well. Students managing an event of such magnitude on their own has made us proud and we wish to congratulate them on UDAAN 1.0, their first-ever edition of Deeksha Edge fest."
All in all, the event gave the students great exposure and they were overwhelmed by the enthusiasm of the participants and the spectators. Deeksha, Thyagaraja Nagar won the rolling trophy for participating and winning maximum number of events
Visit EasyShiksha for skill development