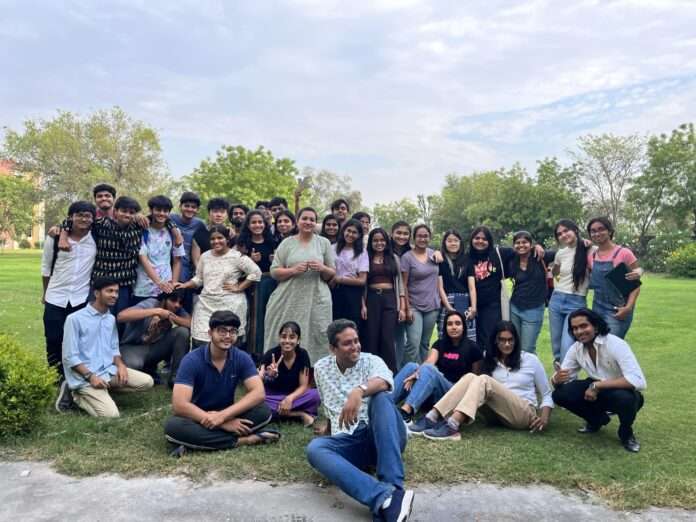 Jaipur, June 13th,2023:In a beautiful amalgamation of design and sustainability, Bachelor of Design students from JK Lakshmipat University, one of the leading education institutes in the country, have created a recreational space, using nothing but scrap found on the college campus. Keeping sustainable living in mind, the B. Des Foundation Year students have created a "sustainable space" at the college campus. Using interesting design elements, they have been able to successfully create a spot, which is a point of attraction to fellow students as well as outsiders, nowadays.
A mannequin with a missing torso made from discarded jeans and shoes, an old bicycle painted in white, discarded tyres cut in a semicircle shape and placed for sitting, a used plastic drum placed in the middle like a drawing table, the recreational space has recycled waste put to the best use.
ALSO READ: IIMB and CII release 'Karnataka@100: A Vision Document for 2047' today
"This time, our design students have come up with such a unique and creative project. They have molded whatever scrap or used things they found on the campus, like old tyres, drums, a discarded bicycle, jeans,worn out shoes, used buckets, etc. In their formative years, such experiences will help them absorb the essential awareness they need for a sustainable future. They will be able to use or execute this experience to design projects and excel in their design profession. Overall, their attempt was to create an eco-friendly campus that can resonate with the design and sustainability philosophy, and the idea is praiseworthy," says Prof A Balasubramaniam, Director, Institute of Design, JKLU.
The project is still ongoing with more improvisation expected in a 5-week timeframe allotted to execute the idea. As of now, 100% material used was scrap found in and around the campus itself. A total of 6 design students are involved in the project under the mentorship of Prof Aastha Gohil and Prof Amitanshu Shrivastava, both from the Institute of Design, JKLU.
"The idea behind this project is a reduction of waste and the use of sustainable materials. This is an awareness that is absorbed through the execution of this project upon realizing the hazards and issues around waste. The concept gets a further practical understanding of making solutions using the identified waste for a sustainable execution, like in this case, using any waste material, sanitizing it, and using it as props and furniture for a recreational space. 1000square meters of the area is used to develop a 'comfort space'," said Prof Aastha Gohil.

Design Process is the final module offered to B. Des Foundation students. As part of the practical execution of the process, students identify their triggers and concern areas and work on them accordingly with their mentors' guidance. Prof Dheeraj Sanghi, Vice Chancellor, JKLU said"Such creative skills can help to make eco-friendly campuses and that the Design team at JKLU has set an example in this direction".
The sprawling campus of JK Lakshmipat University provides an unmatched learning experience when it comes to Design education, apart from Engineering and Technology, and Management. Under the 4-year Bachelor of Design (BDes) programme, the first year is a common foundation that enables learners to acquire the requisite basics before selecting a discipline. During the foundation year, students are engaged in hands-on skill courses like design, and drawing and workshop skills like material manipulations. Working on a variety of materials forms an integral part of the course curriculum.Learners get introduced to critical thinking, culture studies, and communication and learn the basics of leadership along with an introduction toentrepreneurship to prepare them for a fulfilling career ahead.They're also encouraged to write blogs, keep journals, and maintain a sketchbook to develop deeper interest and insight in the subject.
This year educate yourself and develop your career with EasyShiksha