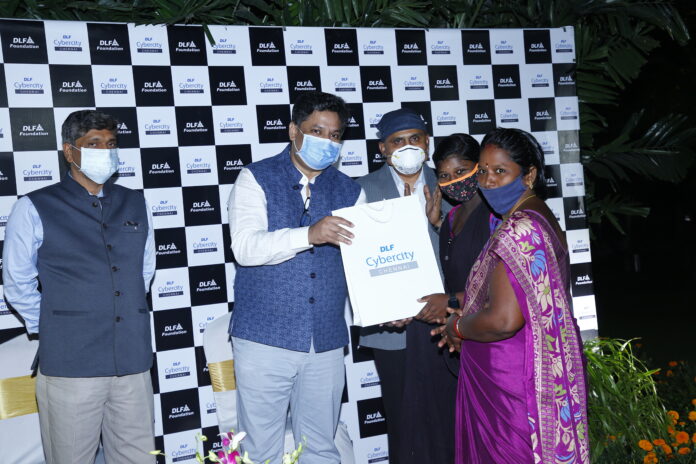 DLF Foundation, the philanthropic arm of India's leading real estate Group DLF Ltd undertook this initiative under its flagship education program 'DLF CARES'
Shailesh Kumar Yadav, ADGP Welfare, Chennai and Dr Yashwanth Kumar Venkataraman Honorary Consul of the Republic of El Salvador graced the occasion and distributed the electronic tablets to the students
Chennai, December 30, 2021: In an endeavour to supplement the evolving educational and learning needs of school students, DLF Foundation, the philanthropic arm of India's real estate giant DLF Ltd, distributed electronic tablet devices to over 69 school students from underprivileged quarters of the city. The distribution of these devices took place at an event held at DLF Cybercity, Manapakkam. These electronic tablets were provided to school-going students belonging to the age group of 8 years to 17 years. The primary objective of this initiative was to facilitate the diverse educational requirements of students, especially in the wake of the pandemic. In the new normal, online classrooms have not only become predominant, but also a dire necessity. To that end, owning smart devices has become imperative for all students.

Amongst the dignitaries present on the occasion were, Shailesh Kumar Yadav, ADGP Welfare, Chennai, who graced the occasion as the Chief Guest, and was accompanied by Dr. Yashwanth Kumar Venkataraman, Honorary Consul of the Republic of El Salvadoras a special guest. David Amalraj, Senior Vice President – Operations South, DLF Ltd, Julian Pradeep Francis, Assistant Vice President, DLF Cybercity, and Ravi Gokulanathan, Assistant Vice President, City Head – DLF Cybercity, Chennai and other senior officials from DLF were also in attendance on this eminent occasion.
Shailesh Kumar Yadav, ADGP Welfare, Chennai said, "I appreciate DLF Foundation's initiative of distributing free electronic tablets to the school children. This will definitely facilitate their online classes and help them continue their education"
The electronic tablet distribution drive was organised under the DLF Foundation's flagship education program DLF CARES. This program was established with the vision to help every child realize their right to quality education. The primary objective of this initiative has been to nurture students through sustained and continuous mentoring support, so that they may realise their highest potential and become productive and responsible citizens of tomorrow. Under this programme, DLF Foundation awards scholarships to deserving students up to class XII. Since the inception of the program in 2011, close to 1700 students across over 670 schools from 19 states have been supported in their educational needs, and over 300 have gone on to pursue higher education.
Important Announcement – EasyShiksha has now started Online Internship Program "Ab India Sikhega Ghar Se"
David Amalraj, Senior Vice President – Operations South, DLF Ltd, commented on the said, "In today's day and age, education has been digitalized and teaching has now become an online exercise. As we look towards building our nation, it is imperative that we provide every student, hailing from every community, with the resources he or she needs to realize their highest potential. To this end, we remain steadfast in our commitment to hold the hands of every student as we nurture and cherish them. We understand however, that not every student has access to the basic hardware needed to realize this commitment. Hence, today we undertook this a humble drive which envisages to help those students in need by bringing the best education to the palm of their hands. With the electronic tablets we distributed today, we are confident that new doors and boundless opportunities will open for our students going forward. It is our belief that India is its children. And when we support our youth, we are shaping the very future of our nation."
One of the beneficiaries, N. Hariharan, a student from class 3 of Aiyeesha Razzac Matric.Hr.Sec.School, Porur , Chennai beamed with joy as he expressed his heartfelt gratitude upon receiving his first smart tab. He happily expressed that attending online classes would be more convenient for him.
The event concluded with a vote of thanks where DLF Foundation expressed that it would continue to persevere towards its ultimate objective of facilitating every student, so that they may one day proudly contribute towards our nation's growth and prosperity.

About DLF Foundation
DLF Foundation was established in 2008 as the philanthropic arm of the DLF Group. The DLF Foundation's vision is to empower communities by creating multiple opportunities for the underprivileged and positively impacting their quality of life. This is done through the planning and implementation of inclusive, holistic, sustainable, and socially uplifting projects. All our programs and initiatives are envisioned to make a significant difference in the lives of the communities who serve us. We firmly believe that our programmes and the communities we serve will emerge as significant contributors to India's growth story.
The DLF Foundation works in three major areas of intervention: Education, Healthcare and Social Sustainability. Across these three verticals, DLF Foundation has forged partnerships with like-minded organisations, professionals and subject matter experts. Over the years, we have deployed sustainable, high-impact solutions with help from multiple partners and stakeholders.
ALSO READ: Common Misconception about Online Slot Games
Want to improve your skill visit: EasyShiksha