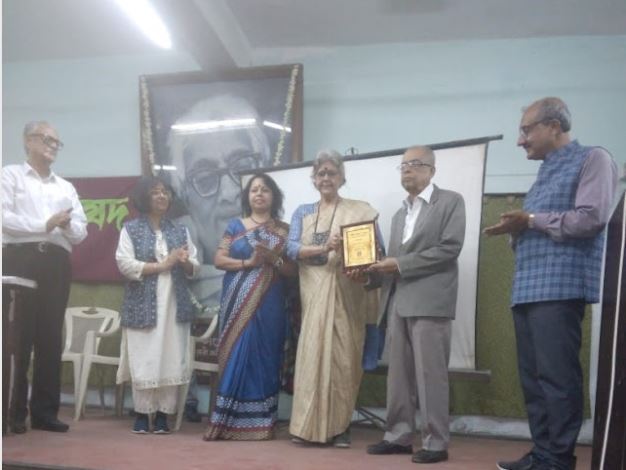 Kolkata, 31st Jan, 2023: Dr. Subhabrata Roychaudhuri was conferred Dr.Jayanta Basu Memorial Award by Bangiya Bijnan Parishad for notable contribution to science popularization and its publicity among the masses over the years. Dr. Roychaudhuri is the Consultant of the Outreach Division of Maulana Abul Kalam Azad University of Technology (MAKAUT), WB. A citation and cash award of Rs 8000 was given to him by Dr.Sumitra Chowdhury, President of Bangiya Bijnan Parishad, Kolkata on the occasion of its 76th Foundation Day celebration. A book on Satyendra Nath Bose was released on this occasion.
Bangiya Bijnan Parishad, a pioneer science organization for the cultivation and popularization of science and scientific knowledge, was founded in the year 1948 by the collective efforts of all the eminent scientists and educationists of Bengal under the leadership Acharya Satyendra Nath Bose, the National Professor. The chequered history of Parishad since its inception illustrates how a powerful social movement, namely Science-Movement, generated out of the ideas and values of such an organization. Nowadays, Peoples' Science movement, spearheaded by so many groups across the country, received inspiration directly or indirectly from Bangiya Bijnan Parishad.
Also Read: Analysis of JEE (Main) paper by Ajay Sharma National Academic Director, Engineering, Aakash BYJU'S
About MAKAUT: The University came into operation formally with the assumption of the office of the first Vice Chancellor on January 15, 2001 as a sequel to the promulgation of THE WEST BENGAL UNIVERSITY OF TECHNOLOGY ACT, 2001, under West Bengal Act XV of 2000 passed by the West Bengal Legislature. The University started its academic programme, from July 16, 2001 following a Notification from the Department of Higher Education; Government of West Bengal dated June 15, 2001 through the affiliation of Engineering and Management Institutions / Colleges and has entered the eighteen years of its functioning. The University is included in Section 2F and also in Section 12B of UGC and recipient of UGC Grant. The University wants to grow nurturing innovative / novel ideas that would touch all segments of the society especially the marginalized ones. We look at technology from a broad social perspective and are organizing postgraduate courses in basic and applied sciences. The University has introduced new courses in emerging areas to develop, enhance and higher education.
This year Educate yourself and develop your skills with EasyShiksha