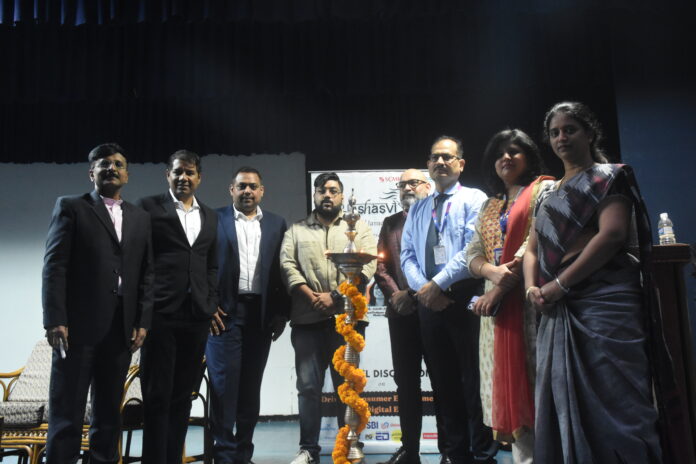 India, 31st January 2023: The Management Committee of SCMHRD completed the first phase of one of the biggest Management Conclave in the country, "Yashasvi". Yashasvi, as the name suggests, imbibes the spirit that one can triumph, not just despite but often through all odds. The three exhilarating days encompass a series of Leadership Talks and Panel Discussions wherein we see participation from C-Suite Level leaders having these discussions with the students to imbibe their knowledge and experience to the students for their experiential learning.
The Theme for Yashasvi 2023 was "Avant Garde: Techceleration in the Business Era", which focussed on the rapid technological advancements businesses need to keep up with to sustain themselves. To meet the needs of a rapidly evolving marketplace, businesses should adopt new tools and technologies that are likely to construct a robust and adaptable organisation.
There were various topics of discussion ranging from "Driving Consumer Engagement in the Digital Era", "Fintech: Advancements in Financial Services", "Evolution in Digital Landscape", "Empowering the next billion users of Fintech" to "How is Technology Changing Leadership?"
The event was graced by the presence of eminent personalities from different industries, and a few prominent business leaders, including Mr Praveen Iyer, CCO, Akasa Air, Mr Vivek Seshadri, Director, Hitachi Payment Services Pvt. Ltd., Mr Arnendu Bose, Managing Director, Accenture Strategy & Consulting,  Ms Coneenika Choudhuri, Chief of Staff, Progcap, Mr Sandeep Dutta, CPO, Fractal Analytics, Mr Rajeev Prakash, VP, Swiss Re, among many others.
The event's highlight was the Panel Discussion on the topic "G20 summit and its Impact on India's business and economy" during the closing ceremony of Yashasvi 2023. The stage for the Panel Discussion was shared by Mr Sanjay Khare, Vice President – Sustainability, Volkswagen India, Ms Rakhi Aswal, CFO, Saxo Group India, Mr Sandeep Deshpande, CFO, Jyoti International Foods Pvt. Ltd, and Mr Madhavankutty G, Vice President & Group Chief Economist, Mannapuram Finance Limited. 
Also Read: PHDCCI Interactive Session of Industry with Additional Central Provident Fund Commissioner
The discussion touched upon different tangents of the G20 initiative, from its resolve to desist from competitive devaluation, which leads to volatility and chaotic exchange rate movements, and how currency depreciation is adverse to the growth of Indian exports to aligning the G20 development plan with the 2030 Agenda and contemplate joint action.
The successful completion of Yashasvi was supported by State Bank of India, Union Bank of India, Unibic, Ease My Trip, EdTimes, Prep lounge, Skilled Sapiens, Phoenix Global, Blur, Softspot plant-based cheese, JhaJi Store, Igniters club. Without their support, the event couldn't be a grand success.
To conclude, Yashasvi 2023 enlightened the students with recent ongoings in the business technology world while keeping the Indian Economy in perspective. Symbiosis Centre for Management and Human Resource Development takes immense pride in being a catalyst and being able to contribute to conducting knowledge-enriching sessions for the future of our country. 
This year Educate yourself and develop your skills with EasyShiksha