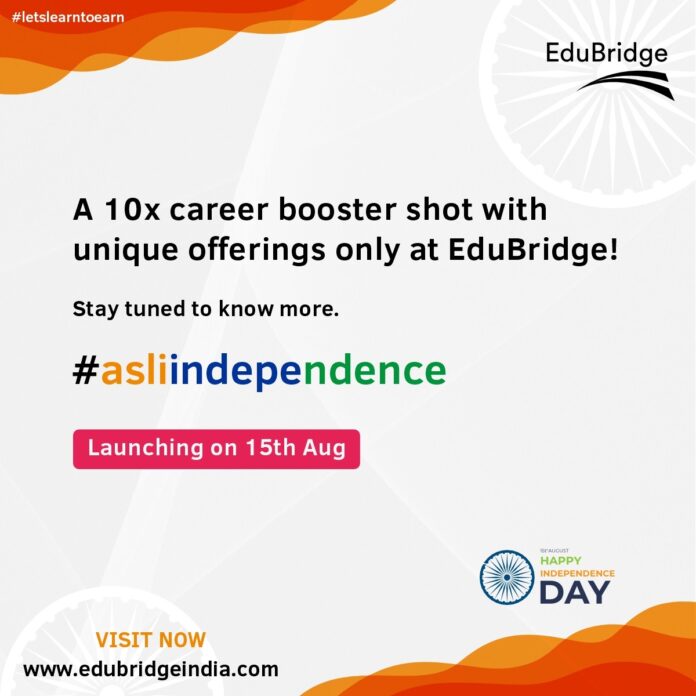 New Delhi, 16th August 2022 – On the occasion of 75 years of Independence, EduBridge announces the launch of 2 new offerings that will give its learners #IndependenceFromDependence.
Learn & Earn is a unique payment offering by EduBridge where a learner enrols for the course of their interest and avails the interest-free, payment plan for upto 15 months. Now you might think there is nothing unique about this but the big difference here is EduBridge not only helps learners choose the right course and helps them find the perfect, interest-free payment plan, but also provides an Assured Scholarship of Rs.24,000/-* with the 110% Money Back, Job Guarantee linked courses. The learner can focus on mastering the latest and in-demand industry skills and learning them all, with curriculum co-created by top recruiters and finding a job at the end of their course, while EduBridge takes care of the rest!
It's a win-win for every learner from every segment of the society who has ever looked at online courses and stepped down due to financial issues or challenges. There are many other benefits attached to this offering apart from assured scholarship like interest free EMI facility, lifetime access to course contents, free professional resume builder and resume correction services, free sessions with industry experts, Secure Your Salary With Digit Group Total Protect policy offering and so much more. 
The courses that come under the 110% Money Back, Job Guarantee umbrella include:
Advanced Certification Course in Data Analytics
Advanced Certification Course in Java Full Stack Development
Advanced Certification Program in Software Testing
Advanced Certification Program in Investment Banking Operations
Another offering launched by EduBridge also comes in to the rescue of an EduBridge learner when in financial need. The Secure Your Salary With Digit Group's Total Protect policy offering! 
ALSO READ : New Zealand announces Soha Ali Khan as its new education Brand Advocate for India

After witnessing lay-offs during the course of the pandemic, EduBridge devised an innovative job loss insurance offering where as an EduBridge Learner will be insured in an event of an unfortunate, loss of job / employment. This offering is available as part of the package on all courses offered through EduBridge. Upon enrolling for the course of their interest, they will be given the choice, of signing up for Secure Your Salary offering as well. Upon the application of certain enlisted conditions by the insurance partner, the learners will be able to avail of a salary of upto ₹1.2 lakhs* in an event of a jobloss. This will give enough safety net for the individual to help him/her through the phase and not rush into joining the first job they find in a panic!
These offerings were launched in the effort of creating a useful ecosystem for learners and professionals and encouraging them to enroll for the best in class, certification programs by EduBridge and also as promoted by the Government of India, with focus on the development of one's career path. The 'Learn and Earn' offering encourages learners to focus on training and learning without having to worry about finances and the 'Secure Your Salary With Digit Group's Total Protect Policy' ensures that the learner or the professional are able to manage their monthly expenses, till they find another job.
Mr. Girish Singhania, CEO – EduBridge, adds, "Skill development is quintessential to the nation's progress. Over the last 12 years, we have seen a number of roadblocks that learners face, before enrolling for a skilling initiative and we wanted to do our bit to make the learning journeys more accessible and easier for them. These 2 new offerings are a small initiative that we have made to help learners surpass such challenges, and focus on creating a sustainable workforce, while they emerge as thought leaders, encouraging the upcoming generation to follow suite."

About EduBridge
EduBridge is a leading workforce development organization operating across sectors pan-India. Over the last 12+ years, EduBridge has been delivering employment-focused vocational training to the workforce of the country. The objective has been to create a talent pool that is ready to deliver as per expectations of businesses and to address the skill gap in India. EduBridge assists learners through the entire continuum of their Career development life cycle – counseling, training, assessments, certification, and placement and provides post placement support as well. EduBridge has trained more than 200,000+ youth & placed 150,000+ youth so far and generated ₹500 Crores + in annual salaries over the last 12+ years.
EduBridge is an esteemed partner of National Skill Development Corporation (NSDC), a Govt. of India organization, and participates in the mission of up-skilling India's unemployed youth. EduBridge is also backed by well-known venture capital companies – Acumen Fund and Insitor Impact Fund, who invest in firms that create a large-scale social impact.
Visit EasyShiksha for skill development courses