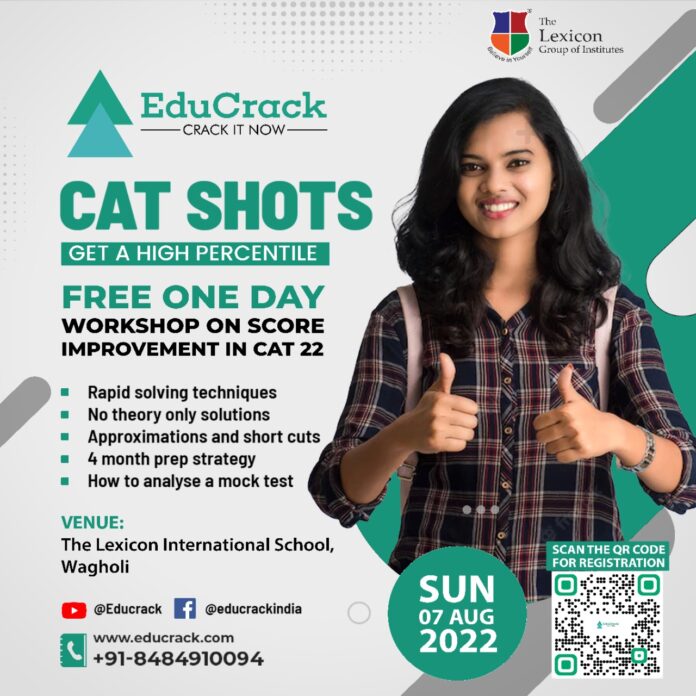 Pune, 1st Aug, 2022: CAT is considered to be one of the toughest exams in the MBA Entrance spectrum. At this stage of the year, there are many aspirants who may have been working hard but are not seeing an improvement in their percentiles. To enable these students to get a high percentile, EduCrack is organizing a day long workshop on 7th August, 2022; 'CATSHOTS' at Lexicon International School, Wagholi. The sessions would be streamed live on EduCrack's YouTube channel and Facebook page
The 6-hour workshop would focus equally on the three sections in CAT. The focus would be on how to mark the correct option, without, at times, putting pen to paper.
The faculty for these sessions would be Mr. T. Rammohan (VA-RC), Mr. Ajay Jindal (QA), and Mr. Priyanshu Singh (LRDI). T. Rammohan, the Chief Knowledge Officer at EduCrack has been training students for CAT since CAT 2000. Apart from VA-RC he is also an expert in mentoring students for the Personal Interviews. Mr. Ajay Jindal's 15-year experience in CAT Coaching will indeed be very helpful for the students. Priyanshu's energetic and innovative problem-solving techniques would change the way students look at LR and DI.
ALSO READ : Noise announces Vaani Kapoor as the brand ambassador of the upcoming Noise X-Fit 2 smartwatch, co-created in partnership with HRX
The workshop is surely going to be a great learning opportunity for all those who are appearing/planning to appear for the CAT examinations. Not just that, but it is also an excellent opportunity to enroll for their batch of CAT preparation.
The nerves before an aptitude test never really go away, and one might always feel a little underprepared, but with EduCrack's team of educators and mentors who are there to impart their years of wisdom with students and their passion to help students pave the path for a better and brighter future certainly makes this a smooth journey.
EduCrack is that next-generation EdTech organization that is here to disrupt the modern-age teaching system by offering students the required assistance to prepare for competitive examinations, professional courses, and co-curricular courses for the overall development of prospective students.
visit EasyShiksha for skill development.