To enable holistic learning, creative thinking and social skills among children, the field trips included several
one-of-a-kind outings such as the 'Mom and Me' excursion to the Bannerghatta National Park in Bengaluru, a field trip to the Indian Coast Guard Enclave in Angamaly, Kerala and visiting fire stations, among others
Mumbai, May 22, 2023: To create unique opportunities for early childhood learning among children, EuroKids, India's Most Trusted Preschool network, has announced hosting unique field trips for over 40,000 students from across 600+ centres across the country during the academic year of April 2022 to March 2023. Among these were several one-of-a-kind outings such as the 'Mom and Me' outing to the Bannerghatta National Park in Bengaluru to involve mothers in their children's learning journey, field trip to the Indian Coast Guard Enclave in Angamaly, Kerala, trips to zoos, museums and fire stations, etc.
ALSO READ: FLAME University hosts its annual convocation ceremony on its campus
EuroKids has always been at the forefront of defining early childhood education in India and providing innovative learning experiences to children through practical exposure. As part of its philosophy, EuroKids believes that early childhood education plays a crucial role in equipping young children with new skills. Therefore, the preschool network has meticulously curated its outings to inculcate students with first-hand learning of various concepts taught in class, such as colours, animals, plants, monuments, professions, etc.
With research pointing to a significant development in a child's brain within the first five years, EuroKids' preschool programmes and curriculum focus on inculcating life skills, social engagements and enhancing creativity among children. With its 'Child First' ideology, EuroKids provides a structured EUNOIA curriculum, allowing a holistic development of a child's Mind, Body, and Soul. In line with this, EuroKids also curates its field trips to help children exercise mindful practices such as attention, resilience and kindness to form a solid learning base in the early years.
The 'Mom and Me' field trip, undertaken by EuroKids centres in Vidyaranyapura and Yelahanka New Town in Bengaluru, gave a unique opportunity for toddlers to spend time outdoors at the city's Bannerghatta National Park and Butterfly Park. The activity helped enhance the mother-child bonding while allowing children to learn and explore. For parents, the day out helped be a part of their children's learning journey by watching them learn. The outing to the zoo and the Butterfly Park enabled the 45 children to learn about different species of animals and various kinds of butterflies – their natural habitats, the need for wildlife conservation, etc. The toddlers were seen as curious about the animals they came across and learning about the wildlife. Similarly, toddlers at EuroKids Angamaly in Kerala visited the Indian Coast Guard Enclave to watch and learn more about helicopters in person.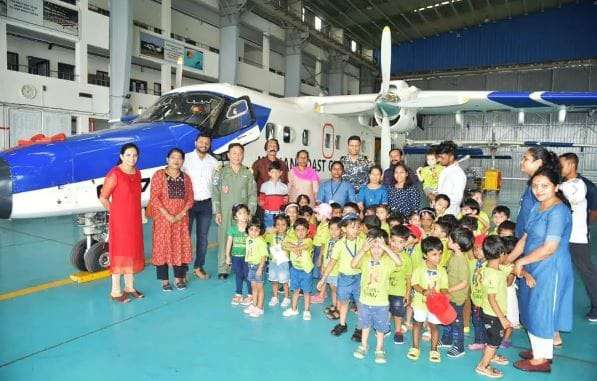 Commenting on the initiative by the preschool network, KVS Seshasai, CEO of the Pre-K Division, Lighthouse Learning, said, "We at EuroKids are driven to constantly strive to provide holistic learning opportunities and create meaningful experiences for young children. As part of our philosophy, early years learning is crucial for a child's development. Real-life exposure and learning opportunities are crucial to imbibe 21st-century skills in today's children. The various field trips curated by EuroKids centres across the country are our steps towards aiding in the overall development of children. We are glad to see such enthusiastic participation from children and parents in these activities. We look forward to introducing many more innovative activities for children during the ensuing academic year."
Currently, EuroKids centres across the country are hosting summer camps for children, where they can experience the EuroKids curriculum, acquire new habits, build social skills and form a daily routine during the holidays through fun-filled activities that can instil creativity, confidence and bravery.

About EuroKids Preschool:
EuroKids is recognised as India's Most Respected Early Childhood Education Brand, with over 21 years of experience, and has a presence in 350+ cities & 3 countries. The journey began in 2001 with two preschools. Since then, the group has consistently raised the bar for preschool education through its innovative and mindful curriculum – EUNOIA, which helps children grow holistically in a home-like environment. It's the foundational belief that providing every child with a "Right Start, Flying Start" enables excellent future success for them. Also, the EuroKids franchise model supports new entrepreneurs in the education sector to thrive and helps them set up their preschools.
The Group –
EuroKids is part of Lighthouse Learning, one of India's Leading Early Childhood & K-12 Education groups. The group is committed to building a robust foundation & new-age skills in future generations with student-centred goals that align its network of over 1,200 Pre-Schools and 45 Schools. Lighthouse Learning Group delivers the joy of learning to over 150,000 children daily, empowers more than 1000 women entrepreneurs, and employs a talented workforce of over 10,000 across its offices and campuses.
This year educate yourself and develop your career with EasyShiksha