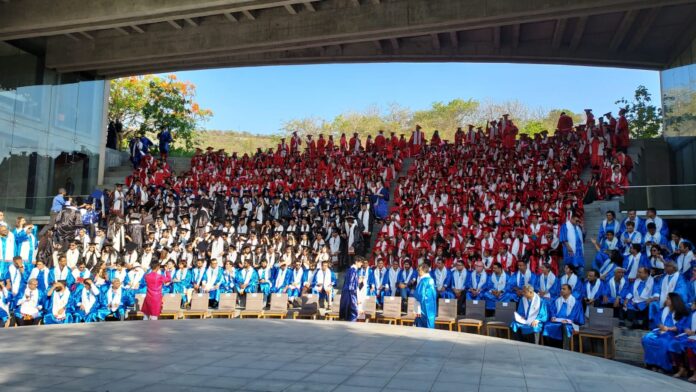 Chief Guest, Renuka Ramnath, Founder of Multiples Alternate Asset Management shares valuable advice for the graduating class
India, Pune, May 22, 2023: FLAME University, the pioneer in liberal education in India, recently held its convocation on May 20, 2023, at the university campus. During the ceremony, undergraduate and postgraduate students were conferred their academic qualifications. The convocation ceremony was graced with the presence of the chief guest, Renuka Ramnath, Founder & CEO of Multiples Alternate Asset Management Pvt. Ltd., and was presided over by Dr. Dishan Kamdar, Vice-Chancellor, FLAME University, along with members of the Governing Body, Board of Management, Academic Council, Deans, faculty, and other members of the FLAME community.
ALSO READ: University of Bath invites applications for MSc in Environmental Engineering, through Fateh Education
The convocation ceremony also witnessed the felicitation of the rank holders of the various programs at FLAME university. The rank-holding students were honored with medals for their academic and overall accomplishments.
Addressing the graduating students, the chief guest, Renuka Ramnath, said, "I must begin this commencement speech by sharing my huge admiration and connect with what has been built at FLAME. While the physical infrastructure, the thoughtful creation of spaces that facilitate shared learning is worthy of huge praise, what connects me personally with FLAME is the uniquely Indian values which are at the foundation of this institution. The education you have received here in FLAME combined with the opportunity that you are walking into, are potent for you to shatter all the past glass ceilings and build a better world. It is a matter of great pride for FLAME and a great privilege for me to see each of you script your own story."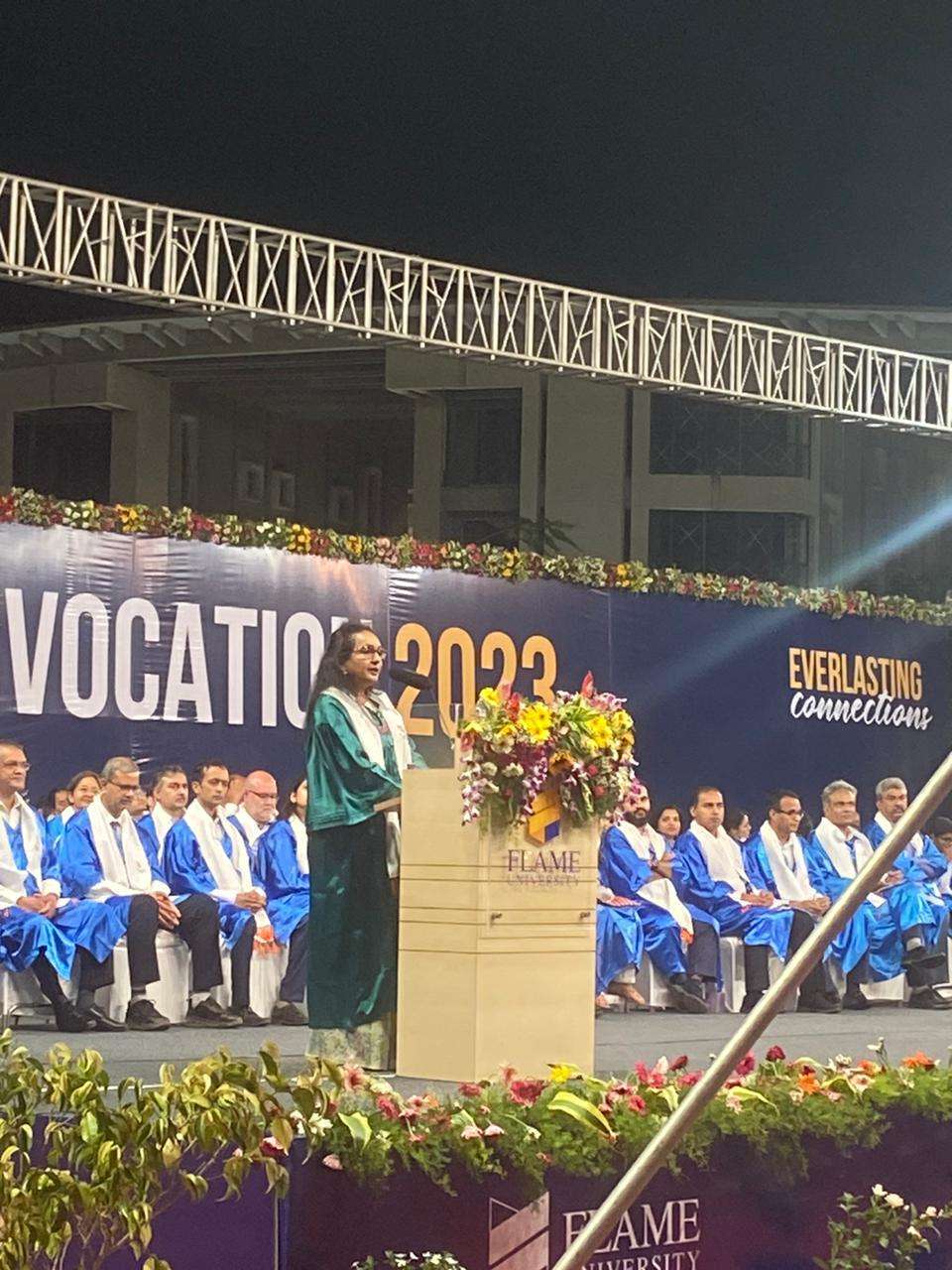 Also sharing his thoughts in his message for the graduating students, Dr. Dishan Kamdar said, "I would like you to carry numerous fond memories of your days at FLAME including the days and nights you toiled and struggled, especially since these are moments that slowly and unknowingly transformed you. As you step out into the real world, be assured that your education at FLAME University has equipped you with the skills and knowledge to navigate challenges that you may face in the future. FLAME has laid a strong foundation for your growth and success. I also hope that you will carry with you the values of integrity, empathy, and social responsibility, which are the bedrock of the liberal education imparted at FLAME University."
The graduating students at FLAME University showed great determination in completing their education. They expressed joy and pride in their achievements, and a steadfast determination to succeed in the real world. The convocation ceremony marked a significant milestone for these students, who overcame numerous obstacles and continued to stay committed to their academic pursuits.

About FLAME University:
FLAME University is the pioneer of liberal education in India, delivering the country's premier interdisciplinary education experience. It is driven to be one of India's most respected and reputed centers of learning – the premier destination of choice for higher education in the nation for learners and teachers, to push the design and nature of studies and to create a societal up-gradation phenomenon, particularly in the fields of liberal education and leadership. FLAME has been set up with an idealistic vision and a social commitment to contribute to society nobly. With 140+ esteemed faculty members, the university offers an unparalleled educational experience. The student-to-faculty ratio is 11:1, unmatched at the higher education level in India. Spread on 60 acres of green expanse with aesthetically designed infrastructure, the campus currently consists of five schools: FLAME School of Liberal Education, FLAME School of Business, FLAME School of Communication, FLAME School of Computing and Data Sciences and FLAME School of Design, Art & Performance. FLAME University has been established as a state-private university vide the FLAME University Act 2014 (Maharashtra Act No. II of 2015) of the Government of Maharashtra. It is recognized by the University Grants Commission (UGC) under Section 2(f), and degrees awarded by the University are recognized under Section 22 of the UGC Act, 1956.
This year educate yourself and develop your career with EasyShiksha