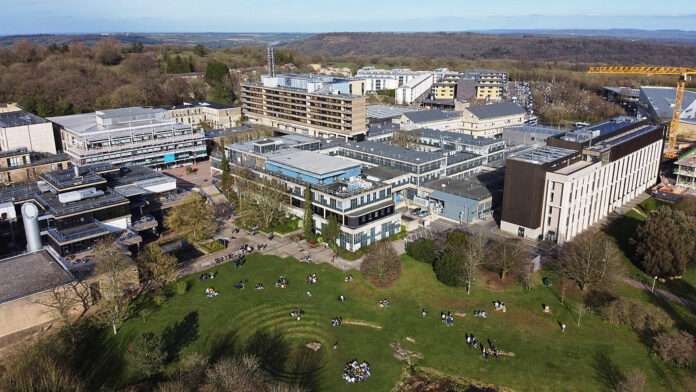 Founded in 2004, Fateh Education has been providing personalized international higher education consultation for students looking to study in the UK and Ireland.     
May 22, 2023: University of Bath is inviting applications for MSc in Environmental Engineering, which specializes in environmental and sustainable processes while developing the technical, professional, and digital skills needed in the industry. This course is for engineers and scientists who want to make a positive impact on the environment, society, and the future of our planet. and would like to deepen their understanding of all aspects of environmental engineering.
ALSO READ: VIBGYOR Group of Schools collaborates with ARIV Education to launch 'VIBGYOR ACE' programme for Grades 11 and 12
Climate change, GHG (Greenhouse Gas) emissions, and loss of biodiversity are important global issues and the world needs leaders and innovators to design and manage sustainable processes and systems to address these challenges. The course aims to develop a student's skills, knowledge, and understanding to take on these issues against a backdrop of economic factors, environmental compliance, and national and international legislation, ultimately providing a more holistic understanding of environmental engineering.
The programme will provide students with the opportunity to develop useful skills in areas such as interdisciplinary teamwork, effective communication, networking, and time resource management. These skills will help students to prepare, adapt and be successful in a variety of roles in this evolving discipline.
Talking about the course, the CEO of Fateh Education Mr. Suneet Singh Kochar says, "If a student has that desire to learn how to solve the important environmental challenges we face, then this course can help him/her towards that goal. This course will make sure to cover areas such as improving resource efficiency; and how to monitor, manage and mitigate negative environmental consequences. A student will learn how to apply whole-systems and life-cycle approaches to evaluate the impact of industrial activities while considering current and possible future legislation. This 'big-picture thinking' will allow them to move beyond traditional approaches to process engineering."
Duration: 12 months (Full-Time)
Application Deadline: Rolling admissions
Tuition:  Approximately £28,700
Application process and admission details:Students shall approach Fateh Education (www.fateheducation.com) for guidance on the admission process and submission of applications within the deadline.

Entry Requirement:
Typically, you should have a Bachelor degree with a final overall result of at least First Class. However, due to the number of different grading scales in use, we ask that you upload a copy of the grading scale used by your institution, along with your transcript, when you submit your application.
A student should have an undergraduate degree in chemical engineering, civil engineering, mechanical engineering, electrical engineering, biochemical engineering, environmental engineering, environmental sciences, or natural sciences (e.g. physics, chemistry, or biochemistry). The university will also consider other relevant engineering and science disciplines.
IELTS score of 6.5 overall with no less than 6.0 in all components.
About Fateh Education: Founded in 2004, by an alumnus of IIM-Calcutta, Fateh Education has been providing personalized international higher education consulting to study in the UK and Ireland. Fateh has over 120 university partnerships and 100 plus employees across 8 offices in India. The organization is also a member of the British Council with UCAS accreditation and is an authorized partner of Education in Ireland. Since its inception, Fateh has guided over 30000 students to conquer their dreams.
Started as an IELTS training institute in Delhi, Fateh bagged the coveted "Award of Excellence" Extra learn by University of Cambridge ESOL Examinations. To further cater to the needs of students, Fateh ventured into study abroad counselling with the UK and Ireland as the key focus markets.
Fateh Education is also the proud winner of 'The Best Consultant award' from Enterprise Ireland; 4 years in a row, a recognition signifying the market leadership for Irish higher education consulting in India. They are a close second for UK higher education consulting.
Fateh Education envisions to be the market leader in the study abroad consulting space for the UK and go beyond excellence to provide the finest quality of personalized services to its students while maintaining market leadership for Irish higher education consulting.
This year educate yourself and develop your career with EasyShiksha