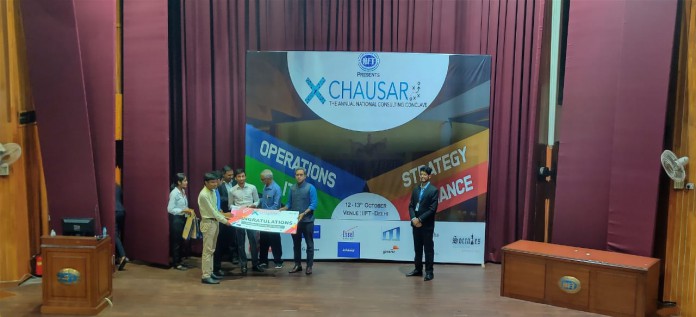 New Delhi. Chausar – The Annual National Consulting Conclave of Indian Institute of Foreign Trade a two day event successfully conducted on 12th and 13th October, 2019. The conclave was inaugurated by Ms. Sunita Raju, Chairperson, Graduate Studies Board, Ms. Vijaya Katti, Dean, Administration (Academics), HOD (Economics and Trade Policy) and Mr. Rakesh Mohan Joshi, Chairperson, Research. Chausar was a two-day consulting conclave conducted
The first day of Chausar witnessed Industry Stalwarts taking 2-hour sessions and helping students understand the basics of different consulting domains including –
1. Strategy- Group Strategy Innovation Head, Essel (Zee) Group
As part of Strategy Consulting Workshop during Chausar, the annual national consulting conclave organized by Indian Institute of Foreign Trade Delhi, Group strategy and Innovation head, Essel (Zee) Group, Mr. Sidharth Balakrishna addressed the students. He talked about how companies blame the slowdown in the economy and salesforce for the decline in growth when it is their strategy that has actually failed. "Separate problems from the symptoms.", he said. He discussed the structured strategizing process of Identifying parameters, gathering relevant information, analyzing the short-term and long-term consequences and the final decision making.
2. Finance- Director M&A of a leading IT company
Mr. Rahul Gupta (RG) gave us a chance to put on the caps of a real-life CEO and play an actual simulation game where we had to develop a product using a few everyday articles and then try to pitch that product to other potential acquirer teams or acquire a team which provided a synergy to our team. It was a great experience where the students got a taste of real-life M&A negotiation, how to acquire or sell a potential company at a valuation of your choice and thus understand what actually happens in the boardroom.
3. Operations- COO, Management Consulting of a Big4 company
During the Operations Consulting Workshop, conducted as a part of Chausar, the annual national consulting conclave organized by the Indian Institute of Foreign Trade, New Delhi, COO Management Consultant, KPMG, Mr. Saamir Gupta addressed the students on the need of consultants & Operations Consulting as a career. He started the workshop talking about his enriching experience of around 9 years as a consultant & the skill sets required to excel in a field that continuously evolves. He discussed multiple frameworks including SCQ (Situation, Complication, Question) & Procurement Spend Reduction framework and how to implement them in live business cases. Mr. Gupta also elucidated on "How consulting are viable businesses?" and their business structure. He ended the workshop by advising the students to learn about different frameworks and understanding the core problem that they focus on.
Top Software Engineering Courses
4. IT- Director PwC
The Annual National Consulting Conclave of IIFT was graced by the presence of Mr. Sayantan Chatterjee, Director, Consulting at PwC and Mr. Pranjal Gupta, Senior Consultant at PwC. They provided insights on how, over the past decade, digital has become more embedded in how businesses inherently function. The speakers touched upon the role of consultants in the success of businesses. Further, using examples from their own consulting careers, they elaborated on how business context is a crucial aspect of the effectiveness of consulting solutions. The students of IIFT are thankful to the speakers for their valuable time, knowledge and insights.
The second day was marked by case presentations presented by 6 teams from Business Schools across India. The event was judged by – Mr. Sumit Dora – Ex BCG &McKinsey consultant, Mr. C.S. Sadasivan – Director Manthan Advisors, Mr. Arindam Mukhopadhyay – VP Gartner and Mr. Sushant Mondal – Team Manager Gartner
Team IRMA from IRMA Anand won the competition and Team Sparx from Fore School of Management were the runners-up in the National case competition of Chausar. The IMF President of IIFT Delhi, Mr. Mohit Jajoo gave a vote of thanks to all the participants and dignitaries who helped the first edition of Chausar become a resounding success.
Top Networking Online Courses
More Courses With Certification
Empower your team. Lead the industry
Get a subscription to a library of online courses and digital learning tools for your organization with EasyShiksha
Request Now
ALSO READ:  Ayushmann-khurrana-and-radhika-apte-celebrate-diwali-with-the-iconic-link-collection-by-daniel-wellington
Get Course:  electrical-low-voltage-system-distribution-design