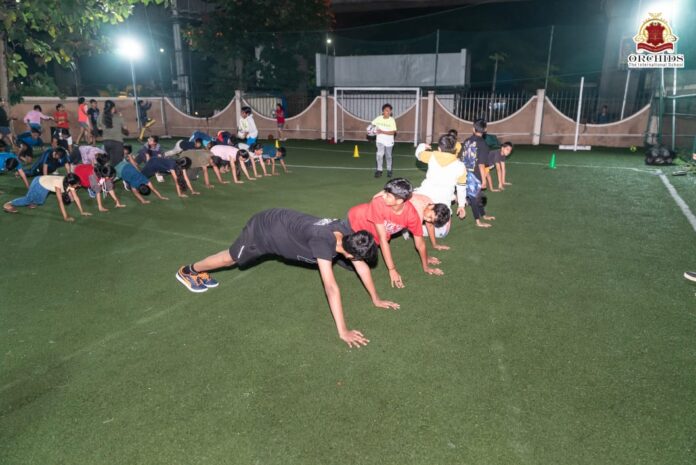 Get Fit Program is a structured initiative that involves Long Term Athletic Development (LTAD) agenda focusing on various forms of sports that support the development of a kid's overall fitness, strength, and health conditioning. Also, this program would help the school to identify a child's talent in sports at an early stage. Students of Orchids The International School are selected for each sport through a series of trials and are provided sport-specific training and skill development. It is a mandatory six-day programe for all the students with the objective to nurture strength-building and muscle-building among kids. Get Fit activities are conducted during assembly hours for students of all grades, for 20 mins. It involves cardiovascular, muscle strength, body balance, strength conditioning, and combination exercise.   
We all are aware that sports play a vital role in a child's overall development. Especially after the pandemic, kids who have seen the world through electronic screens have developed various socially- awkward habits.
Orchids – The International School conducted a BMI survey for the students to understand the health status and eating habits of the children after the pandemic. Unfortunately, as per the survey report, around 50 percent of the students were found as unhealthy as per the BMI standards. Hence, keeping the survey results in mind, (OIS) curated this special extra-curricular schedule called the 'Get Fit Programme'.
Also Read: Intelligent Minds Trusts' Excellence in Education Awards 2022
OIS has also introduced the "Nutri Life Programme" across all its branches to inculcate healthy food habits among its students. Under this initiative, professional nutritionists will provide a diet chart, face-to-face counseling, online nutrition workshops, and diet plans to parents.
Manjula. B, VP Academics, Orchids The International School, said "Sports education is an integral part of the curriculum of Orchid The International School and has been appreciated for their efforts and zeal to encourage their students to achieve success in various sports. Hence, for these little passionate athletes, we have created "Get Fit" program. After survey we realized that a minimum level of fitness is required to perform daily activities without fatigue, and without being physically overwhelmed. In addition to physical benefits, games play a vital role in the healthy development of psychological and emotional aspects such as increasing self-confidence, problem-solving skills and concentration and reducing stress and anxiety."
Visit EasyShiksha for skill development courses.