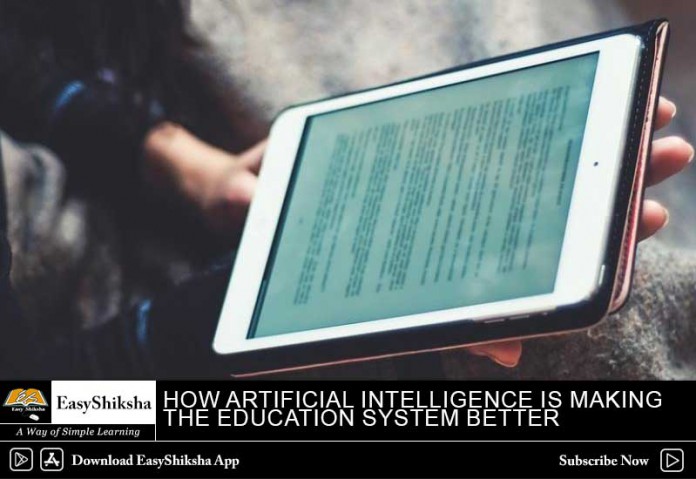 If I told you artificial intelligence can make education better, what would you say? Artificial Intelligence (AI) is affecting numerous aspects of our lives. As we've noted previously, AI is present everywhere and the education sector is also experiencing changes because of AI. For example, updates to the use of educational systems that include more personalisation as well as reduced time wasted for teachers and administrators. Artificial Intelligence What's more, new platforms and new opportunities can be expanded upon to create systems of scale for educational institutions globally.

Important Announcement – EasyShiksha has now started Online Internship Program "Ab India Sikhega Ghar Se"

AI is taking centre stage in the educational sector, and we're glad to see it. In fact, we think it's upending traditional problems faced by the education system.
How, exactly? AI is being used to help students not just find the right study material but also to assist them with finding solutions to their most pressing challenges. AI is being deeply integrated in the curriculum database to expand the horizons of teaching. Technology does not limit itself to being a mere teacher. It is taking the role of an evaluator.
Of the numerous ways artificial intelligence will adjust the education sector for the better, 10 are outlined below.
1. Enhanced teacher-AI collaboration: Physical, human teachers see certain limitations, namely there is no scalable way for students to participate with teachers. This leads to gaps between the lessons teachers submit to their administrators and the principles students understand. With better use of AI (as well as VR and other technologies), participation can become more scalable to allow engagement between classes of all sizes and teachers who have more time to focus on making their subjects as fun and interesting as they are engaging for their pupils.
2. Individualized learning: Since learning styles differ from child to child, personalised learning can assist those children who face challenges learning (like those children with ADHD, autism or dyslexia). While it's not manually possible for a teacher to cater to every child's ability in a class of 30 students, AI can. And it can help kids experiment to find which is the best way they can learn new skills–all in a scalable way. To this end, schools, colleges and universities can use AI to design curriculum, test and feedback to students on all levels.
3. Making education accessible to all: AI-enabled tools make classrooms available to all despite language, location or physical impairment. This helps such students in pursuing education who might not be able to undertake education otherwise for variety of reasons. How? Think about a student who can take classes virtually because they've been in the hospital for 8 weeks. Or the child who's family travels frequently–she could attend classes no matter where she is in the world.
4. Automating admin job: A teacher spends hours weekly–even daily–in assigning and assessing homework and tests. With the help of AI, this task could be done faster and easier for teachers, who often take their students assignments home to grade them. This allows more time to teachers to invest in each student or other activities that engage the classroom.
5. Automated grading: Grading can be a difficult, and sometimes burdening, process for teachers. Instead, AI-based computer programs can replicate a teacher's behaviour to assign grades to students' tests. This standardizes assessing every child's knowledge and keeps the teacher available to do other more pressing work. Thereafter, feedback on performance and the plan.
6. Virtual teachers: Although it's happening slowly, some universities are introducing virtual teachers and faculty who are useful in helping students who may not be available in classrooms all the time.
Top Software Engineering Courses
7. Chat campus: International universities are using AI to design systems that could help students on the campus in various ways. The AI-enabled program or a chatbot called chat campus would be answering questions about the campus. For example, where will the next class take place or what are the details on the next assignment? These free up time from both teachers as well as administrators to do more pressing tasks.
8. Adaptive learning: This is assumed to be one of the most crucial areas where AI could be beneficial in educational settings. With the help of AI, schools could be enabled to keep track of the progress of each student and make alterations in the course and update the teacher about the challenges that every student faces.
9. Better institutional management: With a growing number of schools across the globe, there is an increasing interest in school management platforms for educational administrators. AI helps create such platforms which can assist institutions with recruitment, student information and fee collection, just to name a few points.
10. Safety and security: For any educational institution, it's crucial to keep violence and bullying in check. Thankfully, with the help of AI, spotting patterns in a student's behaviour or conduct to gauge violence in the school is made easy. Students who are consistently violent towards others can be handled with more humanity, but can also be better tracked to ensure their pattern of violence is stopped.
AI in education has the opportunity to improve quality time between teacher and student. AI can overall improve the system for students, teachers and administrators. Though certainly, there should be consideration into the execution of these systems of AI, their development and utilization can add value to institutions of education worldwide.
Empower your team. Lead the industry
Get a subscription to a library of online courses and digital learning tools for your organization with EasyShiksha
Request Now
ALSO READ: Cricket-world-cup-points-table-team-ranking
Get Course: Google-Adwords-for-Beginners