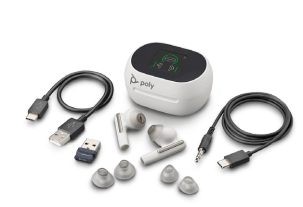 Introduces world's first 45-inch super ultrawide dual QHD curved display with automatic brightness control
News Highlights
The 960 4K webcam with AI capabilities enables users to stream clearly from anywhere, anytime
The Poly Voyager Free 60 UC earbuds come with active noise cancellation and a touchscreen case for a seamless experience
The 925 Ergonomic vertical mouse comes with a detachable wrist case for ease of use
The new HP Thunderbolt G4 dock enables compatibility across non-HP notebooks as well
Bangalore, June 07, 2023 –HP today introduced a range of accessories in India, to cater to the needs of the hybrid workforce. These include the Poly Voyager Free 60 UC earbuds, 960 4k Webcam, 45" curved monitor, 925 Ergonomic vertical mouse and Thunderbolt G4 dock to support the consumers' fast-evolving lifestyle and their diverse communiting requirements.
ALSO READ: PREETIKA RAO INTERVIEWS SPIRITUAL YOUTH ICON JAYA KISHORI ON HER YOUTUBE CHANNEL.
For hybrid workplaces and workstyles, consumers need technology for better work experience and seamless collaboration. They seek smarter tools and solutions that can enhance their productivity and efficiency, particularly when it comes to video calls, audio clarity, multitasking capabilities, and reliable connectivity. The new portfolio of smart accessories by HP is built to address these requirements of the modern consumers.
Vickram Bedi, Senior Director – Personal Systems, HP India said, "The needs of the workforce have changed dramatically over the last few years, driven by need for hybrid work, collaboration and security. At HP, we focus on innovating to serve changing workforce requirements and our range of new audio, video, and collaboration accessories will enhance productivity and provide for engaging hybrid work experiences whether at home or on-the-go."
Poly Voyager Free 60
The Poly Voyager Free 60 UC earbuds are designed to keep users productive, connected and entertained. Each bud has a three-mic array that triangulates on the speaker's voice and minimizes surrounding noise for a clear experience. Combined with hybrid and adaptive Active Noise Canceling (ANC), and advanced noise blocking algorithms ensures crystal clear audio on both sides of the call. The earbuds come in 3 sizes of concial-shaped ear tips for all-day maximum comfort usage. Users can easily control their experience with a touchscreen charge case that extends battery life, displays call information, seamlessly switches between input devices. The earbuds are built with strong battery power enabling up to 24 hours listening time and up to 16.5 hours talk time.
HP E45c 45' curved monitor
The all-new HP 45-inch curved monitor is crafted for users' comfort with a unique design that delivers flexbility for the hybrid workforce. It is an immersive 45′ diagonal, dual QHD, 1500R curved monitor with 165Hz refresh rate to provide a more expansive field of view, and enable a comfortable viewing angle. Built for the hybrid world, the dual display allows users to connect to 2 different computers simultaneously for seamless multitasking. The monitor is built with integrated dual side-firing speakers for crystal-clear audio without adding additional cables or external speakers. The monitor is also equipped with multiple connectivity capabilities to provide a hassle-free user experience.
HP 960 4K Streaming Webcam
Users can stream their most authentic self with HP's new AI-enhanced webcam in up to 4k resolutions. The webcam enables users to change their background and keeps auto framing during live streams. It helps in automatic colour correction and HDR to provide a vibrant content during day or night. The 18mm F2.0 large lens takes everything in for an excellent image, even in low light. Built with dual microphones, the 4k webcam helps reduce unwanted noise as well.
HP 925 Ergonomic Vertical Mouse
The HP 925 Ergonomic Vertical Mouse is designed to keep the users' hand in a more relaxed, natural upright position as they click, drag, and scroll. The mouse comes with a detachable wrist rest, which makes any movement effortless. From desktop to laptop to tablet and back, the ergonomic mouse accessories will stay connected to up to three devices at a time using the HP Unifying Dongle or Bluetooth® 5.3. Multi-OS support means a smooth transition even between Windows®, Apple and Chrome devices. Moreover, it has a battery life of up to 6 months, and is equipped with five customisable buttons to ensure a seamless experience.
HP Thunderbolt G4 Dock
With HP Thunderbolt G4 dock, users can expand their USB-C enabled notebook to displays, devices and wired network. Designed for universal compatibility, it works with non-HP notebooks as well, powering up to 100W. The accessories dock enables users to add up-to three displays and use only a single cable to connect to their notebook.

Pricing and Availability
The HP E45c 45′ curved monitor is available at a starting price of INR 1,26,631/-
The HP 960 4K streaming webcam is available at a starting price of INR 18,999/-
The HP 925 Ergonomic vertical mouse will be available from June 2023 at a starting price of INR 8,999/-
The HP Thunderbolt USB-C Dock G4 is available at a starting price of INR 19,500/-
The Poly Voyager Free 60 UC earbuds are available in two colours – Carbon Black and White Sand at a starting price of INR 41,999/-
About HP
HP Inc. is a technology company that believes one thoughtful idea has the power to change the world. Its product and service portfolio of personal systems, printers, and 3D printing solutions helps bring these ideas to life.
This year educate yourself and develop your career with EasyShiksha