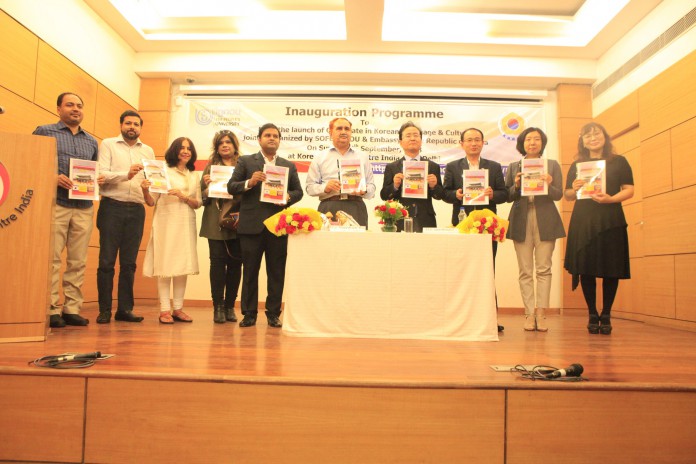 Indian students can learn Korean Language through IGNOU
10th September 2018, New Delhi: Indira Gandhi National Open University (IGNOU) inaugurated the Korean Language Course at Korean Cultural Centre India, New Delhi. The event was graced with the presence of H.E. Shin Bong Kil, Ambassador of The Republic of Korea to India, Vice-Chancellor Prof. Nageshwar Rao -IGNOU, Kim Kum Pyoung Director of Korean Cultural Centre India, Prof Anju Sahgal Gupta – Director of School of Foreign Languages, faculty members and students.
H.E. Shin Bong Kil said "We have been able to achieve yet another milestone in our consistent endeavour to promote Korean Language in India. First it was in JNU, then DU, thereafter in Jamia and now in IGNOU. Since IGNOU course is available to students from every part of India the introduction of Korean Language in this University is much important to us. For IGNOU also it is a matter of pride to have this course, which is one of the most popular course. "Mentioning about the President Moon Jae-in visit to India this July he said "This visit has provided a fresh momentum to blossom the bilateral tie which has unveiled a new shared vision of Korea India partnership for people, prosperity and peace. As we may join the effort towards a brighter future of Korea India relation, I foresee much stronger economic cooperation between the two countries. We expect Korean investment in India to increase manifold through friendship programme such as Make In India, Digital India, Smart cities etc. The demand of professionals with Korean language skills will also increase in India. We therefore feel that the introduction of Korean Language course in IGNOU is a significant development. I am sure, IGNOU will cater to the growing demand of Korean Language Education in India. This in term will promote mutual understanding and will enhance the bilateral relation."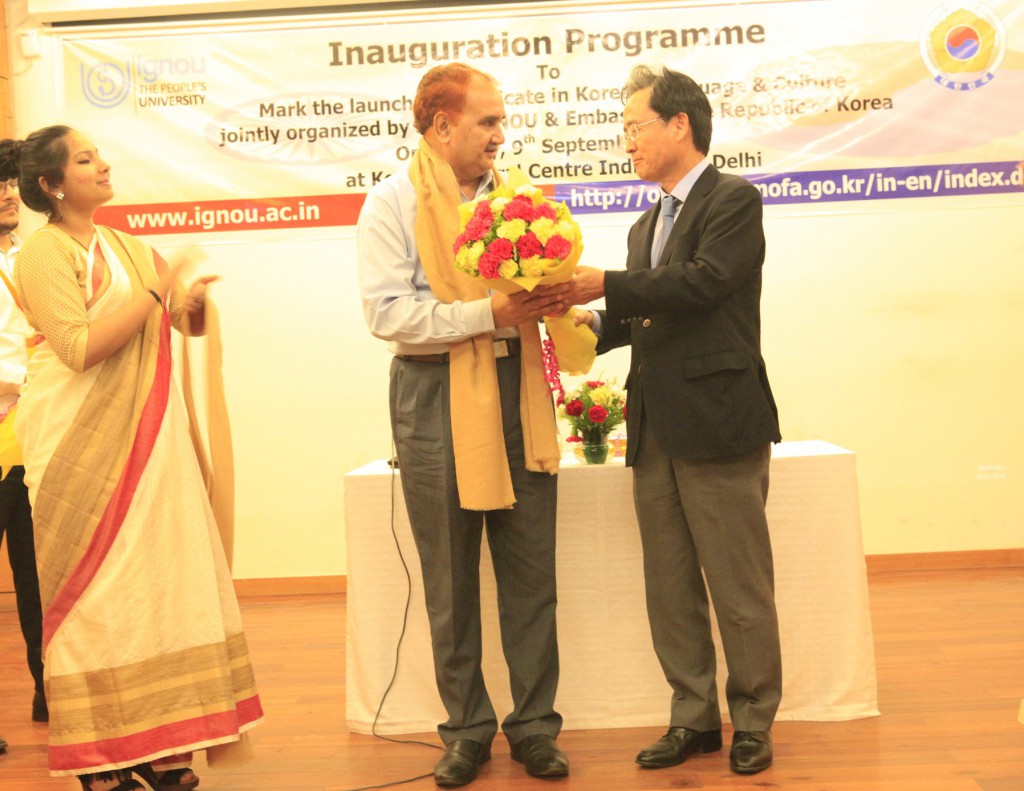 Vice-Chancellor Prof Nageshwar Rao appreciated the hard work of School of Foreign Languages at IGNOU for starting a certificate course in Korean Language with a tremendous response. He also thanked The Embassy of the Republic of Korea and the Korean Cultural Centre who is encouraging the students to have the certificate course from IGNOU. He added "The open and distance learning is now not restricted to print materials. Now this entire process of learning is being supplemented with audios videos, Gyan Vani Channels, Gyan Darshan Channels, and these are with IGNOU. We are concerned to provide best possible students support services in terms of admission, counselling and study materials. We are trying to make the materials present at e-GyanKosh more user friendly. We are also trying to enrich our digital courses and come with IGNOU App too."
About IGNOU:
IGNOU was established in 1985 and has been claimed as the largest National Open University in the world with total 3 million students enrolled while running 67 regional centers and 2,667 learning center throughout India. Besides, IGNOU provides 4 satellite TV channels and FM radio channel for curriculum.