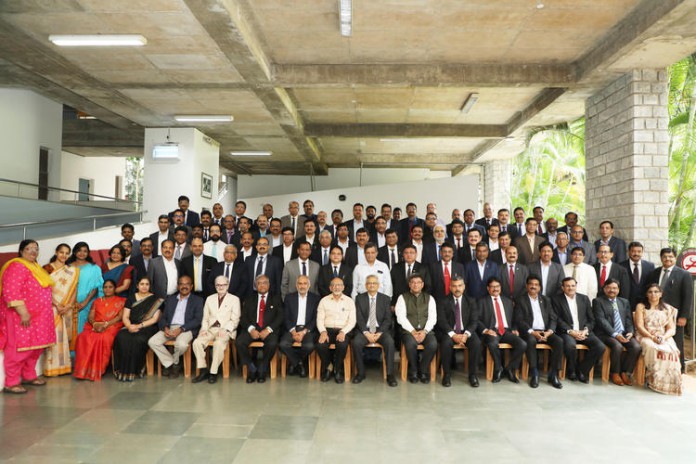 Beginning this year, for the next three years, senior management personnel, will undergo 30 days of interventions, over a period of nine months, at IIMB, to take on current and emerging challenges
19 JULY, 2019, Bengaluru: A Leadership Development Programme, for the senior management of the country's nationalized banks, was inaugurated this morning at Indian Institute of Management Bangalore (IIMB), marking the beginning of a landmark initiative aimed at supporting nationalized banks to nurture a leadership pipeline that will take on present and emerging challenges.
IIMB professors R Srinivasan, Chair, Executive Education Programmes and faculty from the Strategy area, and G Ramesh, from the Public Policy area, are the Programme Directors.

Important Announcement – EasyShiksha has now started Online Internship Program "Ab India Sikhega Ghar Se"

Top Virtual Reality Courses
More Courses With Certification
An initiative of the Banks Board Bureau, this collaborative endeavor is supported by the Department of Financial Services, Ministry of Finance, GoI; Indian Banks' Association (IBA), and a knowledge partner – Egon Zehnder International Pvt. Ltd. IIM Bangalore was identified from amongst the globally ranked Indian management institutes to deliver various interventions within the overall design of the programme. Interestingly, today – July 19 – marks the 50th year of nationalization of banks.
Beginning this year, for the next three years, senior management personnel, will undergo 30 days of interventions, over a period of nine months, at IIM Bangalore, to take on current and emerging challenges being faced in a competitive marketplace.
Top Software Engineering Courses
These will be enabled through exploration of self through Personal Growth Labs, Outbound Learning, Wellness Workshops, Systematic Coaching Processes and Motivational Speaker Sessions; and functional development through exposure to new knowledge, emerging processes in the areas of Strategy, Risk Management, Digital Transformation, and Exponential Technologies.
In order to leverage the exposure to various interventions in the programme, the participants will undertake a Live Project, with the objective of bringing about an improvement in a chosen area which is critical to their bank's success.
Bhanu Pratap Sharma, Chairman, Banks Board Bureau, who was the Chief Guest, while addressing the 78 participants, said: "You are embarking on a unique journey. The programme will enhance the attributes and skills which are vital as you go higher up in your career. With in-depth coaching and projects, the course will help you develop your leadership skills and functional knowledge to a greater extent. The course will also boost your individual performance as well as general reputation."
Explaining the role of BBB in designing the course, he pointed out that individual banks may not be able to design such as course. Hence BBB devised it as a catalyst. "We expect you to take the programmer seriously and give honest feedback with suggestions to improve. People who have a vision can make a difference. In the medium term, the future of PSBs looks positive. The economy is currently in good shape. You can use the ecosystem and leverage your learnings to give a push to the economy. That was the aim behind how the programme was designed."
Professor G. Raghuram, Director, IIM Bangalore, during his inaugural address, said that it was an opportunity for IIMB as a management institute to contribute to an important sector like banking, as banks can and should, and do, play a vital role in the country's economy and development. Talking about the issue of competition faced by PSBs from the private sector, he pointed out the need to see how extra strengths of the public sector can be leveraged. He made special mention of the achievements of Dr. Hasmukh Adhia, Former Revenue Secretary, Govt. of India, and a Distinguished Alumnus of IIMB, who chairs Bank of Baroda.
Sharing the institute's vision, mission and motto, he said: "This programme is aligned to the vision of the institute. It is also an opportunity for us as faculty to learn about various issues faced by the sector and see how we can contribute". Talking about other programmes and centres at IIMB, he mentioned the one-year programme of Public Policy which is also open to the banking sector. "In all this, the faculty provides energy and support, they are the masters in shaping minds. This course will prove to be a transformational experience for you, a journey of discovering your highest potential, and teach you to work in teams for best results."
He ended his address by quoting IIMB's motto: तेजस्वि नावधीतमस्तु ('tejasvi navadhitamastu'), which translates as 'let our study be enlightening'. "Continue to learn. The learning is not only for you as students, but also for the faculty who are the facilitators of knowledge, who will also learn from the process".
Explaining the programme objective, Prof. R. Srinivasan, said: "The banking and financial services industry is undergoing rapid changes driven by technology, business model innovations, changing customer preferences and macroeconomic shifts. Employment generation and growth are the two key objectives before the country today. The recent budget document has set an aggressive target of becoming a $5-trillion economy. The PSBs have a very important role in this growth even as they negotiate the dynamic business environment. The programme seeks to groom the next generation of leaders to assume leadership positions within these banks to drive this growth."
Prof. Srinivasan explained that the programme would be delivered at three levels. "The focus would be on you as a person and your strengths, context of banking, economics and technology, and how to interact and engage with people who implement your ideas."
Urging the participants to treat the programme as a workshop, he said: "Explore and apply your learnings and make low-cost experiments. We will offer you projects, mentoring and the opportunity to work in teams, so that you build confidence and the ability to achieve quick results, and grow to your full potential as thought leaders and action leaders."
Prof. G. Ramesh, discussing the structure of the course, said, "The programme is multi-dimensional and has been built on numerous components. It seeks to unleash the full creative potential of the individual through the development of self, team leadership and functional competencies. The next generation leaders need to be adept at leading people and harnessing technology with equal ease and the course design follows this principle. This would be an impactful learning and a journey of personal growth for you. Your commitment and engagement are crucial to the success of this course as you are the ambassadors of this programme."
Earlier, Madan Mohan Raj, Chief Programme Officer, Executive Education Programmes at IIMB, while delivering the welcome address, gave an overview of the institute, its programmes and other activities, IIMB's Executive Education, etc. Highlighting IIMB's global rankings, he said that the school's EEPs are among the top 50 globally, according to FT's EEP rankings for 2019. "Public Sector Banks (PSBs) are vital to the country's growth, and we have brought in best-in-class industry practitioners to mentor you, enhance your skills and help the sector grow 10-fold."
About IIM Bangalore:
The Indian Institute of Management Bangalore (IIMB) is a leading graduate school of management in Asia. Under the IIM Act of 2017, IIMB is an Institute of National Importance.
IIMB has 106 full-time faculty members, more than 1200 students across various degree granting programmes and nearly 5000 annual Executive Education participants.
Located in India's high technology capital, IIMB is in close proximity to some of the leading corporate houses in the country, ranging from information technology to consumer product companies, giving it the added advantage of integrating classroom knowledge with practical experience.
Along with 11 disciplinary areas, IIMB has 10 Centres of Excellence that offer courses and conduct research on interesting questions facing various sectors of industry.
For more on IIMB, please visit www.iimb.c.in
Top Networking Online Courses
More Courses With Certification
Empower your team. Lead the industry
Get a subscription to a library of online courses and digital learning tools for your organization with EasyShiksha
Request Now
ALSO READ: bhopals-rabindranath-tagore-university-receives-the-global-league-institution-certification
Get Course: How-to-Use-Photoshop-for-Beginners