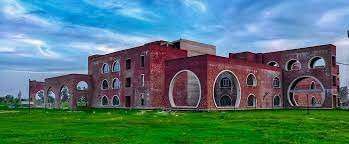 20th May 2023, Kashipur: IIM Kashipur hosts the Management Education and Research Colloquium (MERC). The event kick-started from 19th May 2023 to 21st May 2023. Prof. Ramadhar Singh, PhD (Purdue) Professor, Organizational Behavior Area Research is the Chief Guest. MERC is a platform for doctorate students to present their research to peers, professionals, and other interested parties. This will give doctorate students the opportunity to communicate, collaborate, and network with other scholars & practitioners from various areas.
ALSO READ: University of Dundee invites Indian dentists for the Online Forensic cc
In addition to paper presentations, MERC 2023 includes workshops on research methodology to assist participants in improving their methodological rigor. There will be panel discussions on interdisciplinary research and Climate Change and Sustainability. This will promote sharing of ideas among aspiring researchers and academics. Furthermore, there will be best paper awards, publication opportunity sharing, nature excursion, and networking opportunities. The event will provide an exciting and refreshing experience through informal events and surprises. Participants will have the opportunity to embark on a nature tour to Nainital and spend quality time in the tranquility of the hills.
With nearly 100 research papers received from esteemed institutions across India in areas such as OBHR, IT, Economics, Finance, Marketing, Operations, and Strategic Management, MERC takes pride in positioning itself as a national-level collaborative platform for researchers and academicians.
Chief Guest, Prof. Ramadhar Singh while presenting keynote address have shed light on plight, meaning, and correct paradigms of research.  He explained importance of research in overall education ecosystem through a presentation. He elaborated towards research effectiveness criteria and the problems researchers face during the research process while also suggesting solutions like how one can choose right supervisor, deposition of data, etc.  He concluded his presentation by inspiring researchers suggesting them to enjoy the pain throughout the research journey.
Prof. Kulbhushan Balooni, Director, IIM Kashipur said, "IIM Kashipur has created its niche with a great increase in the number of research projects.  Our publications have increased from 15 in 2019 to 98 in the last calendar year.  I can proudly say that the citations have increased four times.  Using the Scopus Database, IIM Kashipur has the highest growth rate of citations, which is about 200% in the last calendar year.  Because the institution is highly focused on research, we are excited to host MERC and bring together a diverse group of experts from academia and industry to discuss the latest developments in management education and research. The event will provide a great opportunity for networking and knowledge sharing, and we look forward to welcoming our guests to our beautiful campus." The event will also witness workshops on qualitative research in management, how do reviewers evaluate your quantitative research, and academic writing.
Doctoral scholars and researchers from across the country viz. IIM Ahmadabad, IIM Visakhapatnam, IIM Calcutta, IIM Bangalore, IIM Indore, IIM Shillong, IIM Rohtak, IIM Bodh Gaya, IIM Sambalpur, IIM Ranchi, IIM Nagpur, IIM Kashipur, XLRI, MDI Gurgaon, BITS Pilani, FORE School of Management, Hyderabad University, IIT Madras, and NIT Durgapur, etc. are participating in the event. The opening ceremony was attended by around 150 people including doctoral scholars, researchers, expert panelists, and faculty and staff members of the institute.
About IIM Kashipur:
Founded in 2011, the Indian Institute of Management Kashipur fosters management research and education to develop leaders who can positively influence society in a rapidly changing environment. It is among the elite leagues of IIMs in the country. IIM Kashipur has secured 23rd in NIRF 2022 rankings and 12th in Outlook-ICARE 2022 India's Top Government MBA Colleges.
The flagship programmes of the institute are Masters of Business Administration (MBA) and Masters of Business Administration (Analytics). It is also the first management institute in the country to offer Executive MBA(Analytics) and MBA(Analytics) programmes. The institute strives to create and disseminate knowledge by engaging in applied and interdisciplinary research and practices in emerging management areas. It develops scholars and corporate leaders who are inclusive, skilled, morally upright, and capable of critical thought, innovation, and entrepreneurship.

IIM Kashipur has established a long-lasting relationship with prominent B-schools worldwide, including ESDES Business School, ALBA Graduate Business School, Solbridge International School of Business, and the Autonomous University of Madrid, in its pursuit of increasing global outreach. The Institute has also established three Centres of Excellence- Design Innovation Centre (DIC), Center of Excellence in Public Policy and Government (CoEPPG), and Foundation for Innovation & Entrepreneurship Development (FIED), to utilize the institute's knowledge resources to encourage innovation and entrepreneurialism.
The 200-acre campus is situated in the serene town of Kashipur, just 25 kilometers away from Jim Corbett National Park. The campus, nestled in the Himalayas, offers spectacular natural beauty that enhances the academic experience. The institute is situated in a region with one of the highest concentrations of industries in the country. Over 180 businesses have established their operations in the area, providing frequent and value-added industry interactions to the students. The institute aims to provide continuous learning and increasing opportunities for every bright mind that chooses to shape their future in this educational organization.
This year educate yourself and develop your career with EasyShiksha