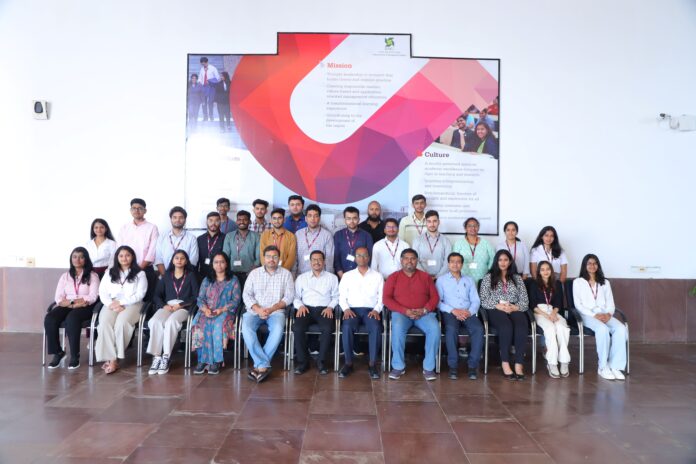 May 03rd, 2023; Udaipur: Indian Institute of Management Udaipur hosted the inaugural ceremony of the First batch of its Summer Program in Management. The program will cover the essential aspects of management studies, focusing on Business Environment, Innovation & Entrepreneurship, Digital Transformation, and Business Communication. The participants will get exposure to the Case Method of teaching and earn an IIM Udaipur Summer Program in Management – Certificate of Participation on completing the program. The Program is designed to give an experiential insight into management education by an IIM, thereby helping aspiring undergraduates and graduates to decide on the path they wish to follow.
ALSO READ: How Augmented Reality is revolutionizing education- Ms. Kiran Dham , C.E.O Globus Infocom ltd
The inaugural batch of the Summer Program in Management comprises 24 students from different regions of India. Of these, 10 are female students. This is a ten-day program in which students will learn from the distinguished faculty of IIM Udaipur, visiting industry experts and their peers from the entire country in a dynamic, supportive, and thriving academic environment. Participants will get an opportunity to network with faculty and MBA students of IIM Udaipur.

In his welcome address, Prof. Rajesh Agrawal, Chairperson of the Summer Program in Management said, "We believe that the Summer Program in Management by IIM Udaipur will be a transformative experience for the participants. The participants will get to explore and experience what it's like to be a student at an IIM; we hope to inspire and motivate the participants to pursue MBA aspirations with renewed vigour and clarity. Additionally, with the program being held in the historical city of Udaipur, the participants will have a chance to explore the rich cultural heritage of Rajasthan and make memories that will last a lifetime"
IIM Udaipur is the only management institute in India to have launched a ten-days On-Campus Summer Program in Management for MBA Aspirants.
This year educate yourself and develop your career with EasyShiksha