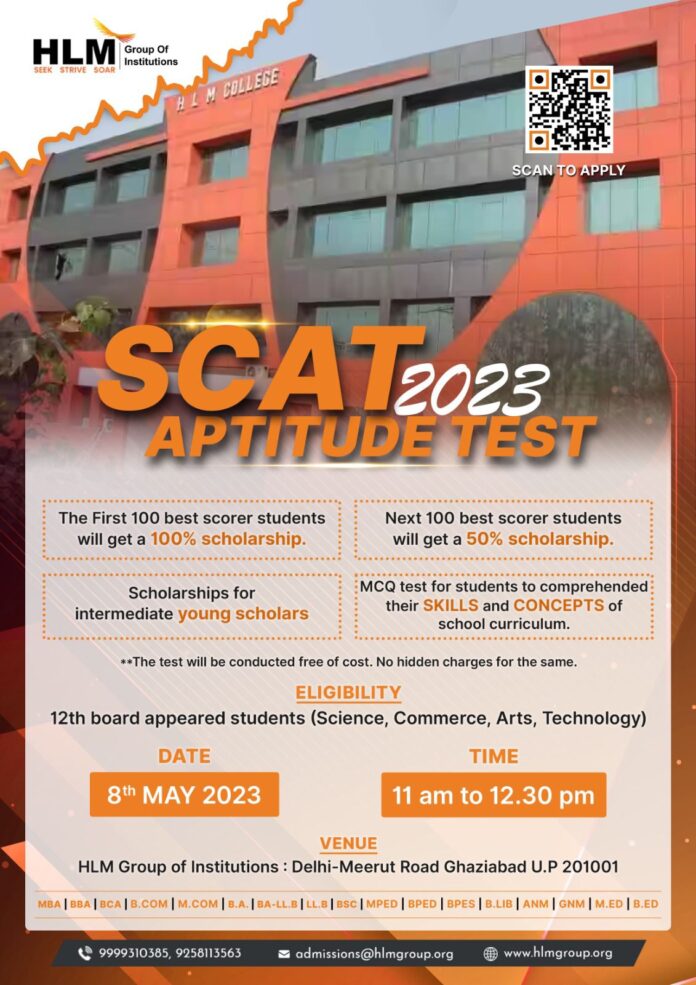 Over 2000+ students, in the hopes of securing a good scholarship, will appear for HLM Group of Institutions – Scholarship SCAT Aptitude Test scheduled at college campus and will reward 200 students with scholarship benefits based on their merit and performance in the aptitude exam.
ALSO READ: IIM Udaipur Inaugurates The First Batch Of India's First On-Campus Summer Program In Management By An IIM

Ghaziabad's top-ranked college – HLM Group of Institutions is organising HLM Scholarship SCAT Aptitude Test on 8th May 23, allowing students to assess their preparation levels for the upcoming career programs with scholarships in the HLM.

HLM SCAT Aptitude Test has been laid out and will be implemented to test students' school-level knowledge and IQ. Based on the performance in this test, scholarships will be handed to intermediate young scholars. It has been created with the intent to reward students' academic achievement in accordance with their upcoming educational progression.

The criteria to be eligible for the HLM Scholarship SCAT Aptitude Test is that students should have passed their 12th Standard. Board exams.Students of any stream, be it, Science, Arts, Commerce & Technology, can enroll themselves for the Scholarship Test. "The students should be given an opportunity to create their future without the care of monetary restrictions." Tanvi Miglani , COO, HLM Group of Institutions said.



The HLM SCAT Aptitude Test will start from 11 am onwards. The question paper will consist of multiple-choice questions on different subjects to evaluate the comprehension toolkits and skills of students. The test has been declared 'free of cost'.

More than 2000+ scholarship aspirants will be participating in this HLM Group's noble initiative.

She continued, "The first 100 toppers will get up to 100% scholarship & the next batch of 100 best-scorers will get up to 50% scholarship, whichever stream they choose.

The HLM SCAT Aptitude test is aimed to give financial aid to top students for further education given on a set of criteria such as academic merit, diversity and inclusion and financial need & is being conducted with the intention of recognising and rewarding a student's academic excellence as well as monetarily for some extent needed as a matter of accomplishment, apart from the other scholarship benefits that the students might enjoy during their course of learning without giving any burden to guardians."
This year educate yourself and develop your career with EasyShiksha