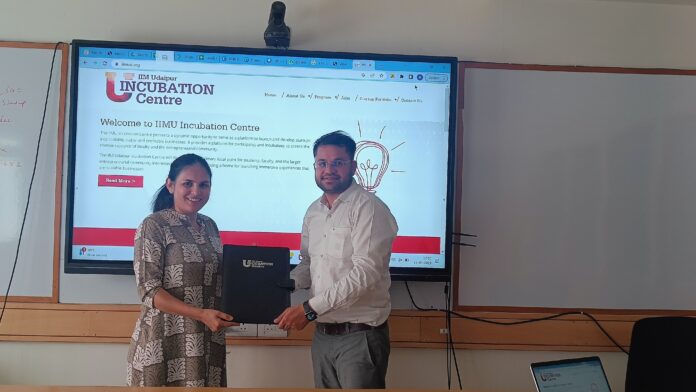 24th May, 2023; Udaipur: In sync with one of the core values of bringing a positive change in the region, IIM Udaipur's Incubation Centre has joined hands with Aspirelabs Accelerator as an Ecosystem Partner for pursuing their vision to make Udaipur a plastic waste free city through the FINILOOP PLASTIC LAB – a startup incubation and mentorship program for plastic waste management entrepreneurs. FINILOOP PLASTIC LAB is a part of FINILOOP (Financial Inclusion & Improved Livelihoods Out of Plastics) – a city-level solid waste management model.
ALSO READ: Q3 Performance – Impressive feat: Revenue rises 62% over FY20 to INR 118 Crores, Footfalls over 9 Lakhs
Suresh Dhaka, CEO, IIM Udaipur Incubation Centre said, "The use of plastic has been recognized as one of the greatest environmental and health hazards of the 21st century. Every day in India approx. 20,000 tonnes of plastic waste is generated, out of which only 13,000-14000 tonnes are collected. IIM Udaipur Incubation Centre has joined hand with Aspirelabs to address the problem of the inadequate collection and recycling systems through the FINILOOP PLASTICS LAB initiative and make Udaipur a Plastic-Waste Free City."
The FINILOOP program is designed to achieve plastic waste free cities through improving solid and plastic waste management while strengthening the livelihood opportunities of informal waste workers and fostering innovation for plastic waste enterprises. The program is supported by IKEA Foundation and is being implemented by Aspirelabs Accelerator, WASTE Foundation and Trust of People.  The program has strategic partners such as Finish Society, Shriram Institute for Industrial Research, and Take a Stake Fund.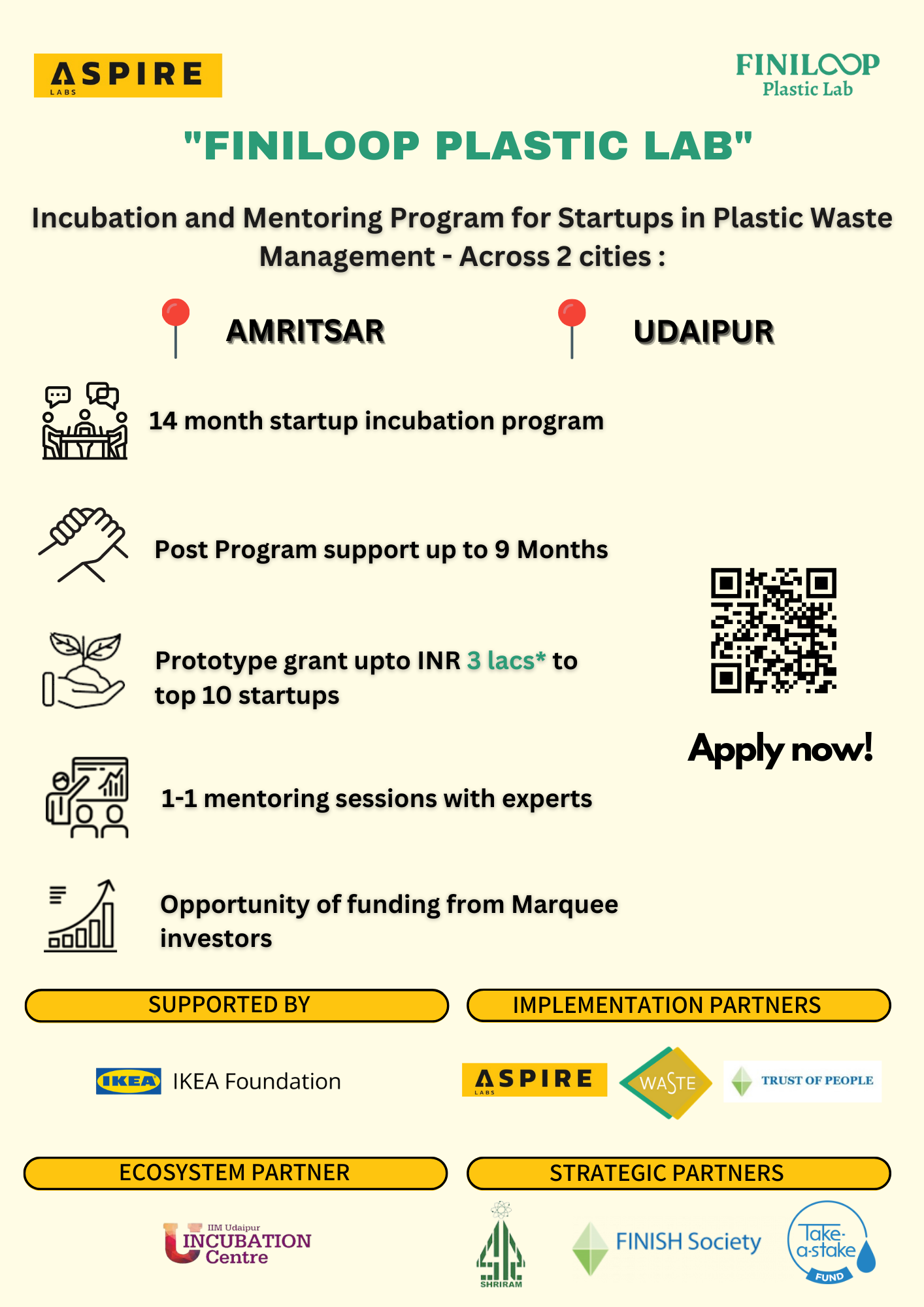 The FINILOOP PLASTIC LAB (FPL) program is a 14-month incubation program for aspiring entrepreneurs who are keen to take up the challenge of plastic waste menace created primarily due to mismanagement of it. The applicants can be from across the country and selected ones will get an opportunity to become a part of this initiative to make Udaipur a plastic waste-free city. In addition, the startup will get an opportunity to scale up their business in Amritsar also.
FPL program offerings include 1-on-1 mentoring sessions with industry experts, B2B meetings for potential collaboration, workshops with business gurus, technical support for prototype building, pre-demo day and demo-day, opportunities for follow-up funding from marquee investors, support on IPR filing and company registration, prototype grant up to INR 3 lakhs for the top 10 startups, and post-program support for 9 months.
All the aspiring entrepreneurs are encouraged to apply to this program. The last date to apply is Tuesday, 30th May 2023 till midnight.

About IIM Udaipur Incubation Centre
IIM Udaipur Incubation Centre is a Technology Business Incubator dedicated to supporting innovation and entrepreneurship through collaboration and development. We work with disruptive innovators, entrepreneurs and small business leaders pioneering change, and rewiring our economy to deliver a sustainable future. The Centre is supported by Department of Science and Technology (DST), Ministry of Electronics and Information Technology (MeitY), Ministry of MSME, and Department for Promotion of Industry and Internal Trade (DPIIT), Government of India. 
This year educate yourself and develop your career with EasyShiksha