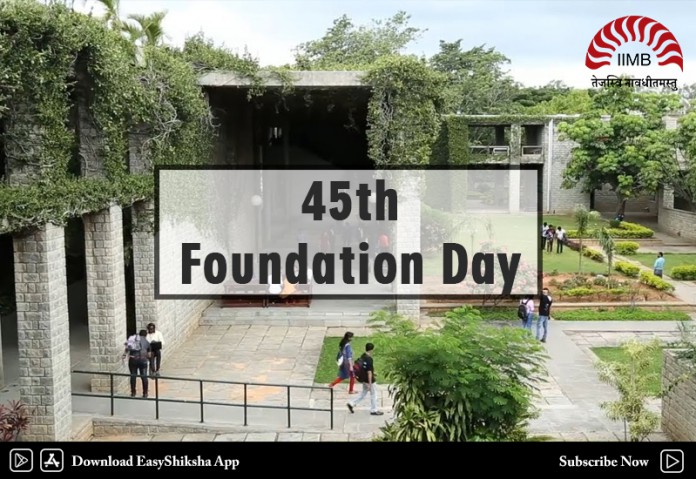 Empowerment must be backed by knowledge, clear direction and absence of fear: Malavika Harita at IIMB's 45th Foundation Day
India's premier B-school honors P C Musthafa, S Vaidyanathan and M V Rajamannar with Distinguished Alumni Awards even as Director G Raghuram expresses gratitude to all who helped in institution building
Bengaluru ,28 October, 2018: "Empowerment is a sociological, psychological and economic process, not a single one-time action", said Chief Guest Malavika R Harita, Founder-CEO of Saatchi & Saatchi Focus and Distinguished Alumna of the school, during the Foundation Day Lecture at the 45th Foundation Day celebrations of Indian Institute of Management Bangalore (IIMB), here today.
This year's theme for the Foundation Day Lecture was 'Real Empowerment'.

Important Announcement – EasyShiksha has now started Online Internship Program "Ab India Sikhega Ghar Se"

"True Empowerment needs change from within, not just lip service and smart media bytes. It has to work at several levels – personal, organizational, familial and societal. It is painful and long-drawn and needs willing participants on both sides, those who empower and those who are being empowered," she explained.
She observed that empowerment can be transformational, provided it is backed by knowledge, a clear direction and the absence of fear. "True empowerment of the spirit is what kindles the fire of self-confidence, the courage of conviction, the resilience to face failure and the determination to get up and keep going," she said.
Malavika has 36 years of experience in communication and entrepreneurship. After her accountancy training and MBA from IIM Bangalore (PGP 1980-82), Malavika joined HMT Watches. She then ran her own interior design firm before joining Saatchi. In 1998, Malavika founded Saatchi & Saatchi Focus, a specialist B2B and Healthcare Agency in India.
Top Software Engineering Courses
Malavika was one of the first Gurukul Chevening Scholars chosen to study at the London School of Economics. She is on the Governing Council of Mount Carmel College and the Advisory Board of the NSRCEL, IIM Bangalore. Malavika was President of the IIMB Alumni Association and the Advertising Club Bangalore. She has been teaching at various post graduate institutes of management and communication for the last 25 years.
IIMB celebrated its 45th Foundation Day with a plethora of events and activities on campus. This year's celebrations started on a unique note with a panel discussion on the evolution of the Post Graduate Programme in Management at IIMB, titled: 'Raising the Flag'. The discussion was moderated by Dean, Alumni Relations and Development Professor K Kumar. The panellists were Professors A K Rao, S Jagadish, R Narayanaswamy, Rishikesha T Krishnan, Ganesh N Prabhu and Sourav Mukherji.
It was an insightful and provocative discussion. Ever since the launch of the PGP at IIMB in 1973, the programme has been central to the evolution of the institution. The chequered 45-year history of the PGP is correlated to the growth as well as ups and downs of IIMB; while it is no longer the only programme that is offered, it has always occupied centre-stage. The tracing of the evolution of the PGP is hence a key component in the remembering and recording of the history of IIMB.
As part of the Foundation Day celebrations, P C Musthafa (PGSEM 2007), CEO and Co-founder of iD Fresh Food (India) Pvt. Ltd., S Vaidyanathan (PGP 1992), Co-founder, The Ganga Trust, and M V Rajamannar (PGP 1985), Chief Marketing & Communications Officer and President, Healthcare Business, Mastercard, received the Distinguished Alumni Award (DAA) 2018, presented by the Chief Guest Malavika Harita. P C Musthafa is the youngest DAA recipient in the history of IIMB. In another achievement for the institute, IIMB's Distinguished Alumni are growing by the year.
Earlier in the evening, Dean of Alumni Relations and Development Professor K Kumar introduced the Distinguished Alumni awardees. It was a proud moment for IIMB to be able to honour the three awardees for their significant professional excellence as well as their contribution to industry, academia and society. In keeping with the institute's tradition, each recipient of the Distinguished Alumni Award received a citation and his name engraved on the Wall of Fame at the institute.
In his acceptance speech, M V Rajamannar said it was a significant achievement for him to be recognized as a distinguished alumnus by IIMB. "The foundation of my career was built at IIMB and the school has been a rock for me throughout my professional life. It was a privilege to be guided by phenomenal professors who taught me about both critical thinking and creativity."
Paying rich tributes to his professors and alma mater, he said that for him, it was not just the incredible education and training that he received, but the person he was able to become. "When you are provided with an environment like the one at IIMB, you build relationships and life experiences that stay with you forever. I am incredibly grateful for the people I met and the opportunities afforded to me during those years," he added.
Expressing his gratitude, he said that the institute had shaped him tremendously: "The institute seemed to know we would need a full toolbox of skills to successfully navigate corporate life. The institute was visionary and provided sectorial management courses on issues like urban planning and health – no less relevant today."
Ascribing his success to 'the power of determination', DAA awardee P C Musthafa said he used to study for two hours daily for two years, worked hard on enhancing his analytical skills and was then selected for the PGSEM at IIM Bangalore. He shared how he overcame his fear of public speaking, again through determination and hard work, before he became the confident speaker that he is today. He spoke about how he overcame various other hurdles in his life through sheer grit and determination, and went on to co-found a 1000-crore company that feeds nutritious breakfast to a million people every day, and to build more than 250 homes for the needy in Coorg, Kerala and Rajasthan.
"Though I feel happy to touch the life of millions with healthy food on a daily basis, I feel guilty for polluting this earth with plastic bags and I want to do something about this problem." Saying this, Musthafa invited solutions from the audience for the same. "Let us work together to create a heaven for others," he urged.
In his moving address, S Vaidyanathan, DAA winner and Co-founder, The Ganga Trust, said it was his dream that every person with spinal cord injury in India must, at least by 2030, lead dignified, productive and meaningful lives.
Highlighting the role that IIMB could play in this process, he pointed out that to drive landscape-altering change, what is needed is a powerful anchor. "IIM Bangalore, its powerful alumni network and NSRCEL, have an opportunity and responsibility to support the expansion of quality rehabilitation in India. If we do not come together to do this now, we will have failed another few generations of persons with spinal cord injury and other acute disabilities".
IIMB Director Professor G Raghuram congratulated all associated with the institute for working towards accomplishing the vision and mission that IIMB has set for itself. "With the IIM Act coming into force, we could grant degrees to our two-year PGPs, starting this year. We are the first IIM to do so. We are also the first IIM whose Board independently selected and appointed the Chair. I thank the Central Government for this autonomy. I also thank the Government of Karnataka for full closure on the land in Anekal for our second campus and for granting permissions for construction, both on the existing campus and the new campus. The BMRDA and BBMP too have supported us by giving us all the necessary clearances."
He also spoke about the immense contribution of the former Chairperson, Dr. Kiran Mazumdar-Shaw, in steering the institution to greater success and welcomed Dr. Devi Prasad Shetty as the new Chairperson of the Board of Governors of IIM Bangalore. "Dr Devi Shetty is one of the most well-known and respected men in the field of medicine and in the business of hospital management. Healthcare at Dr. Devi Shetty-founded Narayana Hrudayalaya is all about protocol, process and price. He has a very strong management mindset, which makes it wonderful for IIM Bangalore that he will lead our Board".
As part of the Foundation Day celebrations, cultural programmes were conducted at the auditorium, which saw the IIMB community participate in full strength. Service awards, scholarships and prizes were given to  students, faculty, and staff. A set of pictures, to commemorate the various milestones of institution building at IIMB, were on display at the Central Pergola of the institute.
Empower your team. Lead the industry
Get a subscription to a library of online courses and digital learning tools for your organization with EasyShiksha
Request Now
ALSO READ: Summer-placements-at-iim-bangalore
Get Course: Fundamentals-of-International-Business-Management