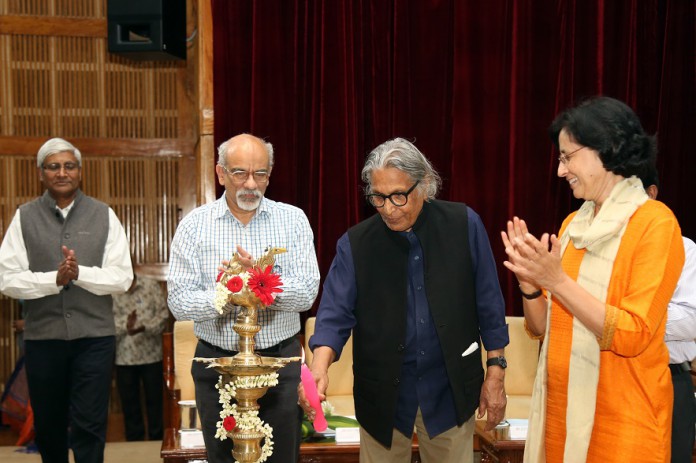 29th October, 2019, Bengaluru: "IIM Bangalore for me is a place of memories, of associations, of perseverance and faith, which is the story behind the building, which is something that the school stands for", observed Chief Guest Pritzker Laureate Dr. Balkrishna Doshi, Fellow of the Royal Institute of British Architects, Fellow of the Indian Institute of Architects and Architect of the iconic and award-winning IIM Bangalore campus, while delivering the Foundation Day Lecture at the 46th Foundation Day celebrations of Indian Institute of Management Bangalore (IIMB), here today. 
This year's theme for the Foundation Day Lecture was 'Between Encounters and Dreams', an event which was also attended by eminent architects and students of architecture, apart from the IIMB community of faculty, former faculty, students, staff and alumni.
Top Software Engineering Courses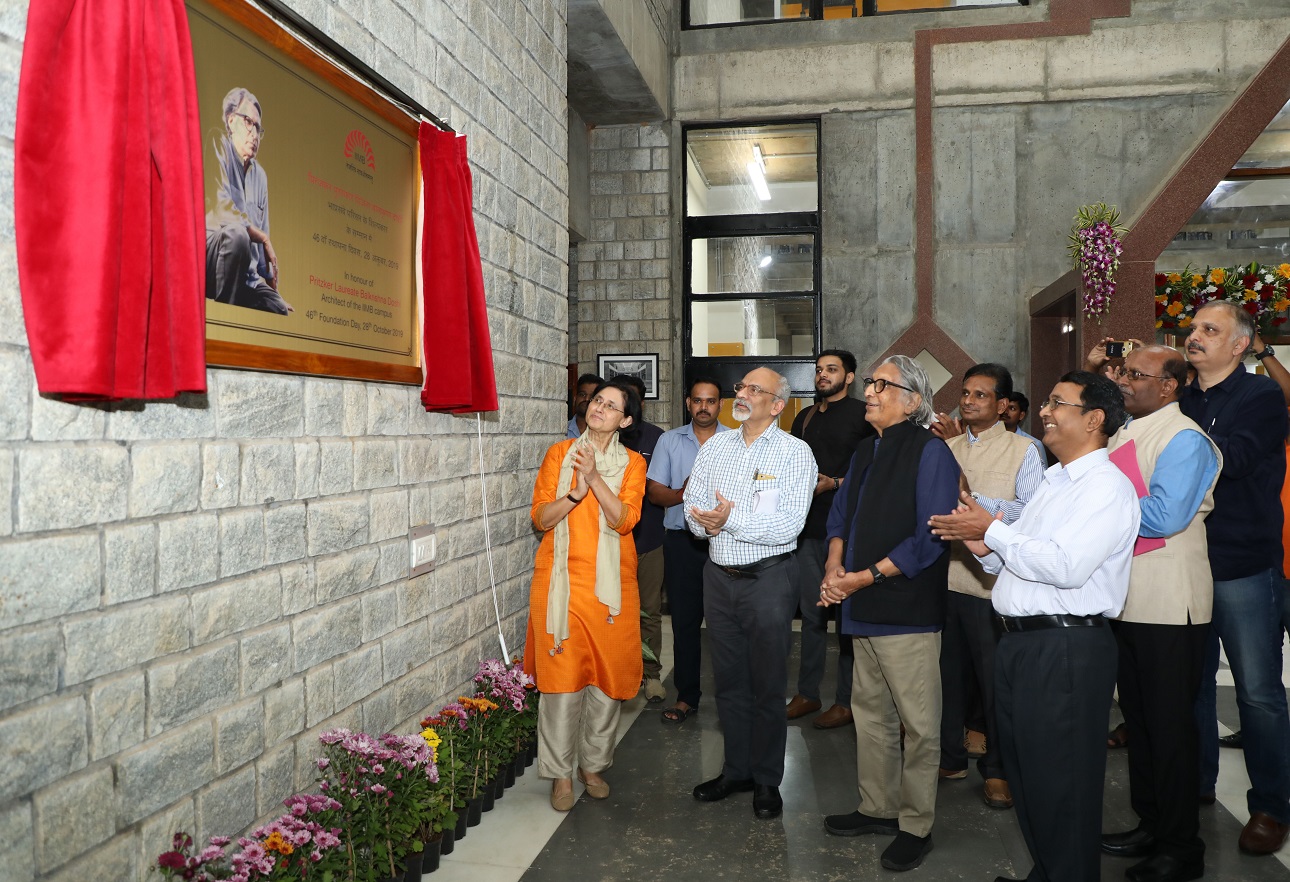 For Dr. Doshi, this visit to IIM Bangalore is tinged with nostalgia. "IIMB for me represents knowledge, memory and associations. But when I go back in time I am also happy to see that it is not just a building made of stone. It is a place where continuous change and progress is happening. All these seem to say, we, at IIMB, are as strong as the building." 
He said he was honoured to be granted a plaque next to the library. "I am grateful to be next to the treasure trove in the garden of paradise. Thanks for giving me the opportunity to revisit, cherish and enjoy the campus."
Talking about his inspiration in building the campus, he said the idea was to move away from a typical corporate image and build something akin to a village, which also symbolizes continuous growth, evolution, improvisation and improvement. "We wanted a place depicting eternal values and culture, change as well as dynamism. That kind of imagery gives us the optimism and courage to face life with its various challenges."
Explaining how a campus like this can boost peace of mind, learning and knowledge, he said: "The campus is a story of collaboration and finding the goal which is still not finite. There is a power in silence. IIMB represents that, and it is also wonderful to see an undercurrent of growth, and a willingness to accept challenges, which is something an academic institute should always foster. There is love, appreciation and hope here. IIMB has maintained, added to, and revitalized the campus." Thus, charming the audience with his gentle smile and wise words, Dr. Doshi concluded his speech amidst a much-deserved standing ovation. 
Director's address
Earlier in his welcome speech, thanking Dr. Doshi for creating iconic structures and spaces that continue to inspire everyone who comes to the campus, Dr. G. Raghuram, Director, IIM Bangalore, said: "IIMB is delighted to have Dr. Doshi, a legend, who has shown how one can create sustainable buildings without the need for structural twists and material overload. At our campus, he has integrated buildings with the fundamentals of nature and climate. He has given us a living, breathing space ideal for a place of learning. Earlier today, we unveiled a plaque in honour of Dr. Doshi near the library, one of his favourite creations."
The 46th Foundation Day also saw the unveiling of a plaque on campus in honour of Dr. Doshi, inauguration of the renovated library by Dr. Doshi, naming and thanking of donors – alumni, corporations, and the government.
Prof. Raghuram said, "IIMB would be investing about Rs 150 crore over the next two years for scaling up the postgraduate and the doctoral programmes, introducing a new Post Graduate Programme in Business Analytics and expanding Executive Education including in the blended format. The Executive Education investments are in the new campus." 
He also thanked the Government and the IIMB Board of Governors for their sustained support for the school. "I thank the Ministry of Skill Development and Entrepreneurship, Government of India, for their initiative of the Mahatma Gandhi National Fellowship, a programme which IIMB will design and deliver. This provides an opportunity for young, dynamic individuals to contribute to enhancing skill development and promote rural employment. I thank the Department of Science & Technology, Govt. of India, for continuing to support our Women Start-up Programme. A special word of thanks to NITI Aayog for having provided scale-up support to NSRCEL." 
Thanking the industry for placements, and opportunities in case writing and consulting, among others, he said, "Your generous support is not only important to sustain quality research, it also sustains quality life on and off campus. The contributions of corporate donors have gone a long way in supporting our academic research, the incubation centre, our doctoral and pre-doctoral programmes, and our Centre for Supply Chain Management." 
He congratulated the students, faculty and staff for making the school what it is today. He mentioned the student-led club Vikasana for their contribution towards social causes.
Expressing his appreciation towards the alumni, he said: "I would like to thank the alumni representing various batches whose contributions have supported scholarships, not only for our students, but also for children of our staff. Some of your contributions, through the naming of classrooms, have gone into our infrastructure fund, supporting the growth of the institution. 
"For the first time, the Alumni Relations and Development Office has brought out an Alumni Relations and Development Report that gives a focus on their activities, the Distinguished Alumni awardees, the contributions that we have received, donor messages and the scope for giving to IIMB. This is a good complement to the 'Udaan' giving policy that we evolved in 2017. More recently, we have also been discussing and finalizing issues related to naming and due diligence.
"Over the years, IIMB has been engaging with alumni to strengthen their connect with their alma mater. Alumni have responded in a number of ways, including organizing batch reunions, sharing guiding thoughts during orientation, speaking during special events, sharing experiences as guest faculty in courses, organizing chapter-wise Anusmarans, opening their homes to our international exchange students as 'Athithis', organizing IIMBue – the one-of-its-kind leadership conclave, and many more. Our alumni have been with us every step of the way as donors, partners and energizers. 
"To our Distinguished Alumni gathered here, I say being able to highlight your wonderful achievements when speaking to prospective students really makes a difference in my conversations. You enable us to extend the reach of the IIM Bangalore community across continents." 
Vinita Bali's address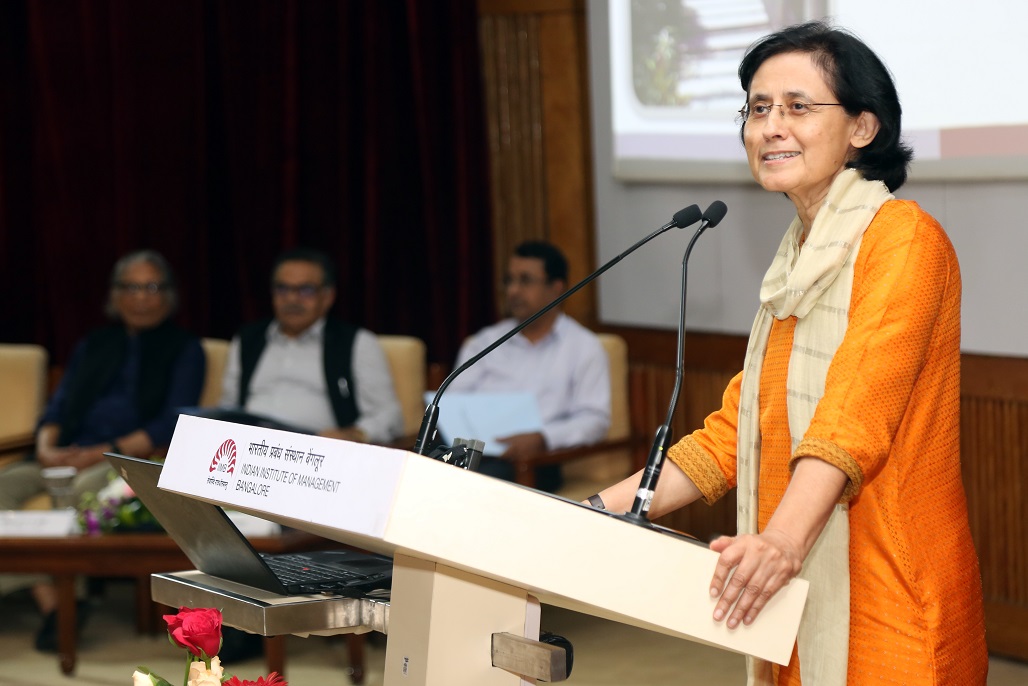 The Director's speech was followed by an address by Vinita Bali, IIMB Board member, who is a global business leader with extensive experience in leading large companies both in India and overseas. She has worked with eminent multinationals like The Coca-Cola Company and Cadbury Schweppes PLC in a variety of Marketing, General Management and Chief Executive roles in the UK, Nigeria, South Africa, Latin America and the USA, in addition to Britannia Industries Ltd., in India. She brings a global and pragmatic perspective to strategy, marketing, innovation and operations, having worked across countries and continents, with responsibility for global and regional roles. In India, Ms Bali serves as a Non-Executive Director on the Boards of CRISIL Ltd and Syngene International Limited; is an Advisory Board Member of PwC and chairs the CII National Committee on Nutrition. She was also on the Board of Titan Company Limited from October 2006 till March 2018. 
In her address to the IIMB community, Vinita Bali said that the IIMB campus reflects the character of the institute, which is one of openness and inclusiveness, with an aim of bringing the environment as part of the institute. "This is also something that attracts the students from all over the world, and for this, we owe Dr. Doshi."
Talking about the IIMB Board of Governors' policies towards enriching knowledge and learning at the institute, she said the Board places equal importance on the quality of environment at the school, as it does towards pursuing academic excellence and practical experience. "The Board aims to invest more in enhancing the overall facilities; the renovation of the library is one such example. It is our belief that to make IIMB iconic, we need to focus on building people's character with the best work ethic and sense of governance and enhance the quality of values…we will uphold that at all times." 
IIMB celebrated its 46th Foundation Day with a plethora of events and activities on campus. There were cultural programmes and felicitation of staff and faculty who have reached milestones at the B-school. Children of the IIMB community, who have excelled in various fields, were given prizes. The Foundation Day function on October 25, 2019 included the PGP Merit Scholarship Awards, EPGP Merit Scholarship Awards, Young Achievement Awards, distribution of SRC prizes, and much more.
Book launch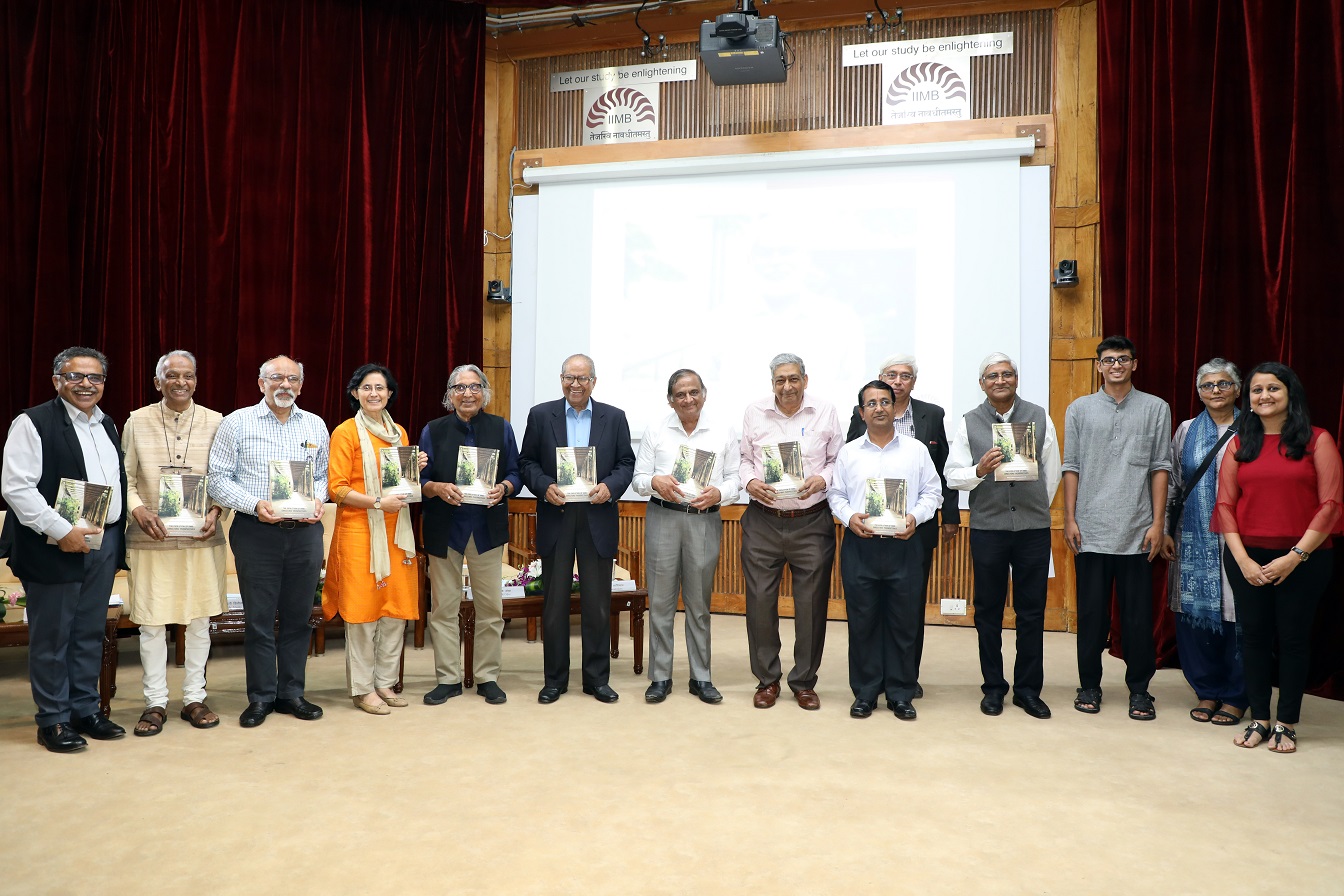 A very special book, 'The Evolution of IIM Bangalore: Directors' Perspectives', was released on the occasion. An important aspect of institution building is a record of the trajectory of growth of the institution. The subject of documenting the journey of IIMB since its inception in 1973, through a series of publications and outputs, leading up to a comprehensive history of IIMB ahead of the Golden Jubilee year in 2023, was mooted by the Director, Professor G. Raghuram, in June 2017. It is only befitting that the first output from the IIMB History Project should be a record of the experiences of the former Directors of the institute, those who have been at the helm and have led from the front. In the book, all the Directors have spoken about their subjective engagement with the institute and the defining moments of their tenures and the challenging posed to them. The interviews with the former Directors have been brought out in the form of a compendium, in the book, which was unveiled at the Foundation Day Celebrations.
"We believe the volume to be a richly rewarding account of the journey of the institute as told by its visionary leaders, from its fledgling days to its present stature as a leading international institution of management studies, consistently topping the rankings," said Prof. K Kumar, Dean, Alumni Relations & Development, who leads this project along with Prof. N Bringi Dev, Chair, Centre for Management Communication, and Usha K.R. from the IIMB History Project Team.
The evening concluded with the presenting of Long-Service Awards to faculty and staff with the Deans of IIMB announcing the names.
Top Networking Online Courses
More Courses With Certification
Empower your team. Lead the industry
Get a subscription to a library of online courses and digital learning tools for your organization with EasyShiksha
Request Now
ALSO READ: Pass-on-plastic-an-initiative-by-mobius-foundation
Get Course:  Cyber-Security