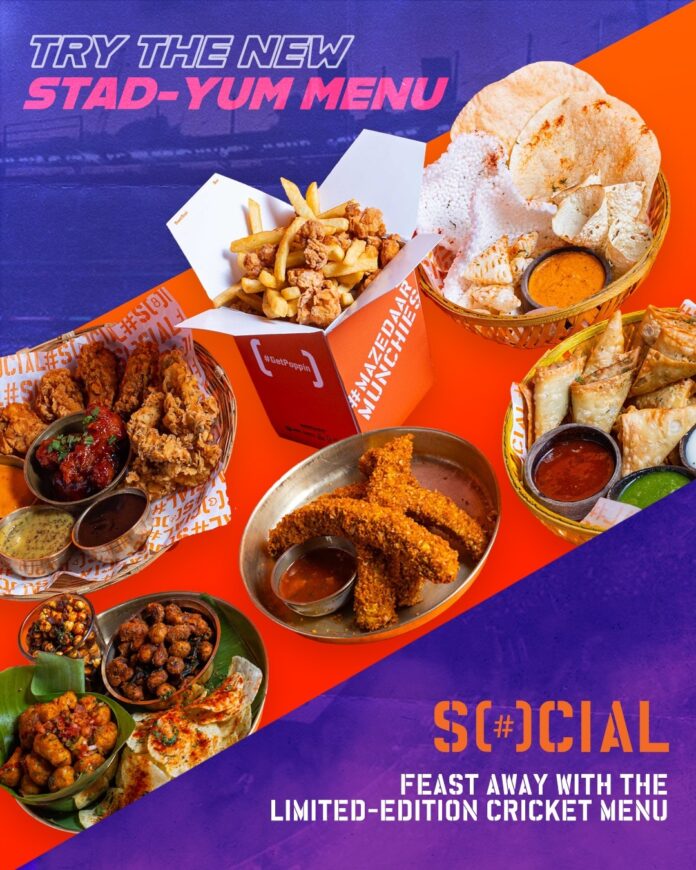 Get ready to experience the cricket fever at your #DoosraStadium as SOCIAL is turning into THE place to be to watch the match this season! Come join us to watch your favourite batsmen as they send the ball sailing over the line and cheer for your favourite bowlers as their zingers bamboozle the opposition.
Curated specially for cricket-lovers, we present to you The Stad-Yum Menu! 

Presenting a wide range of cricket-infused delicacies such as the delectable 'A.B. De Ribs,' the tempting 'Chauka Chakka Platter,' the nostalgic 'The 1983 Samosa Sampler,' the satisfying 'The 2011 Bucket,' the innovative 'The "Doosra" Shroom Shawarma,' and the hearty 'The 2023? Platter,' among other cricket-themed, delish options. Don't miss out on this menu, it's going to be yuumm
ALSO READ: IIM Kashipur' FIED to Host 2-Day 'Agri Entrepreneurship in South Asia' Consortium 2023
And if that wasn't enough for you, SOCIAL is also offering exclusive and special beverages to all its patrons across India during this season.
Come join us, you will feel the stadium chills and thrills;)
Venue: Ring Road SOCIAL, Indore
Date & Time: 9 AM to 1:30 AM (Subject to local restrictions)\
This year educate yourself and develop your career with EasyShiksha