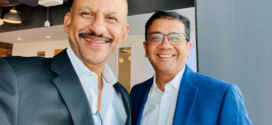 National, 18th August 2022: Jaro Education, India's most trusted online higher education company, has collaborated with India's leading Electronics & Information, Communication Technology (E&ICT) Academy, IIT Guwahati, an initiative of the Ministry of Electronics & Information Technology, Government of India, to help professionals grow in the tech industry with the offering of technical courses & programmes. E&ICT Academy has already conducted 320+ courses and trained 18000+ learners across India, and 1200+ students and working professionals joined Advanced Certification Programme.
The technical courses and interdisciplinary programmes are carefully curated for mid and senior professionals to boost and upgrade their professional careers to improve the employability of graduates/diploma holders, including those in the Electronics and ICT streams.
As per a recent report, employment in computer and information technology occupations is poised to grow 13% by 2030, faster than the average for all occupations.
Adhering to the demand, Jaro Education, focusing on online higher education in association with E&ICT Academy, brings programmes that will include Data Science, Machine Learning, Cloud Computing, Cyber Security, EV, and many more. The programmes will be backed by Jaro Education's exclusive Placement Assistance and Career Guidance services.
The aim is to create a pool of skilled human resources in emerging areas in consonance with the Digital India and Electronic Design and Manufacturing (ESDM) initiatives of the Government of India (GoI).
Dr Gaurav Trivedi, the Principal Investigator of E&ICT Academy IIT Guwahati, said, "This association will aid the Students / working Professionals industry to upgrade their skill sets in this ever-changing technological world. The program will be guided through the rich pool of Experts provided by E&ICT Academy IIT Guwahati and Jaro Education."
Ms Ranjita Raman, CEO of Jaro Education, said, "We are glad to be collaborating with E & ICT Academy on this project. This mutually beneficial initiative will result in a rich exchange of knowledge and will enable students to stay current with industry practices. This programme will assist us in developing a talent pool with a competitive advantage, advanced knowledge, and a shrinking skills gap."
ALSO READ : INDIA'S FIRST WEB 3.0 CONFERENCE SPARKS INTEREST AMONG TECH-STARTUPS IN INDIA
Further, to enrich the competencies of the cohort, Jaro Education continues to open new avenues by offering high-quality education for working professionals to bridge them with relevant industry know-how.
Earlier, Jaro Education confederated with the world's leading institutes such as Imperial College Business School London, Rotman School of Management (University of Toronto), and Deakin University (Australia), to name a few – increasing its global footprints. This Edtech pioneer continues to expand its one-of-its-kind and new-age program portfolios by joining hands with leading top-ranked universities.
About E&ICT Academy
Electronics & ICT Academy Indian Institute of Technology Guwahati (IIT Guwahati). As an initiative of the Ministry of Electronics & Information Technology (MeitY), the Academy was set up at IIT Guwahati under the "Financial Assistance for setting up Electronics and ICT Academies" scheme. On 26 March 2015, the project started at IIT Guwahati and the Academy was inaugurated by Prime Minister Shri Narendra Modi on 19 January 2016. The objective of the Academy is to provide skill training to the Faculty Members (Engineering & Non-engineering) in the area of recent trends in engineering & ICT application. The Academy is designing specialized modules for imparting quality training for enhancing employability and capacity building in Electronics & ICT. In the past 7 years, the Academy has successfully conducted 300+ Faculty Development Programme through conventional classroom teaching and NKN virtual classroom mode in different Institutes/ Universities of North Eastern States in particular and a few in other states of India. To date, the Academy has successful trained 18000+ participants. The Academy has also signed MoU with Institutes/Universities to host the programmes and conduct hands-on sessions. The Academy collaborated with Industries as Training/Industry Partners. The Academy also offers online Advance Certification Courses in Data Science, Artificial Intelligence & Machine Learning, Big Data, Cloud Computing, Full Stack and VLSI Design and trained 1000+ graduates and working professionals. The Academy has also delivered training to Assam Police officials on cybercrime concepts and trained 90+ officials. The project has been extended to 30 September 2022. The Academy has been given a goal to train 13019+ faculty members by 30 September 2022, and the Academy has achieved the same by 31 March 2022.
About Jaro Education
Jaro Education is India's most trusted online higher education company. The Edtech firm, a pioneer in the executive education industry, was founded in 2009 by Dr Sanjay Salunkhe and has been profit-making since its inception and is self-funded. The company has been awarded the Edtech leadership award and the National best employer accolade by World HRD Congress in March 2022. The company aims to nurture entrepreneurs & working professionals from entry-level to C-Suite level in every field and industry by offering executive education programs that cater to their requirements. Having been recognized for changing the online education landscape in India, Jaro Education provides more than 45+ management, technology and techno-functional programs in collaboration with top reputed institutes. They facilitate the development of management and technology-based online programs for many leading Indian and global institutes like Imperial College Business School London, Rotman School of Management (University of Toronto), IIM Ahmedabad, IIM Kozhikode, IIM Tiruchirappalli, IMT Ghaziabad, IIT Palakkad and others. With its strong domain expertise and insight into executive education, Jaro Education has transformed the careers of over 3 lakh professionals in the last 13+ years throughout its 20+ learning centres across India.
Visit EasyShiksha for skill development courses.