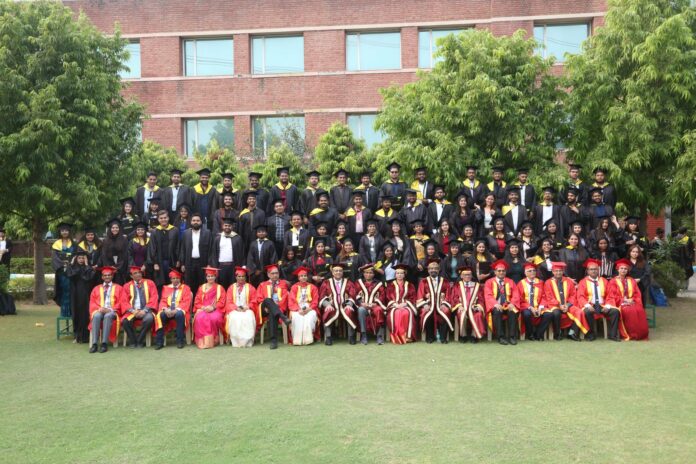 13/09/2022, Gurugram – JK Business School (JKBS), a leading B-School in the country and a member of the prestigious JK Organisation which has a legacy of 135+ years of contribution to the Indian economy and the education sector, conducted its 15th Convocation Ceremony on 10th September 2022. Nearly 406 students from two programmes i.e. Post Graduate Diploma in Management (PGDM) and Bachelor of Business Administration (BBA) were conferred during the convocation ceremony. The convocation ceremony was started with lighting the lamp of knowledge followed by Saraswati Vandana and welcoming the chief guest of the day Shri Suresh Prabhu (Former Minister of Railways, Commerce & Industry, Civil Aviation). After that, Prof. (Dr.) Richa Dahiya, Dean, JK Business School presented the annual report and Mr. Abhishek Singhania, Chairman, JK Business School welcomed the students and dignitaries.
After welcoming addresses by all the functionaries, the graduates were awarded their degrees and diplomas. The toppers of each batch for each programme were awarded gold medals in recognition of their academic accomplishments. 24 students were recipients of the scholastic medals.
Delivering an inspiring convocation address, Mr. Abhishek Singhania, Chairman, JK Business School, said, "This convocation is most special for us as our students braved the global pandemic and had a unique blended learning experience. It is a delight to see the sea of joy among the graduates, teacher and everyone in this convocation hall." He further added, "You are proud ambassadors of this institute, and we are very proud of your achievements. The institute has and shall always stand with all the students. In our alumni, we see the future of this country and the world. I on behalf of the whole JK organization urge all the students to translate their energies in meaningful directions, solve our societal problems and make the world a better place to live."
Speaking at the occasion, Prof. (Dr.) Richa Dahiya, Dean, JK Business School, said, "With roaring success in terms of a shining alumni list, JK Business School boasts of its Tech Savvy curriculum, Strong industry connect and learning beyond academics. The faculty at the institution ensures that the courses as well as curriculum are updated time-to-time and are in sync with the current industrial requirements. We at JK Business School always strive to maintain a balance between academics and extracurricular activities. Thus, our institute not only nurtures successful professionals but also responsible and all-rounder citizens.
In his captivating address, Shri Suresh Prabhu (Former Union Minister of Railways, Commerce & Industry, Civil Aviation), said, "The biggest strength of any nation is its youth. The quality of the youth determines the future of the nation. While determining the quality of the youth, education plays a significant role. A well-educated youth holds immense potential to take nation to the newer heights. It is a great honour and immense pleasure to be part of this special occasion among such talented students. I would like to congratulate all the graduates and it is my privilege to guide the talented bunch of enthusiasts in their process of becoming professionals from students." He further added, "I urge all the students to have a sense of purpose in whatever you do. Make a difference and have the courage of conviction. Have a passion for learning, and build a strong foundation. Balance your ambition with the desire to grow.I wish all the bright students the best of luck for their future endeavors.
The Convocation Oath for passing out batch was then rendered by Dr. Ajay Mehta, Dean Administration, JK Business School followed by experiences and praises shared by graduating students who appreciated the perfect blend curricular and extra-curricular environment of the JK Business School.
The ceremony ended with words of gratitude, National Anthem, photo capturing and tree planting. In all, the Convocation Ceremony was a grand success and welcomed by one and all. 
ALSO READ : Tiny Tots Celebrate Grandparents' Day at TSWY
About JK Business School
JK Business School (JKBS) is a member of the JK organization (one of the leading private sector groups in India) with a great history of contributing to Indian business through diverse industries and initiatives. The institute has a very talented team of faculty that includes both core & visiting. The faculty has comprehensive national & international teaching and industry experience. JK Business School is ranked #7 among India's Top 10 private higher education institutions for Best Academia-Industry Alliance in the Education World India Higher Education Grand Jury Awards 2020-21. JKBS has ranked 23rd in Top Private B-Schools in India by Education world Ranking. Top 10 Best Global Institutes for Marketing Programs- The Knowledge Review. Top 38 Private Business School- Business World Ranking and 3rd rank – Top B-Schools of Eminence, GHRDC- CSR Ranking.
Visit EasyShiksha for skill development courses.